Dolphins sign Long, will select OT No. 1 overall
Updated:
April 22, 2008, 11:52 PM ET
ESPN.com news services
DAVIE, Fla. -- Jake Long seemed at ease in his new role as the NFL's No. 1 draft pick, leaning into a news conference microphone to talk about his mean streak while his mother sat in the corner, nodding as she smiled.
The Miami Dolphins were grinning Tuesday, too. They signed the Michigan left tackle to a five-year, $57.75 million contract with $30 million guaranteed, and they'll select him with the top pick in the draft Saturday.
The deal allows the Dolphins and Long to avoid a possible holdout.
"It's really important for us to know Jake is going to be on the field for us on time when training camp begins in July," coach Tony Sparano said. "That was critical."
Last year's top pick, JaMarcus Russell, signed for $61 million with the Oakland Raiders but missed all of training camp before reaching a deal.
ESPN's Chris Mortensen reported on Tuesday that the St. Louis Rams, who hold the second pick in the NFL draft, were told today by the NFL management council that they do not have permission to begin negotiations with any player now that the Dolphins have signed Long. A league spokesman said there have been internal discussions to determine whether the Rams have the right to negotiate with a player or players.
Hashmarks
The intrigue for the No. 1 selection is gone now but there is plenty of it left for the high picks that follow, Mike Sando writes. Hashmarks
• Sando: Long to start at left tackle
The novelty of Long's early signing Tuesday created some uncertainty. Normally, if the team selecting first signs a player before the draft, it happens in the 24 hours leading up to the first pick, which allows very little time for the team with the second pick. Long becomes the highest-paid lineman in the NFL and a 6-foot-7, 315-pound cornerstone in a rebuilding project for the new Dolphins regime led by Bill Parcells. Last season Miami went 1-15, and the offensive line has been a chronic problem in recent years.
"Jake was our guy from the beginning," general manager Jeff Ireland said. "Jake Long was on the top of our board for a long time. There wasn't a whole lot of debate. We thought it was a very good fit with the Miami Dolphins."
With many other needs as well, the Dolphins were interested in trading the top pick for multiple lower choices. When no suitors surfaced, they began negotiations last week with Long's agent, Tom Condon.
"It's such a great honor to be the No. 1 pick," Long said. "I don't think it has sunk in yet. It's something every kid dreams about. I'm just real excited that it happened. Now I'm coming to a great place."
The Dolphins said they didn't begin contract talks with potential picks other than Long.
"It was a very straightforward negotiation," Condon said. "They didn't leverage us with other players, and we didn't tell them we wanted to be on some different team or any of those kinds of things."
Reaching a contract agreement before the draft isn't unprecedented. The Houston Texans signed defensive end Mario Williams as their No. 1 pick on the eve of the 2006 draft.
They're No. 1

Jake Long will be the latest top pick in the NFL draft. Here's a look at some other recent No. 1 selections:
| | | |
| --- | --- | --- |
| Year | Player, Pos., School | Team |
| 2007 | JaMarcus Russell, QB, LSU | OAK |
| 2006 | Mario Williams, DE, NC St. | HOU |
| 2005 | Alex Smith, QB, Utah | SF |
| 2004 | Eli Manning, QB, Miss. | SD |
| 2003 | Carson Palmer, QB, USC | CIN |
| 2002 | David Carr, QB, Fresno St. | HOU |
| 2001 | Michael Vick, QB, VTU | ATL |
| 2000 | Courtney Brown, DE, PSU | CLE |
The only other offensive lineman taken with the No. 1 choice since 1970 was Ohio State tackle Orlando Pace, who made the Pro Bowl seven consecutive times after joining the Rams in 1997. The Dolphins would be thrilled to recoup a comparable achievement from Long.
"Jake has all the qualities we're looking for in our linemen," said Sparano, who coached the offensive line with the Dallas Cowboys. "He's very tough, smart and disciplined. Those are the people we want to surround ourselves with here."
Long said he's glad he'll be reporting to training camp on time, because he'll need to adjust to the faster speed of the NFL game.
Temperament won't be an issue, he said.
"I'm mean on the field," he said. "I'm a very nice guy off the field. When I buckle up that helmet, I change. It's football mode. I go out there and try to bury the guy and make sure they don't touch the quarterback or running back."
Long started 40 games at Michigan and was Big Ten offensive lineman of the year in 2006 and 2007. He finished second to LSU defensive tackle Glenn Dorsey in balloting last season for the Lombardi and Outland trophies.
Lloyd Carr, who coached Long at Michigan, said he had several conversations with Parcells in recent weeks.
"I know this: Jake Long is his type of player," Carr said. "Jake is passionate about the game, and I don't think there is anything that he lacks."
The Dolphins decided to use the top pick on offense rather than take Dorsey, Virginia defensive end Chris Long or Ohio State linebacker Vernon Gholston. It turns out Ireland's comment last week about drafting "a pillar of your defense" was a slip of the tongue -- or a smoke screen.
"That's for me to know, and you to guess about," Ireland said with a smile.
The drama may be missing, but Long still plans to fly to New York on Wednesday and attend the draft. The Dolphins have eight other picks and four of the first 64, and they remain in the market for more offensive linemen, a quarterback, a receiver, a tight end, cornerbacks, defensive linemen and linebackers.
At left tackle, they're set.
Information from The Associated Press was used in this report.
2008 NFL DRAFT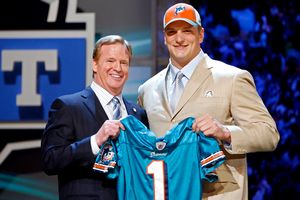 The 2008 draft lasted 14 hours, 26 minutes. Michigan offensive tackle Jake Long (above), selected by Miami, was the No. 1 overall pick. This year's Mr. Irrelevant -- the last pick in the draft -- is David Vobora, a linebacker from Idaho selected by St. Louis with the 252nd pick.


Round-by-round, team-by-team picks
•
Round:
1
|
2
|
3
|
4
|
5
|
6
|
7
•
AFC East:
Buffalo
|
Miami
|
N. England
|
NY Jets
•
AFC North:
Baltimore
|
Cinc.
|
Cleve.
|
Pitt.
•
AFC South:
Houston
|
Indy
|
Jax
|
Tennessee
•
AFC West:
Denver
|
K.C.
|
Oakland
|
San Diego
•
NFC East:
Dallas
|
NYG
|
Philadephia
|
Wash.
•
NFC North:
Chicago
|
Detroit
|
G.B.
|
Minnesota
•
NFC South:
Atlanta
|
Carolina
|
N.O.
|
Tampa
•
NFC West:
Arizona
|
S.F.
|
St. Louis
|
Seattle
Inside Radio City Music Hall
•
Panoramic views
Commentary/Features
•
Wickersham: Bears, Ravens take opposite turns
•
Williamson: Remembering Heath Benedict
•
Yasinskas: Falcons should be patient with Ryan
Day 2
•
Clayton: Six draft trends
•
Chadiha: 10 great marriages
•
Walker: NFC East draft review
•
Sando: NFC West draft review
•
Willamson: NFC North draft review
•
Yasinskas: NFC South draft review
•
Sando: AFC East draft review
•
Williamson: AFC West draft review
•
Walker: AFC North draft review
•
Yasinskas: AFC South draft review
Day 1
•
Clayton: Day 1 winners and losers
•
Williamson: Davis couldn't resist McFadden
•
Walker: Ravens had to work for Flacco
•
Sando: Long addresses Rams' D-line needs
•
Chadiha: AFC East hustle continues on draft day
•
Yasinskas: Ryan gives Falcons hope, identity
Mel Kiper
•
Kiper's team-by-team draft grades
•
Day 1 good, bad moves: Questionable Titans
News
•
2008 breaks previous trade record
•
Jets sign NCAA career rushing leader Woodhead
•
Lions pick Smith with first pick of second day
•
Miami, Long make it official
|
NFL Local
Video
•
Green: First-round pick instant analysis
•
Complete draft analysis
•
One-on-one with Jake Long
•
One-on-one with Chris Long
•
One-on-one with Matt Ryan
•
One-on-one with Darren McFadden
•
One-on-one with Glenn Dorsey
•
One-on-one with Vernon Gholston
•
Ed Werder on Cowboys
•
Norv Turner interview
•
Fantasy Spin
Audio
•
Jake Long
|
Chris Long
|
Matt Ryan
•
Darren McFadden
|
Vernon Gholston
•
Glenn Dorsey
|
Keith Rivers
|
Chris Williams
•
Lawrence Jackson
SportsNation
•
Vote:
Best first-round pick?
|
Potential busts?
•
Grades: How did your team fare?
Scouts Inc.
•
Analysis:
Round 1
|
2
|
3
|
4
|
5
|
6
|
7
Cheat Sheets
:
RB
|
DL
|
DB
|
LB
|
OL
|
REC
|
QB
•
McShay: Seven-round mock draft
•
Revisiting the 2005 draft
|
2005 re-draft

MOST SENT STORIES ON ESPN.COM