Dolphins, Rams take Jake, Chris Long; Falcons go with Ryan
Updated:
April 26, 2008, 8:56 PM ET
ESPN.com news services
NEW YORK -- Forget the intrigue at the top of the draft. The NFL invited a half-dozen players to the draft Saturday, and they went in the first six picks.
Then things went a bit crazy.
The shortened NFL draft immediately went long when the Miami Dolphins officially selected Michigan tackle Jake Long, then the St. Louis Rams grabbed Virginia defensive end Chris Long, son of Pro Football Hall of Famer Howie Long.
At No. 3, Matt Ryan of Boston College, who could solve the quarterback problems in Atlanta, went to the Falcons.
"I had an open mind about it. I knew when you guys knew," Chris Long told reporters.
Following a long-standing tradition, the Oakland Raiders, at No. 4, went for the gamebreaking threat in Arkansas running back Darren McFadden, prompting the fans in Radio City Music Hall to boo loudly. Many wanted the All-American to fall to the New York Jets at No. 6.
All-American defensive tackle Glenn Dorsey of national champion LSU was taken by the Kansas City Chiefs with the fifth pick in what was becoming a somewhat predictable opening to the draft.
At No. 6, the New York Jets took defensive end Vernon Gholston from Ohio State, who must now learn to play in the 3-4 alignment the team prefers.
"I'm looking forward to going up against Jake Long twice a year," he said of what will be a revival of their Big Ten rivalry.
At No. 7, the New England Patriots and New Orleans Saints swapped first-round picks, and the Saints chose USC defensive tackle Sedrick Ellis. The Patriots slide to No. 10, and in addition, the Patriots will receive a third-round pick, and the Saints will get a fifth-round pick.
After the Ellis pick was announced, another trade was announced: The Jacksonville Jaguars, who had the No. 26 overall pick, moved way up the board to take the No. 8 spot, held by the Baltimore Ravens.
With that pick, the Jaguars selected Derrick Harvey, defensive end out of Florida, who was the 2007 national championship game MVP.
To pick Harvey, the Jaguars also sent the Ravens two third-round picks (Nos. 71 and 89 overall), plus a fourth-round pick (No. 125 overall.
At No. 9, the Cincinnati Bengals selected USC outside linebacker Keith Rivers.
Rounding out the top 10, with the pick obtained in the swap with the Saints, the New England Patriots chose Tennessee linebacker Jerod Mayo, a first-team All-SEC selection.
At No. 11, the Buffalo Bills picked 5-10, 190-pound cornerback Leodis McKelvin out of Troy.
The Denver Broncos picked Boise State offensive tackle Ryan Clady with the 12th overall pick.
At No. 13, Jonathan Stewart, a running back out of Oregon, was selected by the Carolina Panthers.
The Chicago Bears, with the 14th pick, chose Vanderbilt offensive tackle Chris Williams, a 2007 first-team All-SEC selection who allowed just two sacks in two seasons.
[+] Enlarge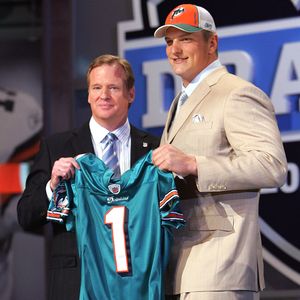 Jim McIsaac/Getty ImagesIt was hardly a surprise when Jake Long, right, was selected No. 1 overall in the NFL draft on Saturday.
The Kansas City Chiefs, in a trade with the Detroit Lions, swapped first-round picks and took Virginia offensive guard Branden Albert at No. 15. The Chiefs also got a third-round pick (No. 76 overall). The Lions moved down to No. 17, and get a third-round pick (No. 66) and a fifth-round pick.
The Arizona Cardinals selected Dominique Rodgers-Cromartie at No. 16, a cornerback out of Tennessee State.
The No. 17 spot, acquired by the Lions in the trade with the Chiefs, was used to select Boston College tackle Gosder Cherilus. After the pick, some in the audience chanted "FIRE MILLEN" in reference to Lions president Matt Millen.
The Ravens apparently didn't want to wait for their No. 26 spot to roll around, so they traded with the Houston Texans to take the No. 18 spot, with which they took Delaware quarterback Joe Flacco.
Flacco is the highest drafted Delaware player since quarterback Rich Gannon was taken in the fourth round of the 1987 draft by New England.
In the trade, Baltimore sent the 26th pick as well as its third-round pick (No. 89) and sixth-round pick (No. 173) for the Texans' first-round pick.
The trade bug apparently bit the Panthers, too, who worked a deal with the Philadelphia Eagles to move up and choose Pittsburgh offensive tackle Jeff Otah with the 19th pick. The trade was costly for Carolina, as it gave up its second-round pick (No. 43), its fourth-round pick (No. 109) and its 2009 first-round pick to move up.
The Tampa Bay Buccaneers, owners of the No. 20 pick, selected Kansas' cornerback Aqib Talib.
To help protect their new quarterback, the Falcons pulled off a trade with the Washington Redskins to acquire the 21st pick and selected USC offensive lineman Sam Baker. Baker, a first-team All-America in 2006, is the son of Arena Football League commissioner David Baker.
In the Falcons-Redskins deal, Washington traded the No. 21, 84 and 154 picks to Atlanta for two second-round picks (No. 34 and 48) and a fourth-round pick (No. 103).
After the Falcons selection of Baker, there was a three-pick run on running backs.
With the first of their two first-round picks, the Dallas Cowboys chose Arkansas running back Felix Jones with the 22nd pick to add to a backfield that already features Pro Bowler Marion Barber.
The Steelers also boast a Pro Bowl running back in Willie Parker, but that didn't stop Pittsburgh from selecting Illinois running back Rashard Mendenhall with the 23rd pick.
With the No. 24 pick, the Tennessee Titans wrapped up the running back run by selecting East Carolina star Chris Johnson.
The last time a running back was selected with three consecutive picks was in 1995, when Tyrone Wheatley (No. 17, Giants), Napoleon Kaufman (No. 18, Raiders) and James Stewart (No. 19, Jaguars) were picked back-to-back-to-back.
Seattle had the No. 25 pick, but sent that choice to the Cowboys in exchange for the No. 28 pick, the 163rd overall pick and the 235th overall pick. Dallas then chose South Florida cornerback Mike Jenkins, who became the first Bulls player to be selected in the first round.
Baltimore, which acquired the No. 26 pick in an earlier trade with Houston, chose Virginia Tech offensive tackle Duane Brown. He is the first offensive lineman ever taken in the first round by the Texans.
San Diego, only months removed from its loss in the AFC Championship Game, chose to bolster its defense by selecting cornerback Antoine Cason with the 27th pick.
The No. 28 pick, acquired by the Seahawks in a trade with the Cowboys, was used to pick USC defensive end Lawrence Jackson.
Coming off a dismal season, the San Francisco 49ers used their lone first-round pick to beef up the defense by selecting North Carolina defensive tackle Kentwan Balmer with the 29th pick.
The New York Jets traded their way into the first round by swinging a deal with Green Bay for the No. 30 pick. The Jets sent their second-round pick (No. 36 overall) and fourth-round pick (No. 113) to the Packers for the right to pick Purdue tight end Dustin Keller.
With the final pick of the first round, the defending champion New York Giants added some depth to their defensive backfield by choosing Miami's Kenny Phillips with the No. 31 pick.
In all, 14 of the 31 first-round selections -- New England forfeited its own spot because of the Spygate scandal, but had a pick acquired last year from San Francisco -- were involved in trades.
After Miami took Clemson defensive end Phillip Merling with the 32nd pick to kick off the second round, the first receiver of the day was chosen one pick later by the Rams. The University of Houston's Donnie Avery was the No. 33 pick in the draft, marking the first time since 1990 and only the second time since 1967 that no wide receivers taken in the first round.
Some other notable names went in the second round including Rutgers running back Ray Rice (No. 55 overall to Baltimore), Louisville quarterback Brian Brohm (No. 56, Green Bay) and Michigan quarterback Chad Henne (No. 57, Miami).
After Gholston's selection, all six players invited to the draft had been chosen in the top half-dozen spots.
"It's great to see the green room empty," Chris Long said.
Dorsey patted his heart as he held up a No. 1 Chiefs red jersey that was so small he, frankly, could never fit into it.
Jake Long signed a five-year contract with the Dolphins this week worth $57.75 million, $30 million of it guaranteed. After commissioner Roger Goodell announced Long's name at Radio City Music Hall, the St. Louis Rams went on the clock.
The NFL cut the first round from 15 minutes per pick to 10, and the Dolphins used only a few seconds to hand in their card. The Rams and Falcons didn't take much longer, but the Raiders used almost their entire time, as did Kansas City.
Jake Long became the first top overall pick from Michigan since Tom Harmon in 1941. He was accompanied by several family members onstage as he donned a Dolphins hat.
Then came another Long, who proudly held up a Rams jersey and pointed to the fans in the upper deck of the hall.
Chris Long is the second straight defensive lineman selected in the opening round by St. Louis, following Nebraska's Adam Carriker last year. Carriker likely will move to DT to open a spot for his new teammate.
"I knew I was in the running, but all the guys here were great players and they could have chosen anyone," Chris Long said. "It came down to needs."
Ryan has an open course to starting in Atlanta, with Michael Vick in prison on dogfighting charges, and only journeymen Chris Redman and Joey Harrington to compete with.
"I have to go down and gain the respect of my teammates, do everything I can do to get on the field next year," Ryan said.
Asked about replacing Vick in Atlanta and whether he expected to play or watch as a rookie, Ryan added: "I'll go down there to do all I can to be successful, try to not be distracted, try to win. ... There's not a right or wrong way to do it. I want to get there and learn the offense so I have a chance to play."
McFadden joins a crowded backfield in Oakland, where Justin Fargas recently signed a new contract and Dominic Rhodes and LaMont Jordan are on the roster.
"The time I talked to the Raiders coaching staff, they tell me they're missing a playmaker from their offense," McFadden said. "I feel I can add to that with my big-play ability."
Dorsey will be a building block for the Chiefs, who are revamping their roster this offseason. Gholston could do the same for the Jets, who have lacked a true pass-rushing threat since trading away John Abraham.
Information from the Associated Press was used in this report.
2008 NFL DRAFT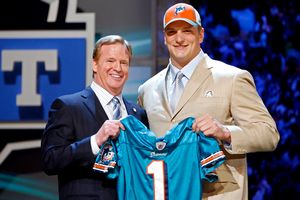 The 2008 draft lasted 14 hours, 26 minutes. Michigan offensive tackle Jake Long (above), selected by Miami, was the No. 1 overall pick. This year's Mr. Irrelevant -- the last pick in the draft -- is David Vobora, a linebacker from Idaho selected by St. Louis with the 252nd pick.


Round-by-round, team-by-team picks
•
Round:
1
|
2
|
3
|
4
|
5
|
6
|
7
•
AFC East:
Buffalo
|
Miami
|
N. England
|
NY Jets
•
AFC North:
Baltimore
|
Cinc.
|
Cleve.
|
Pitt.
•
AFC South:
Houston
|
Indy
|
Jax
|
Tennessee
•
AFC West:
Denver
|
K.C.
|
Oakland
|
San Diego
•
NFC East:
Dallas
|
NYG
|
Philadephia
|
Wash.
•
NFC North:
Chicago
|
Detroit
|
G.B.
|
Minnesota
•
NFC South:
Atlanta
|
Carolina
|
N.O.
|
Tampa
•
NFC West:
Arizona
|
S.F.
|
St. Louis
|
Seattle
Inside Radio City Music Hall
•
Panoramic views
Commentary/Features
•
Wickersham: Bears, Ravens take opposite turns
•
Williamson: Remembering Heath Benedict
•
Yasinskas: Falcons should be patient with Ryan
Day 2
•
Clayton: Six draft trends
•
Chadiha: 10 great marriages
•
Walker: NFC East draft review
•
Sando: NFC West draft review
•
Willamson: NFC North draft review
•
Yasinskas: NFC South draft review
•
Sando: AFC East draft review
•
Williamson: AFC West draft review
•
Walker: AFC North draft review
•
Yasinskas: AFC South draft review
Day 1
•
Clayton: Day 1 winners and losers
•
Williamson: Davis couldn't resist McFadden
•
Walker: Ravens had to work for Flacco
•
Sando: Long addresses Rams' D-line needs
•
Chadiha: AFC East hustle continues on draft day
•
Yasinskas: Ryan gives Falcons hope, identity
Mel Kiper
•
Kiper's team-by-team draft grades
•
Day 1 good, bad moves: Questionable Titans
News
•
2008 breaks previous trade record
•
Jets sign NCAA career rushing leader Woodhead
•
Lions pick Smith with first pick of second day
•
Miami, Long make it official
|
NFL Local
Video
•
Green: First-round pick instant analysis
•
Complete draft analysis
•
One-on-one with Jake Long
•
One-on-one with Chris Long
•
One-on-one with Matt Ryan
•
One-on-one with Darren McFadden
•
One-on-one with Glenn Dorsey
•
One-on-one with Vernon Gholston
•
Ed Werder on Cowboys
•
Norv Turner interview
•
Fantasy Spin
Audio
•
Jake Long
|
Chris Long
|
Matt Ryan
•
Darren McFadden
|
Vernon Gholston
•
Glenn Dorsey
|
Keith Rivers
|
Chris Williams
•
Lawrence Jackson
SportsNation
•
Vote:
Best first-round pick?
|
Potential busts?
•
Grades: How did your team fare?
Scouts Inc.
•
Analysis:
Round 1
|
2
|
3
|
4
|
5
|
6
|
7
Cheat Sheets
:
RB
|
DL
|
DB
|
LB
|
OL
|
REC
|
QB
•
McShay: Seven-round mock draft
•
Revisiting the 2005 draft
|
2005 re-draft

MOST SENT STORIES ON ESPN.COM