Lions pick RB Smith with first pick of third round
Updated:
April 27, 2008, 7:08 PM ET
Associated Press
NEW YORK -- After threatening Barry Sanders' single-season rushing record in college, Kevin Smith now can concentrate -- or at least dream about -- Sanders' marks with the Detroit Lions.
The Central Florida running back and nation's leading rusher in 2007 was chosen atop the third round of the NFL draft Sunday. The Lions even traded up two spots with Miami for the privilege of beginning the second day by grabbing Smith.
Don't Believe The Hype

Being selected in the first round definitely doesn't guarantee success. A number of starters from last season's Pro Bowl were chosen much lower, if at all.
Player

Rd. (Overall)

NFC

Brett Favre, QB
2 (33)
Tony Richardson, FB
Undrafted
Terrell Owens, WR
3 (89)
Jason Witten, TE
3 (69)
Lofa Tatupu, LB
2 (45)
Darren Sharper, DB
2 (60)

AFC

Tom Brady, QB
6 (199)
Lorenzo Neal, FB
4 (89)
Antonio Gates, TE
Undrafted
Jared Allen, DE
4 (126)
James Harrison, LB
Undrafted
Bob Sanders, DB
2 (44)
Last season, Smith rushed for 2,567 yards and scored 29 touchdowns. Sanders' set the single-season record with 2,628 in 1988, when he won the Heisman Trophy. He went on to a Hall of Fame career over the next decade with the Lions.
Detroit will settle for a semblance of that from Smith, who left the Conference USA school as a junior after first saying he would return to college.
"I never thought of myself as chasing Barry Sanders. He's a legend," Smith said. "My numbers might have been close, but I was just thrilled to be close to someone like that. Now I get to play in the same organization, which is a dream come true."
And enough to make a guy weep.
"The coach told me that they were going to come up to get me, and he put me on the phone with all the coaches, and I just burst into tears," Smith admitted.
He was one of two All-Americans chosen in the third round. Penn State linebacker Dan Connor went to Carolina 10 spots later.
Connor left Linebacker U as its career tackles leader with 419. In the last few years, the Panthers have lost some starters at the position, notably Will Witherspoon and Dan Morgan. They hit with Jon Beason, their first-rounder last year, at middle linebacker.
"It's going to be great to be able to learn under a bunch of great linebackers and guys that have experience," Connor said. "I'm more looking forward to that, taking it all in and learning from guys who have proven themselves every week on Sundays."
Other third-rounders looking to prove themselves in the NFL will be defensive back Chevis Jackson (Atlanta), running back Jacob Hester (San Diego) and receiver Early Doucet (Arizona), all from national champion LSU. Hester could fill the role of LaDainian Tomlinson's stand-in previously held by Michael Turner, now with the Falcons, and the Cardinals need another wideout after losing Bryant Johnson to San Francisco.
Texas running back Jamaal Charles was chosen by Kansas City and West Virginia RB Steve Slaton was taken by Houston. The Giants took Michigan's big-play receiver, Mario Manningham, who could be groomed to eventually replace former Wolverine Amani Toomer.
New England chose San Diego State quarterback Kevin O'Connell, causing one pundit to remark: "Is this the end of the Tom Brady era?"
Uh, no.
Another San Diego area QB went late in the fifth round when Josh Johnson of the University of San Diego Toreros was chosen by Tampa Bay, which has as many quarterbacks as some entire divisions.
Southern California quarterback John David Booty was the second selection in the fifth round, by Minnesota after the Vikings made an in-division deal with Green Bay. The Packers already had their QB of the future: Brian Brohm, chosen in the second round on Saturday, yet chose Matt Flynn of LSU in the seventh.
Tennessee passer Erik Ainge went to the Jets at No. 162 overall, six spots after Oregon's Dennis Dixon was taken by Pittsburgh. The Steelers are hoping the fast, versatile Dixon can recover from a severe knee injury to make their team.
Utah State guard Shawn Murphy, son of former baseball star Dale Murphy, went in the fourth round to Miami.
The Bengals grabbed Kansas tackle Anthony Collins, another All-American, midway in the fourth round, one spot after Cleveland got Missouri TE Martin Rucker, also an All-American.
Chicago took LSU safety Craig Steltz in the fourth round. Yep, Steltz was an All-American, too.
Cleveland finally got involved after sitting out the first day with no picks. The Browns took UNLV linebacker Beau Bell 104th overall, and soon after went for Rucker.
Safety Dominique Barber of Minnesota, younger brother of Dallas RB Marion Barber, went to Houston in the sixth round. Hawaii's record-setting quarterback, Colt Brennan, landed in Washington in that round.
Michigan star runner Mike Hart slipped all the way to 202nd overall, to Indianapolis.
"I never questioned myself," he said. "There's nothing you can do because it's out of my hands at that point. I was just hoping I got picked up somewhere and go and try to prove myself again."
Two of the third-rounders, DTs Marcus Harrison of Arkansas and Pat Sims of Auburn, bring some baggage to the NFL.
Harrison was suspended at Arkansas last summer on drug charges, then returned to the team. Chicago picked him.
Sims once quit the Auburn team, but returned to eventually become a starter despite what some called attitude problems. Sims was chosen by Cincinnati, which gambled even more in the fifth when it took defensive tackle Jason Shirley. He missed most of his final season at Fresno State while getting arrested and serving three team suspensions -- the kind background that the Bengals have overlooked in the past and regretted.
Exactly the opposite is the case with Army's Caleb Campbell, a safety chosen 218th overall. Campbell will be allowed to take advantage of a new military rule allowing him to pursue an NFL career.
His selection by Detroit prompted cheers of "USA, USA" for Campbell, who was at Radio City Music Hall.
A rare player-draft pick trade occurred in the fourth round when Oakland sent cornerback Fabian Washington to Baltimore.
The first special-teamer to go was punter Durant Brooks of Georgia Tech to the Redskins with the second choice of the sixth round. Placekicker Taylor Mehlhaff of Wisconsin went to the Saints 10 spots after that.
In all, the two days and seven rounds -- the first two rounds featured shortened time frames for picks -- took 14 hours, 26 minutes. David Vobora, a defensive back/linebacker from Idaho was the final selection.

Copyright 2008 by The Associated Press
SPONSORED HEADLINES
MORE NFL HEADLINES
MOST SENT STORIES ON ESPN.COM
2008 NFL DRAFT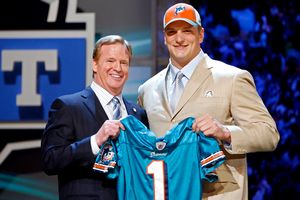 The 2008 draft lasted 14 hours, 26 minutes. Michigan offensive tackle Jake Long (above), selected by Miami, was the No. 1 overall pick. This year's Mr. Irrelevant -- the last pick in the draft -- is David Vobora, a linebacker from Idaho selected by St. Louis with the 252nd pick.


Round-by-round, team-by-team picks
•
Round:
1
|
2
|
3
|
4
|
5
|
6
|
7
•
AFC East:
Buffalo
|
Miami
|
N. England
|
NY Jets
•
AFC North:
Baltimore
|
Cinc.
|
Cleve.
|
Pitt.
•
AFC South:
Houston
|
Indy
|
Jax
|
Tennessee
•
AFC West:
Denver
|
K.C.
|
Oakland
|
San Diego
•
NFC East:
Dallas
|
NYG
|
Philadephia
|
Wash.
•
NFC North:
Chicago
|
Detroit
|
G.B.
|
Minnesota
•
NFC South:
Atlanta
|
Carolina
|
N.O.
|
Tampa
•
NFC West:
Arizona
|
S.F.
|
St. Louis
|
Seattle
Inside Radio City Music Hall
•
Panoramic views
Commentary/Features
•
Wickersham: Bears, Ravens take opposite turns
•
Williamson: Remembering Heath Benedict
•
Yasinskas: Falcons should be patient with Ryan
Day 2
•
Clayton: Six draft trends
•
Chadiha: 10 great marriages
•
Walker: NFC East draft review
•
Sando: NFC West draft review
•
Willamson: NFC North draft review
•
Yasinskas: NFC South draft review
•
Sando: AFC East draft review
•
Williamson: AFC West draft review
•
Walker: AFC North draft review
•
Yasinskas: AFC South draft review
Day 1
•
Clayton: Day 1 winners and losers
•
Williamson: Davis couldn't resist McFadden
•
Walker: Ravens had to work for Flacco
•
Sando: Long addresses Rams' D-line needs
•
Chadiha: AFC East hustle continues on draft day
•
Yasinskas: Ryan gives Falcons hope, identity
Mel Kiper
•
Kiper's team-by-team draft grades
•
Day 1 good, bad moves: Questionable Titans
News
•
2008 breaks previous trade record
•
Jets sign NCAA career rushing leader Woodhead
•
Lions pick Smith with first pick of second day
•
Miami, Long make it official
|
NFL Local
Video
•
Green: First-round pick instant analysis
•
Complete draft analysis
•
One-on-one with Jake Long
•
One-on-one with Chris Long
•
One-on-one with Matt Ryan
•
One-on-one with Darren McFadden
•
One-on-one with Glenn Dorsey
•
One-on-one with Vernon Gholston
•
Ed Werder on Cowboys
•
Norv Turner interview
•
Fantasy Spin
Audio
•
Jake Long
|
Chris Long
|
Matt Ryan
•
Darren McFadden
|
Vernon Gholston
•
Glenn Dorsey
|
Keith Rivers
|
Chris Williams
•
Lawrence Jackson
SportsNation
•
Vote:
Best first-round pick?
|
Potential busts?
•
Grades: How did your team fare?
Scouts Inc.
•
Analysis:
Round 1
|
2
|
3
|
4
|
5
|
6
|
7
Cheat Sheets
:
RB
|
DL
|
DB
|
LB
|
OL
|
REC
|
QB
•
McShay: Seven-round mock draft
•
Revisiting the 2005 draft
|
2005 re-draft
ESPN FAN SHOP