Commentary
Arenas punt returns boost Alabama; Smelley struggles in The Swamp
Steve Muench's weekly matchup report looks at the performances of Alabama return man Javier Arenas and South Carolina QB Chris Smelley.
Originally Published:
November 18, 2008
By
Steve Muench
| Scouts Inc.
For NFL teams, hitting or missing on draft picks can be the difference between making the playoffs and playing golf in January, so it should come as no surprise that scouts leave no stone unturned when evaluating players' skill sets. It's a grueling process that involves seemingly endless film sessions, but there are games that can make scouts sit up and pay particular attention.
These are the games that feature a prospect who's lining up against one of the best units or players in the nation and/or playing in a game with substantial implications for his team. Here are the matchups that caught my eye in Week 12 and what I took from the film of each performance, as well as notes on contributions from younger players:
[+] Enlarge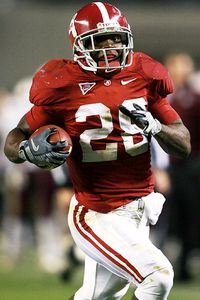 Marvin Gentry/US PresswireJavier Arenas sparked Alabama when he got his hands on the ball.
Alabama PR/CB Javier Arenas vs. Mississippi State's punt coverage
With Alabama trailing Mississippi State by two points late in the second quarter, Arenas returned a punt 46 yards to the Bulldogs' 2-yard line and QB John Parker Wilson punched it into the end zone two plays later. On the punt return, Arenas stays focused and catches the ball off the bounce near the right sideline just a split-second before Mississippi State's left gunner tries to arm tackle him. Arenas shows great power and awareness by bouncing off the would-be tackle and staying in bounds. Once he regains his balance, he cuts back to the left, reaches top speed quickly and uses his blockers well. With Alabama up just five points early in the third quarter, Arenas finishes the job on his own with an 80-yard return for a touchdown. It's not a highlight-type return like the first one, because Arenas' blockers do an excellent job of getting into position and creating a seam for him, but Arenas fields the ball cleanly, reads those blocks well and shows good-but-not-great top-end speed when he gets into space. It was the junior's fifth career punt return for a touchdown. These two long returns played a big role in Alabama's 32-7 win over a Mississippi State team that had won the previous two meetings between the schools.
Week 12 Matchup Report
Steve Muench breaks down the film from Week 12 in college football and examines the NFL draft implications of other matchups. Insider



• Maryland RB Scott runs hard
• Robinson impressive for Oklahoma State
• Notre Dame LB Smith bottles up Navy

South Carolina QB Chris Smelley vs. Florida's pass defense
Smelley completed just 13 of 24 passes for 92 yards and threw two interceptions in the Gamecocks' 56-6 loss to the Gators. The first interception comes on a third-and-5 play with the ball at the South Carolina 13-yard line. Florida gets pressure up the middle at the snap and WLB Brandon Hicks blitzes off the right side of the formation, forcing Smelley back and to his right. Smelley sees WR
Kenny McKinley
in the right flat and tries to get the ball to him, but he jumps back as he throws the ball. As a result, the pass sails into the hands of MLB
Brandon Spikes
and is returned 12 yards for a touchdown. It's an excellent play by Spikes, who appears to be keying on RB
Eric Baker
before the snap of the ball. At the snap, Baker tries to help pick up the pressure in the middle and ends up on the ground, so Spikes turns his attention to Smelley and drifts outside, putting him in excellent position to make a play on the ball. Spikes then shows above-average ball skills and makes the catch with both hands extended over his head. South Carolina head coach Steve Spurrier replaces Smelley with
Stephen Garcia
on the first play of the next drive, but reinserts Smelley after that one play. On the ensuing second-and-4 play from the Gamecocks' 33-yard line, Hicks again applies pressure off the right side of the formation and tips a screen pass intended for McKinley. The ball deflects off Hicks and into the arms of SS Ahmad Black. Though tipped passes that get intercepted can be tough to blame on a quarterback, Smelley put himself in a precarious position when he failed to check out of this play. He should have seen Hicks creeping up to the line of scrimmage before the snap and realized the slow-developing play-action screen would give Hicks enough time to get into the backfield and create havoc.
Steve Muench has evaluated both NFL and college players for Scouts Inc. since 2002.
Scouts Inc.
Steve Muench played four years of Division I-AA football before joining Scouts Inc. in 2002. He has evaluated both NFL and college players for Scouts Inc., but his current focus is on the NFL draft.
SPONSORED HEADLINES
MORE NFL HEADLINES
MOST SENT STORIES ON ESPN.COM
EDITORS' PICKS
If Marc Trestman is on his way out, he'll do so with a QB unlikely to take the risks that doomed Jay Cutler.
Wright »

Big-name QBs lead off Todd McShay's first 2015 mock draft. Is RB Melvin Gordon far behind?
McShay

Drew Brees and his contemporaries have obliterated the numerical feats of Johnny Unitas and his peers.
Seifert »