Commentary
Florida's Murphy shows toughness; Oklahoma's Brown burns OSU
Steve Muench's weekly matchup report looks at film of Florida WR Louis Murphy, Alabama G Mike Johnson and Oklahoma RB Chris Brown.
Originally Published:
December 2, 2008
By
Steve Muench
| Scouts Inc.
For NFL teams, hitting or missing on draft picks can be the difference between making the playoffs and playing golf in January, so it should come as no surprise that scouts leave no stone unturned when evaluating players' skill sets. It's a grueling process that involves seemingly endless film sessions, but there are games that can make scouts sit up and pay particular attention.
These are the games that feature a prospect who's lining up against one of the best units or players in the nation and/or playing in a game with substantial implications for his team. Here are the matchups that caught my eye in Week 14, and what I took from the film of each performance: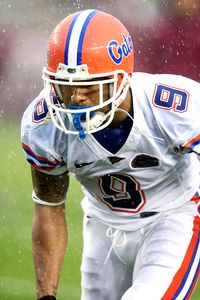 Ken McKimm/Icon SMIDownpours in Tallahassee couldn't slow down Louis Murphy.
Florida WR Louis Murphy vs. Florida State's secondary
Murphy caught just two passes in the Gators' 45-15 win over the Seminoles, but Florida ran the ball more than twice as much as it threw, and both of Murphy's catches went for more than 20 yards. Let's start with a third-quarter touchdown on third-and-13 from the Florida State 23-yard line. Murphy lines up wide right opposite Seminoles CB Michael Ray Garvin, who gives Murphy a healthy cushion. Murphy explodes off the ball and throws a quick move to the outside before breaking back inside. Garvin tries to slow him down but whiffs on the jam and Murphy slips behind the defense. While he's wide-open at this point, Murphy's work isn't done yet, because QB Tim Tebow throws the ball low, late and too far outside. Murphy adjusts well, snatching the ball out of the air with his hands rather than trying to trap it with his pads, and keeping both feet inbounds. Murphy's only other catch comes on first-and-10 in the second quarter with the ball at the 50-yard line. This time he lines up wide left opposite CB Korey Mangum, who also gives a big cushion. Murphy accelerates quickly and then breaks inside Mangum as ROV Myron Rolle slides over to help over the top. Tebow delivers the ball between the two defenders and puts Murphy in a vulnerable position, as the 218-pound Rolle is capable of laying receivers out. Murphy stays focused and keeps his eyes on the ball instead of looking for Rolle, whom he knows is in the area. The play is a testament to Murphy's toughness and ability to make plays over the middle. Finally, it's important to mention that it rained throughout this game, and the slippery ball didn't seem to give Murphy any trouble.
More Film Breakdowns
Steve Muench breaks down the film from Week 14 in college football, and examines the NFL draft implications of the biggest individual matchups. Insider



• DE Johnson shows his athleticism
• Clemson RB Davis displays toughness
• Georgia Tech RBs a perfect complement

Alabama LOG Mike Johnson vs. Auburn DT Sen'Derrick Marks and OLB Chris Evans
The Crimson Tide rushed for three touchdowns and 234 yards in its 36-0 win over the Tigers, and Johnson paved the way for both of true freshman RB
Mark Ingram
's touchdown runs. Both of Ingram's scores came in the third quarter, the first on second-and-goal from the Auburn 1-yard line. Johnson explodes off the line and delivers a strong punch, and while he doesn't drive Marks off the ball he does stay low enough to stack him up, and Marks' inability to sink his hips prevents him from holding his ground when LOT
Andre Smith
collapses inside. The result is a nice seam for Ingram, who hits the hole quickly and lowers his shoulder into the end zone. The second touchdown comes on a second-and-3 play with the ball at the Tigers' 14-yard line. This time NG Tez Doolittle lines up over Johnson's outside shoulder and shoots outside at the snap, where Smith picks him up. Johnson does an excellent job of keeping his feet under him and his head up, though, and in excellent position to engage Evans at the second level. Johnson's wide base allows him to sustain that block long enough for Ingram to cruise by and into the end zone.
Oklahoma RB Chris Brown vs. Oklahoma State's run defense
Brown rushed for 98 yards and two touchdowns in the Sooners' 61-41 win over the Cowboys. His first touchdown comes in the second quarter on first-and-goal from the 2-yard line. Brown can thank his offensive line for this one, as the front five does an excellent job of controlling the line of scrimmage and creating a seam for Brown to get into the end zone virtually untouched. However, Brown set up the touchdown with a tough run the play before, picking up a first down on third-and-1. On that play, Brown follows the block of FB Matt Clapp and cuts off his left hip. SS Ricky Price meets Brown in the hole and stops him at the line, but Brown keeps his balance, shakes the tackle off and lunges forward for the first down. Brown's second touchdown comes on first-and-10 from the Cowboys' 28-yard line in the final minute of the game. This time, QB Sam Bradford lines up in the shotgun formation with Brown to his left. Bradford hands the ball to Brown, who runs off-tackle right, reads RG Brandon Walker's block perfectly and cuts crisply upfield behind him. Though RDE Swanson Miller reads the play and quickly scrapes down the line of scrimmage, Brown is so quick though the hole that Miller can't get down the line in time to make the play.
Steve Muench has evaluated both NFL and college players for Scouts Inc. since 2002.
Scouts Inc.
Steve Muench played four years of Division I-AA football before joining Scouts Inc. in 2002. He has evaluated both NFL and college players for Scouts Inc., but his current focus is on the NFL draft.
EDITORS' PICKS
Bill Belichick's failings as a GM have put the Patriots' offense in a bad spot.
Mike Sando

Draft-day blockbuster trades are bold and exciting. But rarely does the capital gained match the price paid.
TMQ »

Nick Foles struggled Sunday, and poor O-line play was a big reason why.
Seifert »
ESPN FAN SHOP