Commentary
Well-traveled Martin on doorstep of NFL
Originally Published:
April 24, 2009
By
Len Pasquarelli
| ESPN.com
He was born in Jamaica and grew up near Toronto, and now Vaughn Martin longs to play football in the United States for a living.
Sometime during the seven rounds of this weekend's draft, the massive defensive lineman from Western Ontario University is hoping, his rather circuitous path will transform into a straight line to an NFL job.

Martin
"It's been my goal for a long time," said Martin, one of the more unusual prospects in the 2009 draft, by telephone earlier this week "Not being [cocky], or anything, but I don't see any reason why it can't be done by the right person and in the right circumstances. And I feel like I'm the right person to do it at this point. I mean, I've been playing football for a decent amount of time. It's not like I'm some hockey player who just decided one day that he wanted to play [football].
"The game, it's not like it's totally foreign to me."
Nor is Martin, who played two seasons at Western Ontario, a prospect who is totally anonymous to league scouts. He has garnered interest this spring from more than half the NFL's teams, and from talent scouts whose biggest goal in life is to identify that one diamond-in-the-rough performer. A few clubs have assessed Martin as little more than a "priority" undrafted college free agent, but most feel he will be selected somewhere in the late rounds.
Certainly, the NFL has previously employed players with Canadian backgrounds. And there have been players with native roots north of the border. Fifteen Canadian-born players appeared on NFL rosters at some point during the 2008 season. Thirteen of them made opening-day rosters last year.
But it is rare indeed for a player with a Canadian background to have the degree of physical skills that Martin possesses. It is fair to suggest that only a handful of players from Canada have ever possessed Martin's football abilities.
Canadian Roots
There were 15 Canadian-born players on NFL rosters at some point during the 2008 season. Here are three of the more notable ones:
O.J. Atogwe, FS, St. Louis:
The former third-round draft choice (2005) has developed into one of the league's best interior secondary players. Atogwe, 27, was designated the Rams' franchise player this spring. The four-year veteran has started all 16 games for each of the last three seasons and has 13 interceptions the past two years. Career totals include 243 tackles, two sacks, 17 interceptions, and 24 passes defensed. The onetime Stanford star has appeared in 60 games and started 48 of them. He was born in Windsor, Ontario.
Nick Kaczur, OT, New England:
The four-year veteran was a third-round pick in 2005. Kaczur, 29, has been a fixture at right tackle for the Patriots for the past 2½ seasons. The former Toledo star played at left tackle, replacing the injured
Matt Light
as a rookie, but has settled in now at right tackle. Kaczur started 29 games at right tackle in 2007-2008. A rugged strongside blocker, Kaczur was born in Brantford, Ontario.
Shaun Suisham, PK, Washington:
After knocking around the NFL for years, Suisham joined the Redskins in 2006 and has been their kicker ever since. Suisham, 27, is coming off a subpar performance in 2008, when he converted only 26 of 36 field-goal tries, for a career-low 72.2 percent. For his career, the former Bowling Green standout, who was originally signed by Pittsburgh as an undrafted free agent in 2005, has made 67 of 86 field-goal attempts and all but one of his 77 extra-point tries. Suisham has a strong leg, as evidenced by nine touchbacks last season, but he must improve his accuracy. In stints with Dallas (2005-2006), San Francisco (2006) and Washington (2006-2008), the three-year veteran has appeared in 43 games. He was born in Wetland, Ontario.
Others:
DL
Rob Meier
(Jacksonville), WR
Nate Burleson
(Seattle) and DT
Israel Idonije
(Chicago).
"It's going to take him a while," one NFC South scout said. "There's a big adjustment period ahead for him and any team that takes him. But sure, there's talent there. You could end up with a really good player. Or it could take a long time [for Martin to develop], and he could end up being a washout. Any team that chooses him will have to be committed to giving him some time."
Granted, Martin, who celebrated his 23rd birthday earlier this week, is as green as an Augusta fairway and as raw as steak tartare. But he carries his 330 pounds very well. In fact, some NFL scouts are surprised by Martin's weight, and allow that he looks more like a 290-pounder. Although he was not invited to the scouting combine in February, Martin has consistently clocked a 40-yard time just above 5 seconds during campus and personal workouts. He has put up an impressive 33 repetitions in the standard 225-pound bench press. And Martin performed the 20-yard shuttle in a dazzling 4.31 seconds.
So while choosing Martin might be a crapshoot, there have been longer shots who have made NFL rosters.
Martin has played football for only eight years, taking up the game in the 10th grade at South Secondary School in London, Ontario. Obviously, Martin didn't play against the level of competition that most American prospects have faced in college. He readily conceded that the Canadian Interuniversity Sports (CIS) conference was perhaps the equivalent of an FCS or Division II program.
Martin "messed around with" hockey at a young age, but opted for football when, at age 15, he was watching a friend at practice, the head coach noticed him and hollered, "Hey, kid, do you want to play?" Martin has been playing ever since.
"I can remember the first time I played," recalled Martin, who moved from Jamaica to Canada when he was 9 years old. "I didn't even have [football] cleats. I was playing linebacker with white tennis shoes on, and sliding all over the place. But from the start, I knew I loved the game."
A high school standout, Martin was recruited by several programs in the States, and signed a letter of intent to Michigan State in 2006. He failed to qualify at MSU, not because of poor grades, but because of a transcript problem with a class he had taken in ninth grade. Martin returned home, then attended the Milford Academy prep school for a year, and eventually enrolled at Western Ontario. Before his college experience, Martin played semipro football for two seasons and starred on Team Canada in the 2006 NFL Global Junior Championships, where he was named to the all-tournament team.
In two seasons at Western Ontario, he played all four defensive line positions, and lined up mostly at end in 2008, where he recorded 36 tackles and 3½ sacks. Because Martin lacks some initial explosiveness and pure upfield pass-rushing skills, his size, frame, long arms and overall skill set might be better suited for a 4-3 tackle position in the NFL or at end in a 3-4 scheme. Another plus: Like former Chicago Bears defensive tackle William "The Refrigerator" Perry, Martin has lined up in the backfield as a power-blocking fullback for short-yardage and goal-line situations.
Despite his failure to qualify academically at Michigan State, Martin is well-spoken and thoughtful. His intelligence is evidenced by his score of 38 on the Wonderlic test.
Martin is believed to be the first underclassman from a Canadian university to declare for the NFL draft. Because the Canadian underclass rules allow him to return to school, he actually has two seasons of eligibility remaining at Western Ontario, but Martin has his sights set solely on the NFL.
"I know there's a lot to learn, and people will need to have some patience with me, but I do pick up things pretty fast," Martin said. "Yeah, my story is a little different, but there are guys who have gone from Canada to the NFL.
"And I plan to be the next one."
Senior writer Len Pasquarelli covers the NFL for ESPN.com.
2009 NFL Draft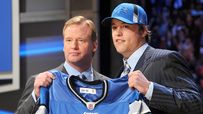 After 15 hours 15 minutes, the 2009 NFL draft is over. Georgia quarterback Matthew Stafford was the top overall pick by the Lions. The Chiefs took South Carolina kicker Ryan Succop with the 256th and final pick, earning him the title of Mr. Irrelevant.
NEWS
DIVISION-BY-DIVISION ANALYSIS
TEAM-BY-TEAM, ROUND-BY-ROUND PICKS
MEL KIPER
TODD McSHAY
FEATURED BLOG POSTS/BLOGS
COLUMNS/FEATURES
DRAFT TOOLS
SPORTSNATION

MOST SENT STORIES ON ESPN.COM