Commentary
Pre-draft trade hype failed to materialize
Originally Published:
April 27, 2009
By
Len Pasquarelli
| ESPN.com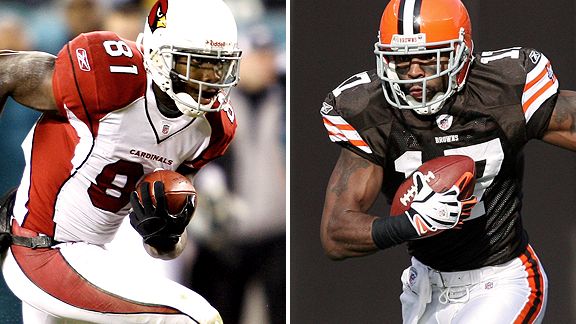 Icon SMIVeteran wideouts Anquan Boldin, left, and Braylon Edwards generated plenty of scuttlebutt, but neither player was dealt during draft weekend.
This past weekend, NFL teams added 256 new players through the draft.
What most franchises did not acquire, however, were old new players via trades that involved veteran performers.
In the days preceding the draft, plenty of prominent veterans were rumored to be on the trade block -- wide receivers Anquan Boldin of Arizona and Braylon Edwards of Cleveland, Oakland safety Michael Huff, Browns quarterback Brady Quinn, Carolina defensive end Julius Peppers, Miami tailback Ronnie Brown and Kansas City guard Brian Waters.
But none of those high-profile veterans was part of any draft weekend trade. It is believed that no team came even close to cutting a deal for any of the big-name players.
In fact, much of the trade talk leading into the draft didn't materialize, as teams were even more reluctant than usual to pull the trigger on deals. About the only profits made during the draft were by the long-distance carriers who owned the phone lines used by general managers to discuss potential trades that ultimately fizzled out.
"There are so many rumors this time of year … and some of them gain traction," new Cleveland coach Eric Mangini said.
The rumors surrounding Boldin and Edwards in particular gained more traction than a Sherman tank, but it didn't matter. Talk is cheap, trades are not, and so although there was plenty of the former, there was little of the latter.
Only two trades involving four veteran players total were consummated during the two days of the 2009 draft. Three of those players -- quarterback Brett Ratliff, defensive end Kenyon Coleman and safety Abram Elam -- went from the Jets to Cleveland on Saturday as part of the package that allowed the Jets to move up in the first round to select coveted quarterback Mark Sanchez. And the other draft swap, on Sunday, sent New England cornerback Ellis Hobbs to Philadelphia for a pair of fifth-round draft choices.
Beyond those two swaps, nothing, zilch.
The three former Jets players shipped to Cleveland have combined for 51 regular-season starts. They will provide Mangini a comfortable link to his recent past as the Jets' head coach, but they epitomize the label of "marginal" player. None of the three is regarded as a difference-maker. Hobbs is a solid player and a two-year starter, but the four-year veteran has never managed more than three interceptions in a season.
Not exactly the kind of blockbuster deals that were anticipated, given the high-profile names that had driven the NFL rumor mill the past week, right?
Not even lesser-known veterans on the market, such as Buffalo wide receiver Roscoe Parrish or defensive end Jarvis Moss of Denver, merited much attention.
Actually, a dearth of deals involving veteran players is not particularly unusual for the NFL draft. In the lotteries that have been conducted since 2000, no more than five trades in a draft have been completed. Six of those nine drafts have featured three veteran trades or fewer, with the previous low before this past weekend's draft being the two trades completed in 2005. Six times during that period, four veteran players or fewer changed franchises in trades. One need go back only to 2007 for a draft in which as few as four players were part of deals.
But this year, with the glut of big names available and the hype that accompanied them, it was assumed by many that there would be more than the usual complement of wheeling and dealing.
Wrong.
Most of the significant trades took place before the draft proceedings began. The Buffalo Bills shipped left offensive tackle Jason Peters, an ascending star, to the Philadelphia Eagles. Kansas City sent 10-time Pro Bowl tight end Tony Gonzalez, who had gone public with his request for a trade, to the Atlanta Falcons for a second-round choice in next year's draft.
What was arguably the most significant deal of the offseason, with Denver quarterback Jay Cutler heading to the Chicago Bears for two first-round draft choices and quarterback Kyle Orton, was completed three weeks ago.
So what happened? A combination of factors -- including the lofty price tags placed on the veteran trade bait, economic realities and good, old-fashioned cold feet -- conspired to all but hang a "Closed" sign on the veteran trade market. There was considerable dialogue involving the most prominent players available, but no action.
Take a look at the ramifications of dealing for either of the prominent wide receivers, Edwards or Boldin, who were available: The price tag for Boldin was at least a second-round choice and something else. Not bad for a player who has averaged 83.7 catches per season during his six years in the league. But Boldin is 28 years old, a fact often overlooked when fans assess his value. And even though he has two seasons remaining on his current contract, any club trading for him would have to negotiate a new deal worth $8-10 million per year. Both literally and figuratively, Boldin's price tag scared off most suitors.
Despite 16 touchdown receptions in 2007, Edwards came with some caveats. Entering the final year of his rookie contract, Edwards would have required a new deal as well. And the fact that he led the NFL last season in dropped passes also was a factor in the lack of real interest in trading for him.
"We weren't going to compromise the integrity of our team [to make a deal for Edwards]," Giants general manager Jerry Reese concluded. "You make a mistake when you do that."
Instead, to replace the departed Plaxico Burress and unrestricted free agent Amani Toomer as part of a rebuilt passing game, the Giants grabbed North Carolina wide receiver Hakeem Nicks in the first round.
In doing so, New York consciously opted for a young player with potential over a veteran with proven production. In this case, the Giants chose the devil they don't yet know in lieu of a known quantity with a devilish past.
Most franchises did the same, which essentially put the veteran trade market out of business for 2009.
Senior writer Len Pasquarelli covers the NFL for ESPN.com.
SPONSORED HEADLINES
MORE NFL HEADLINES
MOST SENT STORIES ON ESPN.COM
2009 NFL Draft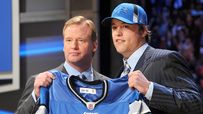 After 15 hours 15 minutes, the 2009 NFL draft is over. Georgia quarterback Matthew Stafford was the top overall pick by the Lions. The Chiefs took South Carolina kicker Ryan Succop with the 256th and final pick, earning him the title of Mr. Irrelevant.
NEWS
DIVISION-BY-DIVISION ANALYSIS
TEAM-BY-TEAM, ROUND-BY-ROUND PICKS
MEL KIPER
TODD McSHAY
FEATURED BLOG POSTS/BLOGS
COLUMNS/FEATURES
DRAFT TOOLS
SPORTSNATION