Commentary
Crabtree's top-10 stock wrapped in tape
Why is Michael Crabtree a top-10 lock? Go to the tape. Better yet, watch him do it.
Updated:
April 13, 2009, 10:58 AM ET
By
Chris Sprow
| ESPN The Magazine
"There's always going to be questions. I think I'll answer them all." — Michael Crabtree, Feb. 20
Back in late February at the NFL Combine, Michael Crabtree was more defensive about his speed than he is today while roaming around on crutches. (Just look at the cover of our new issue of ESPN The Magazine.) That's because the more days that pass between his final college game and the NFL draft, the longer his legacy can be preserved -- mummified forever in miles of tape he racked up at Texas Tech.
But the key to his stock may be Crabtree's own love of that tape.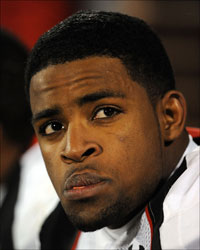 Getty ImagesNFL personnel love his physical skills, but Crabtree's reputation as a pure technician may seal his fate as a star.
NFL coaches such as Andy Reid have said that a rookie receiver can take up to three years to understand the nuances of the pro game and really become effective. But Crabtree has pointed out that he sees the field differently. After all, he was a quarterback before he landed at Tech, time which he says was about gaining knowledge, "and all about coverages, identifying coverages." In other words, the in-game and film session diagnostics that turn full-term rookies into NFL preemies won't faze him.
"It won't take three years," said Dennis Simmons, the wide receivers coach at Texas Tech. "For one, with our offense, he's seen every concievable defense, both to stop us, and to shut him down specifically. Plus, wide receiver is a position that comes last, so to speak. Other elements, like a good QB, a good line, a good system, have to be in place so you can do your job.
"But he'll be able to do his right away."
Crabtree's legend grows as his ankle heals. As NFL draft guru Mike Mayock said, Crabtree is a guy where his 40-time doesn't really matter. Compare that to another first round receiver like Percy Harvin. Mayock said Harvin's route-running was still a mystery. In Crabtree, he says, people already see him as a potential Larry Fitzgerald, a guy who, during his own draft process, most said couldn't separate from defenders.
So Crabtree's weakness is that of one of the most dominant receiver in the NFL. You could do worse.
BOOM OR BUST
In the past ten years, 17 wide receivers have been drafted in the top ten. Nearly all were considered physically gifted. The results have been the epitome of boom or bust. Some guys have carried their teams to great heights, others are punchlines in discussions of franchise failure.
| Player | Year/Pick |
| --- | --- |
| Calvin Johnson | 2007 - No. 2 |
| Ted Ginn Jr. | 2007 - No. 9 |
| Braylon Edwards | 2005 - No. 3 |
| Troy Williamson | 2005 - No. 7 |
| Mike Williams | 2005 - No. 10 |
| Larry Fitzgerald | 2004 - No. 3 |
| Roy Williams | 2004 - No. 7 |
| Reggie Williams | 2004 - No. 9 |
| Charles Rogers | 2003 - No. 2 |
| Andre Johnson | 2003 No. 3 |
| David Terrell | 2001 - No. 8 |
| Koren Robinson | 2001 - No. 9 |
| Peter Warrick | 2000 - No. 4 |
| Plaxico Burress | 2000 - No. 8 |
| Travis Taylor | 2000 - No. 10 |
| Torry Holt | 1999 - No. 6 |
| David Boston | 1999 - No. 8 |
Not that Crabtree even considers the comparisons. Asked what he thought about the draft competition back in Indy, the conversation with Crabtree was quick. "I pretty much don't even know really too much about (Jeremy) Maclin," said Crabtree. "He played at Missouri."
Don't take it as dismissive. This is just who Crabtree is -- extremely self-involved when it comes to perfecting his own game, say his coaches from college. "Like one of those LeBron, MJ or Kobe-types," said Simmons, "he's just committed to perfecting his craft.
"He's not even a party type, and I mean that in the way that when everybody else is out, you'd run into Michael here at the practice facility, going over tape."
In one mock draft, Mel Kiper put Crabtree at No. 6 to Cincinnati. Said Bengals coach Marv Lewis in Indy: "We have to change the nature of the offense. We have to get the ball productively down the field. We have to make those chunk plays … get back into more 20-yard plays." On his player-interview techniques, Lewis said he tends to ask them what they do on a Tuesday during football season.
Crabtree on a Tuesday? "Probably watching tape," said Simmons.
You can be sure Lewis -- and the rest of the top ten -- already have.
ESPN Insider
Senior Editor for ESPN Insider
Works with Mel Kiper on NFL draft content
Written for: New York Times, Seattle Times, others
SPONSORED HEADLINES
MORE NFL HEADLINES
MOST SENT STORIES ON ESPN.COM
EDITORS' PICKS
In what was a historic game by Tony Romo, the Cowboys routed the Colts and claimed the NFC East title.
Archer »

New replay standards upheld a pivotal Jimmy Graham fumble. Here's a closer look.
Seifert »

The Seahawks' offense caught fire as they wrested control of the NFC West from the Cardinals.
Blount »