Commentary
Money matters in 2010 draft
Economic considerations might compel Rams to take a QB, not DT Suh, with top pick
Originally Published:
February 25, 2010
By
John Clayton
| ESPN.com
INDIANAPOLIS -- In a perfect world, NFL teams draft the best players and best athletes available.
Each February, coaches, scouts and general managers assemble here to evaluate approximately 330 players. It's the perfect world. They interview the draft-eligible players and evaluate the physical skills of the ones who work out.
Once everyone leaves Indianapolis, though, the perfect world disappears. Financial considerations enter the decision-making process, and those financial decisions will have a major impact on the 2010 draft.
At the top of every draft, teams don't necessarily select the best athletes available. Often, teams take the players who make economic sense based on the positions they play.
This year's draft will be the perfect test case for that premise. Most draft experts consider Ndamukong Suh of Nebraska, Gerald McCoy of Oklahoma and Eric Berry of Tennessee to be the top three players. Here's the problem: Suh and McCoy are defensive tackles. Berry is a free safety.
[+] Enlarge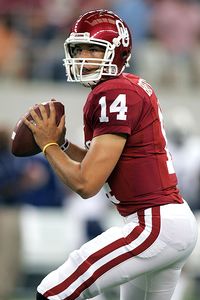 Tim Heitman/US PresswireIf the Rams balk at paying a defensive tackle big money, Sam Bradford stands to benefit.
Most likely, at least a couple of teams at the top of the draft won't be able to justify paying a defensive tackle or a safety top-three money. It could lead to a quarterback (Sam Bradford or Jimmy Clausen) or a left tackle (Russell Okung) vaulting up the draft board. Sure, coaches and general managers draft players in relation to talent and rankings, but finances and the reality of the game do enter the discussion.
Let's start with the St. Louis Rams. They have the No. 1 pick, and many people believe St. Louis likes Suh more than McCoy. Here's the problem: Drafting Suh No. 1 when the franchise is without a true starting quarterback doesn't make much sense, particularly if the Rams don't bring back Marc Bulger.
Looking at the football side of things, Suh might not make sense for the Rams anyway. Selecting the Nebraska defensive tackle would mean the Rams would have him on a defensive line with Chris Long and Adam Carriker, three first-round defensive tackles in the past four years.
The problem facing the Rams is that they aren't one defensive tackle away from being competitive. They went 1-15 this past season. Adding Suh without a top quarterback might keep the Rams in double-digit loss territory.
Dominating defensive tackles can make an impact on good teams, but they don't always change the fate of bad teams. Former Steelers coach Chuck Noll built his Steel Curtain defense around Mean Joe Greene, but that team was loaded with Hall of Famers. Defensive tackles who go to bad teams can do only so much.
The Seahawks got a Hall of Fame career from defensive tackle Cortez Kennedy, the third pick in the 1990 draft, but Seattle had only one playoff appearance during his great career. Glenn Dorsey, the fifth pick in the 2008 draft, didn't stop the downturn of the Kansas City Chiefs. Steve Emtman (Colts) and Dan Wilkinson (Bengals) were top picks, but they didn't turn around bad teams. The Cleveland Browns drafted Gerard Warren No. 3 in 2001, but the team struggled throughout the 2000s.
That's why I predict the Rams will draft Bradford instead of Suh.
The Lions' 3-13 season in 2009 was a little more tolerable because they drafted Matthew Stafford. Quarterbacks offer more hope than defensive tackles, even if most teams rate the defensive tackle as the better choice. You win in this league with quarterbacks.
As great as Albert Haynesworth is as a player, the Redskins went from a playoff contender to 4-12 last season after giving Haynesworth a $100 million contract.
If Suh or McCoy is the top pick, either player will command a contract in the $12 million-a-year range. Teams would rather pay that for quarterbacks, left tackles or pass-rushing defensive ends who can produce sacks.
The economic realities also should affect Berry's chances of going in the top three. Maybe Berry can be the next Ed Reed or the next Troy Polamalu. Top safeties, though, make less than $8 million a year. If Berry goes No. 3 to the Tampa Bay Buccaneers, he probably would get a five-year deal for around $50 million, approximately $10 million a year.
If the Bucs take him at No. 3 and he isn't the most dominating safety in league history, they might not be able to justify re-signing him. He'd ask for a raise, and it will be hard for the Bucs to justify paying him more than $10 million a year.
If this were a perfect world, Suh, McCoy and Berry could go 1-2-3. The draft isn't perfect anymore because of economics. That's why I think the quarterbacks will move up with maybe one -- most likely Bradford -- going to the Rams.
John Clayton, a recipient of the Pro Football Hall of Fame's McCann Award for distinguished reporting, is a senior writer for ESPN.com.
NFL senior writer
Senior NFL writer and commentator
Joined ESPN in 1995
Member of the writers' wing of the Pro Football Hall of Fame in Canton, Ohio
SPONSORED HEADLINES
MORE NFL HEADLINES
MOST SENT STORIES ON ESPN.COM
2010 NFL DRAFT
From Oklahoma's Sam Bradford to Mr. Irrelevant (Weber State WR Tim Toone), the 75th NFL draft is in the books.
THE BREAKDOWN/PICKS ANALYSIS
TEAM-BY-TEAM PICKS
DIVISION DRAFT REVIEWS
MEL KIPER JR.
COLUMNS/FEATURES
FANTASY
SPORTSNATION
TODD MCSHAY AND SCOUTS INC.