Commentary
Starr, Bo, Berry among draft bonanzas
Rounds 7-30, and free agency, have produced plenty of diamonds in the rough
Originally Published:
April 12, 2010
By
Sheldon Spencer
| ESPN.com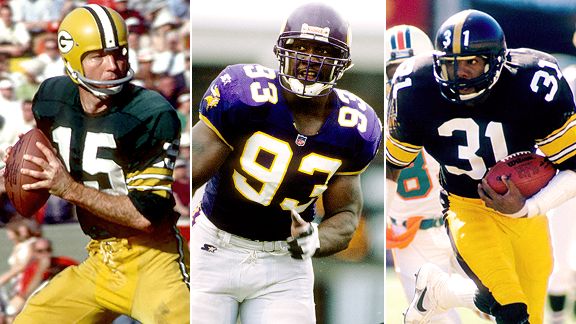 US PresswireBart Starr (1956, 17th round, Packers), John Randle (1990, free agent, Vikings) and Donnie Shell (1974, free agent, Steelers) are among the great players uncovered on the NFL draft's fringes.
Here's a glimpse at how difficult assembling ESPN.com's round-by-round NFL draft all-stars is. We decided to mirror the NFL draft's current length -- seven rounds -- with a slight twist. Within the seventh-round team, we're also including players selected in later rounds -- the NFL draft sometimes went 30-rounds deep --
and
including the best undrafted free agents in that grouping. We discovered there's plenty of star power in the draft's lower rungs and free-agency's fringes, too. The result: several agonizing choices (see charts below). In keeping with our general guidelines, we're giving Hall of Famers priority in most cases. Still, we wrestled with selecting our starting safeties, for example.
Best Round-By-Round Teams Explained
Below are a few of the guidelines we formed in assembling ESPN.com's best NFL draft round-by-round teams. The project is described in more detail here.
We surveyed candidates originally signed by NFL teams in the league's drafts since 1936. The American Football League and NFL did not merge drafts until 1967, therefore players who signed originally with AFL teams between 1960 and 1966 were not considered. Players who originally signed with teams in the old All-American Football Conference also were excluded.
Players were judged primarily on their performance for the team that first signed them. For example, the fact that Brett Favre is a lock for the Hall of Fame doesn't mean he was a great draft pick for the Falcons.
Priority was given to players who accumulated championships, all-league/Pro Bowl citations and/or Hall of Fame numbers primarily with their original teams.
We bent these guidelines in exceptional cases.
Nearly 50 years after his retirement, Hall of Famer Emlen Tunnell (free agent, 1948,
New York Giants
) still ranks second on the NFL career interceptions list (79, trailing only the
Minnesota Vikings
' Paul Krause's 81 picks). Former
Pittsburgh Steelers
star Donnie Shell (free agent, 1974) won four Super Bowls in his first six seasons with the team -- and gave the Steelers eight more years of solid service. Unlike Tunnell, Shell is still on Canton's waiting list. Choosing this tandem means relegating two Hall Of Famers -- Larry Wilson (seventh round, 1960, Cardinals) and Ken Houston (ninth round, 1967, Oilers) -- to the also-considered list. Why? Tunnell (1956, Giants) and Shell were part of championship winners, Wilson and Houston were not. As you'll discover, logic is only part of this recipe -- and sometimes it's left in the pantry, lost somewhere behind the Carnation Instant Milk and that box of Wheaties with Joe Kapp's picture on it. Sometimes, we'll grant wild-card exceptions that are purely subjective and clearly defy logic. An originally proposed all-Canton backfield of Leroy Kelly (eighth round, Cleveland, 1964) and Bobby Mitchell (seventh round, Cleveland, 1958) was shelved when some ESPN.com staffers pushed for Auburn's Bo Jackson (seventh round, Los Angeles Raiders, 1987, after Tampa Bay's 1986 draft rights expired). Bo's shelf life was limited by his dueling MLB career and the hip injury that ended his NFL jaunts in January 1991. His career numbers (2,782 rushing yards and 16 rushing TDs) don't hold a candle to either Kelly's or Mitchell's. But what the Raiders risked -- a seventh-round draft pick -- paid tremendous dividends on and off the field for a franchise that was trying to establish a foothold in Los Angeles. After his rookie year, Jackson's play in a job-sharing role with Hall Of Famer Marcus Allen helped improve the Raiders' fortunes the next three seasons. The Raiders got great value out of a part-time, one-of-a-kind player, let alone a seventh-round draft pick. Yes, Jackson never will be enshrined in Canton. Still … No offense, Bobby Mitchell, but Bo leapfrogged you into our starting lineup. Hey, this is very subjective. Likewise, it was tough to limit the best diamonds-in-the-rough wide receiver contingent to two. It's hard to displace a pair of HOFers in Florida A&M's Bob Hayes, an Olympic track star but seventh-round reach for the
Dallas Cowboys
in 1964, and SMU's Raymond Berry, a 20th-round selection of the Baltimore Colts in 1954.
[+] Enlarge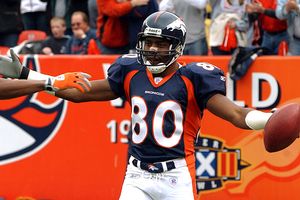 AP Photo/Ed AndrieskiFormer Broncos' star Rod Smith might have been the greatest free-agent receiving signing ever.
Still, Denver's
Rod Smith
makes a strong argument. He emerged from NCAA Division II Missouri Southern in 1994 to become the dream free agent. In 12 full seasons, Smith caught more passes (849) for more yards (11,389) and more touchdowns (68) than any undrafted player in NFL history. He also snared two Super Bowl rings. Hmmm … Berry celebrated two titles with the Colts, Hayes one with the Cowboys. Factor in length of service, too, and Smith edges the "world's fastest human" Hayes for a spot on our team by a nose. Now where's Berry's teammate, Johnny Unitas? The Baltimore Colts legend started his NFL career as a 1955 ninth-round draft pick of the Steelers, who cut him. He didn't excel with the first NFL team to sign him, so Johnny U.'s not part of our squad. Some of the other quarterbacks considered for the starter's role on our seventh-round and beyond all-stars included Hall of Famers Roger Staubach (1964, 10th round, Cowboys) and
Warren Moon
(1984, CFL free agent, Oilers). But Bart Starr's résumé trumps them all. The former Alabama quarterback was a 17th-round selection of the
Green Bay Packers
in 1956, and all he did was lead them to five titles in 16 seasons. He won two Super Bowl MVPs on his way to Canton. Suffice it to say there were plenty of debates at every juncture. Even given the infinite options of the Internet, we're not going to publish every name considered at every position. This is a highly subjective process -- and we were bound to have overlooked someone, some way, somehow. See the charts below for some of the best lower-rung prospects the NFL has ever signed. Click
here
to read about Round 6.
SEVENTH ROUND AND BEYOND OFFENSE ALL-STARS
Here are some of the best offensive players selected in the seventh round and beyond -- including undrafted free agents -- in NFL regular draft history. Pro Football Hall of Fame members are in bold face. Guards and tackles were not selected position specific.
Position
Player
Year
College
Signed By
Comment
Among Others Considered
QB
Bart Starr
1956
Alabama
Packers
A 17th-round selection, Starr won five titles as a Packers QB, including a pair of SBs
Roger Staubach (1964, 10th round, Cowboys),
Warren Moon (1984, CFL FA, Oilers)
RB
Bo Jackson+
1987
Auburn
Raiders
Our wild-card pick: Jackson (1987, 7th round, Raiders) was an iconic player in his all-too-brief NFL stint
Bobby Mitchell (1958, 7th round, Browns), Tony Canadeo (1941, ninth round, Packers)
RB
Leroy Kelly
1964
Morgan State
Browns
Kelly (1964, 8th round, Browns) was a six-time Pro Bowl selection in eight seasons in Cleveland
Willie Parker (2004, undrafted, Steelers), Earnest Byner (1984, 10th round, Browns)
WR
Rod Smith
1994
Missouri Southern
Broncos
Smith caught more passes (849) for more yards (11,389) and more TDs (68) than any undrafted player in NFL history
Bob Hayes (7th round, 1964, Cowboys, HOF), Donald Driver (7th round, 1999, Packers)
WR
Raymond Berry
1954
SMU
Colts
A 20th-round pick, he retired after 13 seasons with Colts with then-NFL record 631 catches
T.J. Houshmandzadeh (2001, 7th round, Bengals), Mark Clayton (1983, 8th round, Dolphins)
TE
Shannon Sharpe
1990
Savannah State
Broncos
The eight-time PBer (1990, 7th round, Broncos) won two of his three SB rings as a Bronco
Jackie Smith (1963, 10th round, Cardinals),
Antonio Gates (2003, undrafted, Chargers)
C
Jim Ringo
1953
Syracuse
Packers
As a Packer, seventh-round pick Ringo won two NFL titles, seven PB citations
Jay Hilgenberg (1981, undrafted, Bears), Tom Nalen (1994, 7th round, Broncos)
G
Nate Newton
1986
Florida A&M
Cowboys
Undrafted, Newton (who also played tackle) won three SB titles, six PB citations in 14 seasons
Gene Hickerson (1957, 7th round, Browns),
Max Montoya (1979, 7th round, Bengals)
G
Dan Fortmann
1936
Colgate
Bears
In eight seasons with the Bears, ninth-round pick Fortmann was an all-league star and won three NFL titles.
Herb Scott (1975, 13th round, Cowboys),
Mark Schlereth (1989, 10th round, Redskins)
T
Rayfield Wright
1967
Fort Valley State
Cowboys
Seventh-round pick played with five Super Bowl teams, went to six consecutive PBs
Joe Jacoby (1981, undrafted, Redskins)
T
Roosevelt Brown
1953
Morgan State
Giants
As a 20-year-old rookie (1953, 27th round), Brown won a starting job and kept it for 13 years, with 9 PBs, 1 NFL title.
Cody Risien (1979, 7th round, Browns)
+Jackson drafted No. 1 overall by Buccaneers in 1986, did not sign with them
SEVENTH ROUND AND BEYOND DEFENSE ALL-STARS
Here are some of the best defensive players selected in the seventh round and beyond -- including undrafted free agents -- in NFL regular draft history. Pro Football Hall of Fame members are in bold face. To honor the popularity of the 3-4 defense, we picked four linebackers. Corners, safeties and linebackers were not selected position specific.
Position
Player
Year
College
Signed By
Comment
Among Others Considered
DT
John Randle
1990
Texas A&I
Vikings
With Vikings, this undrafted star assembled the bulk of the numbers (137.5 career sacks) for his HOF induction
Leon Lett (2001, 7th round, Cowboys), John Elliott (1967, 7th round Jets)
DT
Manny Fernandez
1968
Utah
Dolphins
Undrafted free agent Fernandez won two SB rings, starred in SB VII win
Fred Miller (1963, 7th round, Colts), Jim Burt (1981, undrafted, Giants)
DE
David (Deacon) Jones
1961
SC State
Rams
A 14th-round selection, two-time DPOY Jones literally defined the term "sack"
Richard Dent (1983, 8th round, Bears), Clyde Simmons (1986, 9th round, Eagles)
DE
L.C. Greenwood
1969
Arkansas AM&N
Steelers
A "Steel Curtain" star, Greenwood (1969, 10th round) appeared in six PBs, won four SB rings
Coy Bacon (1968, undrafted, Rams)
LB
Joe Schmidt
1953
Pittsburgh
Lions
One of the game's first MLBs (1953, 7th round), elected to PB 10 straight seasons
London Fletcher (1998, undrafted, Rams)
LB
Joe Fortunato
1955
Miss. State
Bears
Fortunato (1952, 7th round) played 12 seasons for the Bears and made five PBs, won one title
Jessie Armstead (1993, 8th round, Giants)
LB
James Harrison
2002
Kent State
Steelers
In his second stint with Steelers, Harrison (undrafted) has three PBs, two SB rings
Seth Joyner (1986, 8th round, Eagles)
LB
Bart Scott
2002
Southern Ill.
Ravens
Scott (undrafted) started 58 of his 109 Ravens appearances and earned a PB citation in 2006
Greg Biekert (1993, 7th round, Raiders)
CB
Dick
(Night Train)
Lane
1952
Scottsbluff (Neb.) Jr. College
Rams
Credit the Rams for discovering undrafted HOF talent Lane, who intercepted 14 passes as a rookie on his way to Canton
Everson Walls (1981, undrafted, Cowboys)
CB
Willie Wood
1960
USC
Packers
An undrafted free agent, the safety won five titles with the Packers, and made a game-breaking pick-six in SB I
Cornell Green (1962, undrafted, Cowboys)
S
Emlen Tunnell
1948
Toledo, Iowa
Giants
Tunnell (undrafted) grabbed at least six INTs for 10 seasons, keyed the Giants' "umbrella" D
Larry Wilson (7th round, 1960, Cardinals)
S
Donnie Shell
1974
SC State
Steelers
Four SB rings, 5 PBs in 14 seasons, all in Pittsburgh. Undrafted.
Ken Houston (9th round, 1967, Oilers)
Sheldon Spencer is an NFL editor at ESPN.com. Thanks to ESPN's Stats & Information crew for their researching efforts, as well as Pro-Football-Reference.com and the Pro Football Hall Of Fame's Web site.
2010 NFL DRAFT
From Oklahoma's Sam Bradford to Mr. Irrelevant (Weber State WR Tim Toone), the 75th NFL draft is in the books.
THE BREAKDOWN/PICKS ANALYSIS
TEAM-BY-TEAM PICKS
DIVISION DRAFT REVIEWS
MEL KIPER JR.
COLUMNS/FEATURES
FANTASY
SPORTSNATION
TODD MCSHAY AND SCOUTS INC.