Commentary
Fifth Round: Great conversion rates
The Raiders turned a LB into an elite CB; the Cowboys converted a RB into a dynasty
Originally Published:
April 14, 2010
By
Sheldon Spencer
| ESPN.com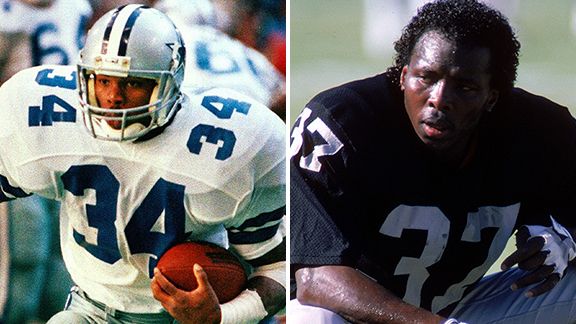 AP Photo, Getty ImagesThe Cowboys mined some good seasons out of halfback Herschel Walker (left) before trading him to Minnesota; the Raiders converted Lester Hayes from college linebacker to a Pro Bowl cornerback.
Lester Hayes entered the NFL in 1977 as a project, a college linebacker who would have to convert to cornerback and learn the Oakland Raiders' bump-and-run defense. Ten seasons later, he left the game with five consecutive Pro Bowl citations, two Super Bowl rings, a league defensive player of the year honor -- and seemingly millions of great quotes. Now the former Texas A&M star ranks among the best fifth-round NFL draft picks ever, as compiled by ESPN.com for our best round-by-round team series.
Round-by-Round All-Stars
ESPN.com this week unveils the best of the NFL draft, round by round. The series breakdown:

When Hayes first joined the Raiders, he was not confident in his ability to fulfill their expectations. He pleaded with owner Al Davis to be converted to safety, but Davis insisted Hayes was made to be a corner. Hayes just had to convince himself. "Logically, playing man-to-man -- and the Raiders will play man-to-man as long as there's a Statue of Liberty -- you're going to get beat," Hayes told Sports Illustrated in 1981. "But it is imperative that you have a degree of cockiness. Bump-and-run coverage is my forte now. There's no mere mortal I fear. I am auspiciously euphoric." Here's hoping you feel the same way about our other fifth-round selections, even the more controversial ones.
Take a look at one of our running back positions, for example.
Dorsey Levens
(1994,
Green Bay Packers
) arguably has the edge over
Herschel Walker
(1985,
Dallas Cowboys
). In eight seasons as a Packer, Levens produced a great deal. He's got a Super Bowl ring, two Super Bowl appearances and a Pro Bowl citation, making a strong case for elevation from our "also considered" list. Former USFL star Walker produced two Pro Bowl campaigns in 3½ Cowboys seasons, but no Super Bowl appearances for Dallas. In 1989, though, the Cowboys leveraged Walker's rights into a blockbuster trade with the
Minnesota Vikings
that had serious ripple effects, including bringing Dallas the players and draft picks that
became the foundation
for three Super Bowl-winning teams.
Fifth-Round Offense All-Stars
Here are some of the best offensive players selected in the fifth round in NFL regular draft history. Pro Football Hall of Fame members are in boldface. Guards and tackles were not selected position specific.
Position
Player
Year
College
Signed By
Comment
Among Others Considered
QB
Bob Waterfield
1944
UCLA
Cleveland Rams
Waterfield was MVP, title winner as rookie, snared 20 INTs doubling as DB
Steve Grogan (1975, Patriots)
RB
Herschel Walker
1985
Georgia
Cowboys
Walker produced two Pro Bowl seasons for the Cowboys before they sent him to the Vikings in a blockbuster 1989 trade.
Dorsey Levens (1994, Packers),
Larry Centers (1990, Cardinals)
RB
Jim Kiick
1968
Wyoming
Dolphins
In seven seasons, Kiick played in three SBs, won two rings, starred on 17-0 squad
Brian Mitchell (1990, Redskins), Sammy Winder (1982, Broncos)
WR
Pete Pihos
1945
Indiana
Eagles
A six-time Pro Bowl selection, Pihos won three receiving titles and even excelled on defense
Carlos Carson (1980, Chiefs)
WR
Max McGee
1954
Tulane
Packers
McGee, who once led the NFL in punting yards, starred for five title winners
Calvin Williams (1990, Eagles)
TE
Ben Coates
1991
Livingstone
Patriots
Coates appeared in five Pro Bowls and one Super Bowl with the Patriots, and played in another Super Bowl with the Ravens
Keith Krepfle (1974, Eagles)
Center
Mike Webster
1974
Wisconsin
Steelers
Along with four SB rings, Webster tallied nine Pro Bowl selections and earned a spot on the NFL's 75th anniversary all-time team
Ed Flanagan (1965, Lions)
Guard
Blaine Nye
1968
Stanford
Cowboys
Nye was a part of three Cowboys Super Bowl teams, winning two rings in nine seasons
John Wooten (1959, Browns)
Guard
Stan Jones
1953
Maryland
Bears
Jones played in seven consecutive PBs and won a title in 1963 with the Bears
Jack Stroud (1953, Giants)
Tackle
Larry Brown
1971
Kansas
Steelers
A converted TE, Brown gave Steelers 14 seasons, won 4 SB rings
Al Wistert (1943, Eagles),
Ed Kolman (1940, Bears)
Tackle
Bob Skoronski
1956
Indiana
Broncos
A star on five Packers' title teams, including first two SBs
Ken Lanier (1981, Broncos)
Fifth-Round Defense All-Stars
Here are some of the best defensive players selected in the fifth round in NFL regular draft history. Pro Football Hall of Fame members are in boldface. To honor the popularity of the 3-4 defense, we picked four linebackers. Corners, safeties and linebackers were not selected position-specific.
| Position | Player | Year | College | Signed By | Comment | Among Others Considered |
| --- | --- | --- | --- | --- | --- | --- |
| DT | Michael Carter | 1984 | SMU | 49ers | Olympics' star Carter was a three-time PB selection and won a SB ring | Santana Dotson (1992, Buccaneers) |
| DT | Fred Williams | 1952 | Arkansas | Bears | Williams was a four-time Pro Bowler in 12 Bears seasons | Dave Hanner (1952, Packers) |
| DE | Dexter Manley | 1981 | Oklahoma State | Redskins | Manley won two SB titles and recorded 97.5 sacks in a controversial career | Aaron Kampman (2002, Packers) |
| DE | Robert Mathis | 2003 | Alabama A&M | Colts | Mathis has two SB appearances, one ring and two PB selections | Trent Cole (2005, Eagles) |
| LB | Zach Thomas | 1996 | Texas Tech | Dolphins | Thomas made seven Pro Bowls and played the bulk of his 12 seasons with Miami | Hardy Nickerson (1987, Steelers) |
| LB | Kevin Greene | 1985 | Auburn | L.A. Rams | Greene recorded 72.5 of his 160 career sacks in eight seasons with the Rams before playing for three other teams | Carl Ekern (Rams, 1976) |
| LB | Riki Ellison | 1983 | USC | 49ers | Ellison started 77 of his 80 appearances with 49ers, earned three SB rings | Ed McDaniel (1992, Vikings) |
| LB | LaVern Torgeson | 1951 | Washington State | Lions | Torgeson helped the Lions to two NFL titles, made a Pro Bowl | Woody Lowe (1976, Chargers) |
| CB | Lester Hayes | 1977 | Texas A&M | Raiders | Hayes was the DPOY in 1980, won five PB citations and two SB rings | Cris Dishman (1988, Oilers) |
| CB | Zeke Moore | 1967 | Lincoln (Mo.) | Oilers | Moore was a two-time all-star selection in his 11-season career with the Oilers | Mike Harden (1980, Denver) |
| S | Merton Hanks | 1991 | Iowa | 49ers | Hanks won four PB selections and one SB as a 49er | Mel Phillips (1966, 49ers) |
| S | Rodney Harrison | 1994 | Western Illinois | Chargers | In nine seasons with San Diego, Harrison earned two PB citations and a SB appearance | Fred Marion (1982, Patriots) |
Sheldon Spencer is an NFL editor at ESPN.com. Thanks to ESPN's Stats & Information crew for their researching efforts, as well as Pro-Football-Reference.com and the Pro Football Hall Of Fame's Web site.
SPONSORED HEADLINES
MORE NFL HEADLINES
MOST SENT STORIES ON ESPN.COM
2010 NFL DRAFT
From Oklahoma's Sam Bradford to Mr. Irrelevant (Weber State WR Tim Toone), the 75th NFL draft is in the books.
THE BREAKDOWN/PICKS ANALYSIS
TEAM-BY-TEAM PICKS
DIVISION DRAFT REVIEWS
MEL KIPER JR.
COLUMNS/FEATURES
FANTASY
SPORTSNATION
TODD MCSHAY AND SCOUTS INC.