Commentary
Fourth Round: Idaho's '58 specials
College teammates, roommates Kramer and Walker were fourth-round finds, NFL stars
Originally Published:
April 14, 2010
By
Sheldon Spencer
| ESPN.com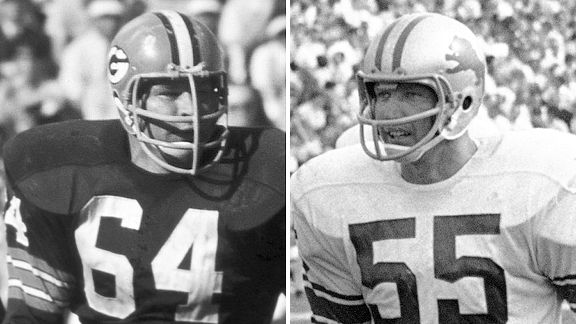 Getty Images, AP PhotoGreen Bay guard Jerry Kramer (left) and Detroit Lions linebacker Wayne Walker (right) turned out to be great investments.
ESPN.com's review of the NFL draft's standouts round-by-round focuses on a pair of fourth-round draft picks who were teammates and roommates at the University of Idaho.
Round-by-Round All-Stars
ESPN.com this week unveils the best of the NFL draft, round by round. The series breakdown:

Former Vandals Jerry Kramer (1958, Green Bay Packers) and Wayne Walker (1958, Detroit Lions) were selected just six draft slots apart. Right guard Kramer paved the way for five Packers championships, including the first two Super Bowls. His lead block against the Dallas Cowboys in the 1967 Ice Bowl paved the way for quarterback Bart Starr's game-winning score. An 11-year veteran, Kramer was named to the NFL's 50th anniversary team in 1969. While he did not enjoy NFL titles as Kramer did, Walker played 15 seasons for the Lions. Walker teamed with defensive tackle Roger Brown, a Maryland-Eastern Shore product the Lions selected in 1960. Brown is another member of ESPN.com's fourth-round first team. Like Kramer, Walker was selected for three Pro Bowls and was named All-Pro five times. In addition to their primary jobs, both Kramer and Walker excelled as place-kickers when needed. Kramer's kicking (three field goals and an extra point) beat the host New York Giants 16-7 for the 1962 NFL title. "It was just a thrill to be at Yankee Stadium, in Ruth's House, and on that field in a NFL Championship Game," Kramer told the Milwaukee Journal Sentinel in 2009. His 30-yard, fourth-quarter field goal sealed the victory. "And then to get jumped on by my teammates, that doesn't happen much to an offensive lineman. They treated me like a running back or quarterback. It was a highlight for me."
Walker accounted for 345 points during his Lions career, including 53 field goals.
At Idaho, Walker did the long-snapping for Kramer's placekicks. Both the Packers and the Lions got a great deal out of these mid-round selections hailing from the rolling Palouse hills. Kramer, who chronicled his 1967 Packers season in the classic "Instant Replay," has been a Pro Football Hall of Fame finalist a record 10 times. Walker's contemporaries -- including 2010 Hall of Fame inductee and former Detroit teammate Dick LeBeau -- tout the Lion's Canton credentials. While few achieve the fame Kramer has enjoyed, many would welcome an NFL career as rich as Walker's. "I won the job as a rookie and they didn't have to worry about my position for 15 years," Walker told the San Francisco Chronicle in 2009, reflecting on his NFL career. "I started as a rookie and I started the last game I played." That's really all any team can ask out of its draft pick.
FOURTH-ROUND OFFENSE ALL-STARS
Here are some of the best offensive players selected in the fourth round in NFL regular draft history. Pro Football Hall of Fame members are in bold face. Guards and tackles were not selected as position-specific.
Position
Player
Year
College
Signed By
Comment
Among others considered
QB
Norm Van Brocklin
1949
Oregon
Rams
Despite sharing starting job with fellow HOFer Bob Waterfield, Van Brocklin managed to win an NFL title and three passing crowns in nine Rams seasons.
Sonny Jurgensen (1957, Eagles)
RB
Chris Warren
1990
Ferrum
Seahawks
Warren went to three PBs in seven Seattle seasons.
Rudi Johnson (2001, Bengals)
RB
Stephen Davis
1996
Auburn
Redskins
Davis had two of his three PBs with Washington.
Brandon Jacobs (2005, Giants), Marion Barber (2005, Cowboys)
WR
John Stallworth
1974
Alabama A&M
Steelers
Stallworth had 537 receptions, 8,723 yards and 63 touchdowns -- all team records at the time of his retirement.
Brandon Marshall (2006, Broncos), Roy Green (1979, Cardinals)
WR
Andre Reed
1985
Kutztown State
Bills
Reed starred in four SBs, was elected to seven PBs.
Rick Upchurch (1975, Broncos),
Cliff Branch (1972, Raiders)
TE
Mark Bavaro
1985
Notre Dame
Giants
In six seasons as a Giant, Bavaro starred in two SB wins and was elected to two PBs.
Jim Mitchell (1969, Falcons)
C
Tom Rafferty
1976
Penn State
Cowboys
Rafferty split time between guard and center for 14 seasons, made two SB appearances.
Tony Mayberry (1990, Buccaneers), Jeff Christy (1992, Vikings)
G
Jerry Kramer
1958
Idaho
Packers
Kramer was a star for five NFL titles, was elected to three Pro Bowls.
Vince Promuto (1960, Redskins)
G
Edwin Mulitalo
1999
Arizona
Ravens
Mulitalo started 102 of 106 games for the Ravens, nabbed a SB ring.
Tom Thayer (1983, Bears)
T
Pat Donovan
1975
Stanford
Cowboys
Donovan won four consecutive PB citations, helped the Cowboys to three SBs appearances and a ring.
Charlie Cowan (1961, Rams)
T
Steve Wallace
1986
Auburn
49ers
Wallace earned three SB rings, started at least 10 games in eight seasons.
Mike Wilson (1977, Bengals)
Fourth-Round Defense All-Stars
Here are some of the best defensive players selected in the fourth round in NFL regular draft history. Pro Football Hall of Fame members are in bold face. To honor the popularity of the 3-4 defense, we picked four linebackers. Corners, safeties and linebackers were not selected as position-specific.
| Position | Player | Year | College | Signed By | Comment | Among Others Considered |
| --- | --- | --- | --- | --- | --- | --- |
| DT | Roger Brown | 1960 | Md.-Eastern Shore | Lions | As a Lion, Brown claimed five of his six PB citations. | Tony McCoy (1992, Colts), Seth Payne (1997, Jaguars) |
| DT | Keith Hamilton | 1992 | Pittsburgh | Giants | Hamilton started 157 games, recorded 63 sacks, played in SB XXXV. | Cleveland Elam (1975, 49ers) |
| DE | Jim Katcavage | 1956 | Dayton | Giants | Three-time PBer Katcavage was part of six title games, winning one, in 13 Giants seasons. | Lyle Alzado (1971, Broncos) |
| DE | Charles Haley | 1986 | James Madison | 49ers | Pass-rushing LB for 49ers before becoming DE with 'Boys, Haley claimed 2 SB rings, 3 PB citations in first six seasons. | Jared Allen (2004, Chiefs) |
| LB | Tom Jackson | 1973 | Louisville | Broncos | ESPN analyst Jackson played in 191 games as a Bronco, played in a SB, three PBs. | Matt Hazeltine (1955, 49ers) |
| LB | Harry Carson | 1976 | S.C. State | Giants | HOFer Carson was elected to nine PBs, won a SB. | William Thomas (1991, Eagles) |
| LB | Wayne Walker | 1958 | Idaho | Lions | Walker played 15 seasons, got three PB citations, scored more than 300 points kicking. | Doug Buffone (1966, Bears) |
| LB | Tim Harris | 1986 | Memphis | Packers | Harris had 33 sacks spanning the 1988-89 seasons with the Packers. | Donnie Edwards (1996, Chiefs) |
| CB | Asante Samuel | 2003 | Central Florida | Patriots | Samuel collected two SB rings, became Pats' postseason hero before joining Eagles. | Ray Crockett (1989, Lions), Ken Ellis (1970, Packers) |
| CB | Deshea Townsend | 1998 | Alabama | Steelers | Townsend has played 12 seasons with the Steelers and has two Super Bowl rings. | Rod Perry (1975, Rams) |
| S | Chuck Cecil | 1988 | Arizona | Packers | Hitter Cecil played five seasons for GB, intercepting 13 passes. | Kerry Rhodes (2005, Jets) |
| S | Jerry Logan | 1963 | West Texas A&M | Colts | Logan played 10 seasons and with two Colts' SB teams, winning one ring. | Todd Bell (1981, Bears) |
Sheldon Spencer is an NFL editor at ESPN.com. Thanks to ESPN's Stats & Information crew for their researching efforts, as well as Pro-Football-Reference.com and the Pro Football Hall Of Fame's Web site.
SPONSORED HEADLINES
MORE NFL HEADLINES
MOST SENT STORIES ON ESPN.COM
2010 NFL DRAFT
From Oklahoma's Sam Bradford to Mr. Irrelevant (Weber State WR Tim Toone), the 75th NFL draft is in the books.
THE BREAKDOWN/PICKS ANALYSIS
TEAM-BY-TEAM PICKS
DIVISION DRAFT REVIEWS
MEL KIPER JR.
COLUMNS/FEATURES
FANTASY
SPORTSNATION
TODD MCSHAY AND SCOUTS INC.
ESPN FAN SHOP