Commentary
First Round: Best of the best
Cleveland's Brown, Dallas' Smith, Pittsburgh's Bradshaw form first-choice backfield
Originally Published:
April 16, 2010
By
Sheldon Spencer
| ESPN.com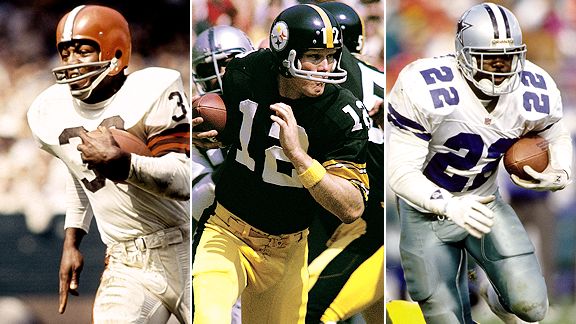 Getty Images, US Presswire, US PresswireOur first-round NFL regular draft all-star backfield: Brown (left), Bradshaw (center) and Smith (right).
Even though the debates never will end, ESPN.com's round-by-round NFL draft all-stars survey finishes with a take on some of the best first-round picks. How can we select just one quarterback from among the likes of
Troy Aikman
(1989,
Dallas Cowboys
), Bob Griese (1967,
Miami Dolphins
) and
Peyton Manning
(1998,
Indianapolis Colts
)?
Round-by-Round All-Stars
ESPN.com this week unveils the best of the NFL draft, round by round. The series breakdown:

We tab the first-round draftee quarterback with four Super Bowl rings -- Terry Bradshaw (1970,
Pittsburgh Steelers
) -- and we rest our case. But based on that logic, why wouldn't Paul Hornung (1957,
Green Bay Packers
) and Franco Harris (1972, Pittsburgh Steelers) be automatic starters behind Bradshaw, since both Hornung and Harris boast four NFL titles each? We're just promoting debate here, folks, not providing empirical evidence of any player's superiority. Hence, we're picking Jim Brown (1957,
Cleveland Browns
) and
Emmitt Smith
(1990, Dallas Cowboys) for the running back slots. Interestingly, while Louisiana Tech's Bradshaw was the No. 1 overall pick in the 1970 draft, Smith and Brown were available to plenty of takers in their respective drafts. Despite falling to the No. 17 slot in the 1990 draft, former Florida star Smith proved any doubters wrong by winning Offensive Rookie Of The Year honors. Smith retired as the NFL's career rushing leader (18,355 yards) and has 164 rushing touchdowns, the bulk of which he produced in 13 Cowboys seasons. He was a key part of the Cowboys' draft trinity -- with wide receiver
Michael Irvin
(1988, Cowboys) and Aikman -- to form the foundation Dallas needed to score three Super Bowl victories in the early 1990s.
Barry Sanders
(1989,
Detroit Lions
),
Marcus Allen
(1982,
Los Angeles Raiders
), Tony Dorsett (1977, Cowboys), Walter Payton (1975,
Chicago Bears
), Larry Csonka (1968, Dolphins) are among the dozens whose numbers -- and in some cases, Super Bowl rings -- make compelling arguments to run with Mr. Smith, but there's one unavoidable backfield mate. Brown's status as an unparalleled NFL icon grants him the other running back slot on our first-round all-star team. Yes, he won only one NFL title and has fallen to No. 9 on the career rushing list. But Brown is the prototype running back, even though he wasn't the apple of Cleveland's eye during the 1957 draft. Apparently Cleveland coveted one of the three top quarterbacks in that draft class, including Notre Dame's Hornung (who became a halfback in the NFL), Stanford's John Brodie or Purdue's Len Dawson. Hailing from Alliance, Ohio, Dawson was particularly coveted by Browns coach and general manager Paul Brown. The Steelers, however, won a coin flip to determine the No. 5 overall pick in that draft and they selected Dawson. With the next pick the Browns settled for Brown, the Syracuse superstar fullback. He won rookie of the year honors in 1957 by leading the NFL in rushing, the first of eight seasons he would pace the league. Six games, 15 touchdowns and 928 rushing yards into his second NFL season, Brown prompted Sports Illustrated to declare him "the greatest running back professional football has ever seen." Years later, even his modern-day peers don't want to debate that assertion.
LaDainian Tomlinson
(2001,
San Diego Chargers
) probably said it best after supplanting Brown for No. 8 on the all-time career rushing list: "Jim Brown transcended generations." We can't top that.
First-Round Offense All-Stars
Here are the best offensive players selected in the first round in the NFL's regular draft history. Pro Football Hall of Fame members are in bold face. Guards and tackles were not selected position specific.
Position
Player
Year
College
NFL Team
Comment
Among others considered
QB
Terry Bradshaw
1970
Louisiana Tech
Steelers
Bradshaw's four SB rings give him the edge over fellow HOFers Aikman, Griese, Kelly, Baugh and future inductee Peyton Manning
Troy Aikman (1989, Cowboys), Bob Griese (1967, Dolphins), Jim Kelly (1983, Bills),
Dan Marino (1983, Dolphins),
Peyton Manning (1998, Colts)
RB
Jim Brown
1957
Syracuse
Browns
It's hard to argue with the icon voted the greatest player in league history
Paul Hornung (1957, Packers), Walter Payton (1975, Bears), Tony Dorsett (1977, Cowboys), Barry Sanders (1989, Lions)
RB
Emmitt Smith
1990
Florida
Cowboys
The man who broke Walter Payton's career rushing mark and owns three SB rings gets this berth
Franco Harris (1972, Steelers),
Larry Csonka (1968, Dolphins), Marcus Allen (1982, Raiders)
WR
Jerry Rice
1985
Mississippi Valley State
49ers
Rewrote WR record books, gave 49ers sweet 16 seasons, SB victories
Michael Irvin (1988, Cowboys), Art Monk (1980, Redskins)
WR
Lynn Swann
1974
USC
Steelers
His numbers aren't as glossy as Rice's, but he has four SB rings and excelled in big moments
Elroy Hirsch (1945, Rams), Marvin Harrison (1996, Colts)
TE
Tony Gonzalez
1997
Cal
Chiefs
In 12 seasons in KC, he established six major NFL records for TE, including career receptions (916) and TD snares (76)
Mike Ditka (1961, Bears),
Ozzie Newsome (1978, Browns),
Kellen Winslow (1979, Chargers)
Center
Clyde (Bulldog) Turner
1940
Hardin-Simmons
Bears
HOFer won four NFL titles, doubled as a LB, even played RB in emergency situations
Chuck Bednarik (1949, Eagles)
Guard
Bruce Matthews
1983
USC
Oilers
In 19 seasons, HOFer played each of the five O-line positions and never missed a game (296) to injury
Randall McDaniel (1988, Vikings), Mike Munchak (1982, Oilers), John Hannah (1973, Patriots)
Guard
Gene Upshaw
1967
Texas A&I
Raiders
In 15 Raiders seasons, HOFer played guard exclusively, made all-league 11 times, won two SB rings
Joe DeLamielleure (1973, Bills), Tom Mack (1966, Rams), Jim Parker (1957, Colts)
Tackle
Ron Yary
1968
USC
Vikings
First player chosen overall, rewarded Vikings with 14 seasons, four SB showings, seven PBs
Anthony Munoz (1980, Bengals), George Connor (1946, Bears)
Tackle
Jonathan Ogden
1996
UCLA
Ravens
First player selected in franchise history, Ogden was elected to 11 PBs -- fourth most in history -- and led team to SB victory
Joe Stydahar (Bears, 1936, HOF),
Willie Roaf (1993, Saints)
First-Round Defense All-Stars
Here are the best defensive players selected in the first round in NFL regular draft history. Pro Football Hall of Fame members are in bold face. To honor the popularity of the 3-4 defense, we picked four linebackers. Corners, safeties and linebackers were not selected position specific.
Position
Player
Year
College
Signed By
Comment
Among others considered
DT
Joe Greene
1969
North Texas State
Steelers
A No. 4 overall pick, the HOFer won four SB rings, was a two-time DPOY
Alan Page (1967, Vikings), Bob Lilly (1961, Cowboys)
DT
Randy White
1975
Maryland
Cowboys
HOFer played in three SBs, had 4 SB sacks, co-MVP of a SB game, missed one game in 14 seasons
Merlin Olsen (1962, Rams),
Warren Sapp (1995, Buccaneers),
Leo Nomellini (1950, 49ers),
DE
Bruce Smith
1985
Virginia Tech
Bills
Two-time DPOY paced Bills to four SB appearances; HOFer retired the NFL's career sacks leader (200)
Jack Youngblood (1971, Rams), Carl Eller (1964, Vikings)
DE
Richard Seymour
2001
Georgia
Patriots
Before joining the Raiders in 2009, Seymour notched 4 SB appearances, 3 rings, 5 PB selections as a Patriot
Dan Hampton (1979, Bears), Lee Roy Selmon (Bucs, 1976)
LB
Lawrence Taylor
1981
North Carolina
Giants
In 13 Giants seasons, Taylor was league DPOY three times and ranked second all time in sacks (132½ officially) at time of his retirement
Derrick Thomas (1989, Chiefs)
LB
Ray Lewis
1996
Miami (Fla.)
Ravens
Selected No. 26 overall in the Ravens' first draft, Lewis is a 10-time PB selection and two-time league DPOY and has a SB ring
Derrick Brooks (1995, Buccaneers)
LB
Dick Butkus
1965
Illinois
Bears
HOFer played in eight PBs in nine Bears seasons
Chuck Bednarik (1949, Eagles)
LB
Junior Seau
1990
USC
Chargers
Led Chargers in tackles in 8 of 13 seasons in San Diego; one SB appearance as a Bolt
Lee Roy Jordan (1963, Cowboys)
CB
Herb Adderley
1961
Michigan State
Packers
A converted RB, HOFer won five of his six NFL titles as a Packers shutdown corner; starred in the first two SBs
Rod Woodson (1987, Steelers)
CB
Darrell Green
1983
Texas A&I
Redskins
A six-time PBer who played an amazing 20 seasons, HOFer helped Redskins to three SB appearances, winning two.
Ty Law (1995, Patriots)
S
Ronnie Lott
1981
USC
49ers
Versatile HOFer played corner in 49ers' first two SB victories, safety in Nos. 3 and 4
Ed Reed (Ravens, 2002)
S
Troy Polamalu
2003
USC
Steelers
Five-time PBer has two SB rings in seven seasons.
Steve Atwater (1989, Broncos)
Sheldon Spencer is an NFL editor at ESPN.com. Thanks to ESPN's Stats & Information crew for their researching efforts, as well as Pro-Football-Reference.com and the Pro Football Hall Of Fame's Web site.
SPONSORED HEADLINES
MORE NFL HEADLINES
MOST SENT STORIES ON ESPN.COM
2010 NFL DRAFT
From Oklahoma's Sam Bradford to Mr. Irrelevant (Weber State WR Tim Toone), the 75th NFL draft is in the books.
THE BREAKDOWN/PICKS ANALYSIS
TEAM-BY-TEAM PICKS
DIVISION DRAFT REVIEWS
MEL KIPER JR.
COLUMNS/FEATURES
FANTASY
SPORTSNATION
TODD MCSHAY AND SCOUTS INC.