Commentary
Bradford vowed early to 'never quit'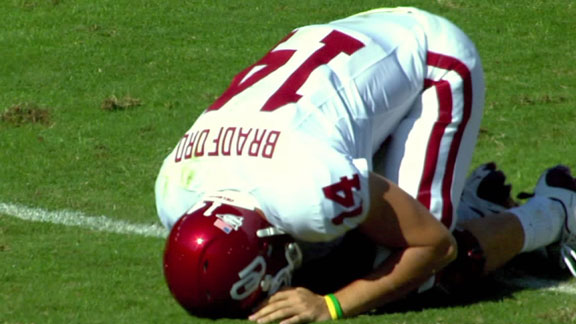 OTL: Drafting Injured Players
"Outside the Lines" looks at the risk of drafting injured football players
OTL: Drafting Injured Players
NORMAN, Okla. -- The list, supposedly, is how this whole thing started, and it was written long before draft boards shuffled, hopes soared and a surgically repaired right shoulder became a $50 million dream. Kent Bradford returns a call on a Sunday afternoon, and politely tries to change the subject. It's Sam's time now, Kent says, and besides, that list is sort of private, something between and a father and a son whose life is nowhere near private these days.
Talk to Sam, he says. See whether he'll mention the list. Chances are, he won't. Sam Bradford might be a dozen things in the eyes of an NFL scout, he might be hours from becoming the No. 1 pick in the 2010 NFL draft, but most of all, he's his father's son. The first 18 years of his life, it was just the three of them, his daddy the old Oklahoma lineman, his mom the schoolteacher, and Sam, fill-in-the-blank. He was a scratch golfer. A budding cellist. Anything he wanted to be.
"He had all of our time," Kent says. "I mean, he was our only child, you know? Heck, he was a captive audience, I guess."
So really, is the list that important? Here's what Bradford will say about it: That he's where he is today because his parents did everything to ensure their boy was well-rounded. They drove across state lines just so Sam could play hockey. Who plays hockey in Oklahoma? And when Kent spoke, he listened. They'd talk every night before the lights went out and Sam went to bed, and one night he gave the kid a checklist. It might have been typewritten, might have been scribbled out by hand … that part is fuzzy.
Try my best at everything I do.
Never quit.
Bradford got the list when he was 5, maybe 6. He recited it to his dad every night for the next six years.
'He sounds too good to be true'
The message boards in St. Louis are brimming with hope, fear and a healthy dose of cynicism. You try stomaching this, on a late-April afternoon with a bellyful of dirt: In three years, the Rams have won just six games. In the past two drafts, they have passed on the likes of Matt Ryan, Joe Flacco and Mark Sanchez, quarterbacks who led their teams to the playoffs as rookies.
[+] Enlarge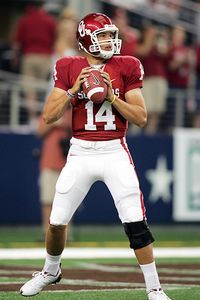 Tim Heitman/US PresswireSam Bradford warms up before the Sooners' game against BYU in 2009 -- the game when he suffered a major shoulder injury.
The Rams have to draft a quarterback. They have to get this right. And the No. 1 prospect is a 22-year-old from Oklahoma City who threw out of a spread offense and missed most of the 2009 season with a shoulder injury.
"I would pick him in a heartbeat," says former Dallas Cowboys exec Gil Brandt. "Sometimes you have to pay, you have to gamble a little bit, to get excellence. To me, Sam Bradford is excellence."
To get an idea of how deeply Bradford is revered in at least one corner of the country, one must only pass the street sign outside Putnam City North High School. It says Sam Bradford Drive. Officially, Bradford is somewhat embarrassed by the sign. Unofficially, he got a kick out of the cheesy slide show that accompanied the street-naming ceremony. When his daddy told him to try his best, surely, Kent Bradford couldn't have envisioned this, that his son would grow to get straight A's, make all-state in basketball, become one of Oklahoma's top hockey prodigies.
That he'd become so popular he'd make cello playing cool and be so well-respected that when an NFL security rep came to Oklahoma City recently to do a routine background check, his old high school football coach laughed and said, "You're wasting your time. There's nothing here."
"He sounds too good to be true," Putnam City North coach Bob Wilson says. "I know when I say this, people go, 'Come on, Coach.' But you know what? We shouldn't be talking about why is this kid so squeaky clean, why is this guy for real. We should be asking, 'Why aren't there more guys like this?'"
Wilson's office is covered in everything Sam. There's the poster on his wall, and the autographed football that says, "Thanks, and Boomer Sooner." Out in the concourse, there's an entire trophy case devoted to Bradford.
It seems funny, now, that five years ago, college recruiters weren't wearing a path to the Bradfords' living room. Maybe it's because Putnam City North went .500 his senior season, or because he played too many other sports for football to notice.
But Wilson knew that once the coaches saw Bradford, the scholarship offers would come. He'd tell them about the 5:30 a.m. wake-up calls in the summer, when Bradford would lift with his linemen. He'd tell them how Bradford could win over every face in the huddle because he worked as hard as they did.
When former Texas Tech coach Mike Leach offered a scholarship, the floodgates opened. Bradford picked OU, Kent's alma mater. And the state of Oklahoma barely blinked.
The early days at OU
In the sweltering-hot summer days of 2006, Bradford was wilting. He showed up for 7-on-7 drills with roughly 200 pounds hanging on his 6-foot-4 frame and a ball of nerves jangling in his stomach. He was wiry, quiet and shy, and could barely be heard in the huddle.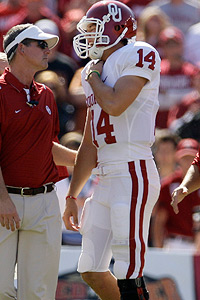 AP Photo/Tony GutierrezBradford is helped after injuring his shoulder against Texas.
"He wasn't too impressive, to tell you the truth," says former OU running back Jacob Gutierrez. "He just wasn't what we were accustomed to seeing at the time going from Jason White to Rhett Bomar. You were just thinking, 'Man, why did we recruit this kid?'
"But by the time we got to 2007, he was confident and level-headed, and he had control of the huddle."
Thing is, Bradford wasn't supposed to be anywhere near the starting lineup in 2007. Bomar seemed to have a three-year lock on the job, but then he was kicked off the team for NCAA violations stemming from his work at a car dealership. Bradford redshirted that 2006 season, focusing on one sport for the first time, and spent the year in the weight room. And by the next summer, his teammates had noticed.
So it was Bradford versus junior Joey Halzle and freshman Keith Nichol for the starting job in 2007, and the competition was so intense that it couldn't be handicapped in spring drills. Two weeks before the season opener, Bradford fired four touchdown passes in a scrimmage played in a steady rain. Coach Bob Stoops decided the next day that Sam was his man. Bradford still wasn't much of a talker. He didn't need to be.
In the 2007 season opener against North Texas, Bradford threw for 363 yards in just over two quarters. He threw 25 touchdowns his first nine games. He led the Sooners to the Big 12 championship.
It wasn't on display every week, but occasionally, Bradford showed his fire. Sophomore year, the Sooners were struggling in the annual Bedlam Game against Oklahoma State. OU was clinging to a four-point lead, and Bradford was being chased back to the 25-yard-line on third-and-goal. Bradford escaped his defender's clutches, ran down the sideline, then vaulted two large Cowboys near the end zone.
"That flip he did against Oklahoma State showed his competitive side," Gutierrez says. "I respect that he's able to do that, to be laid back, but when things need to be done, when it's crunch time, he put us on his shoulders and made the throws he needed to. If you ask me, he can make any situation happen."
Bradford threw for 50 touchdowns and 4,720 yards in 2008 and won the Heisman Trophy. He was such a commanding presence that teammate Gerald McCoy, an All-American defensive tackle whose name also is expected to be called in the first few slots Thursday night, started calling him "King Sam."
"He doesn't like [the nickname]," McCoy says, "but I do it anyway."
Bradford was practically canonized in January 2009, when he announced that he'd return to OU and bypass the NFL draft. He was projected by some to go as high as No. 1, but Bradford, still stinging from the national championship loss to Florida a week earlier, wanted to chase that elusive title.
The draftniks know what happened next. He was slammed to the ground by a BYU defender in the first game of the season and suffered a third-degree AC joint sprain. Although logic told Bradford to pack it in for the season, undergo surgery and get ready for the draft, he couldn't stand the thought of abandoning his teammates. So he fought furiously to return, threw for 389 yards against Baylor, then landed hard on the shoulder in the annual rivalry game against Texas.
It ended his season, and led to months full of doubts about his durability. After his surgery, Bradford returned to the OU campus to help tutor quarterback Landry Jones. He was a good sounding board for the freshman, Stoops says. He did all he could.
"It was really hard on me," Bradford says. "Going through those last couple of months of the season, not being able to be out there, having to go to games and watch … I mean, that just killed me."
'He's a ferocious competitor'
Terry Shea is standing on the turf at Oklahoma's indoor facility, running out of shiny business cards. He was a longtime NFL assistant, a college coach at a few stops, but now Shea has a gig consulting quarterbacks in the months before the draft. Last year, he prepped Matthew Stafford, who went No. 1 overall to Detroit, eventually won the starting job and took his share of lumps on a team in major rebuilding mode.
[+] Enlarge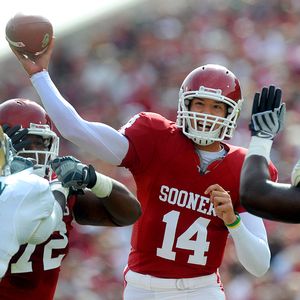 Jerry Laizure/US PresswireBradford is expected to be selected early in the first round of the draft.
His assignment this offseason was just as challenging: Help Sam heal. When they met this winter in Pensacola, Fla., Bradford had yet to be given the green light to throw. They'd spend three hours a day in the classroom, plus another hour or so on the field, working on footwork. Tell Bradford something once, and he remembers it, Shea says.
When Bradford was given the OK to throw, he went six days a week and never wanted to stop.
"His arm does not fatigue," Shea says. "He's like a darn thoroughbred. He gets lathered up and he wants to go more and more and faster."
Shea has worked with Trent Green, Marc Bulger and Rex Grossman, and he says Bradford is the most accurate passer he has coached. He's been in his head, and loves his calm and composure. Ten weeks together, and it was time for Bradford's pro day on March 29, the day the scouts would finally see how far Bradford's shoulder has come.
That morning, Shea could tell the magnitude of the moment was finally hitting Bradford.
"What time is it?" he asked Shea repeatedly.
But by the time Pete Carroll, Mike Holmgren and the other NFL heavyweights arrived, Bradford flipped from man to machinery. He threw 63 passes and had 62 completions. He uncorked a 65-yard deep post that Stoops said nearly hit the rafters.
Shea high-fived him when it was over and couldn't stop smiling for the next hour. He's spent the equivalent of a semester with Bradford. He feels invested. Shea knows, now, why golf is one of Bradford's favorite sports, and why he's so good at it.
"He's a ferocious competitor, but in a very quiet way," Shea says. "He doesn't explode with emotions and all that. I think that's what his teammates love about him. Whatever happens in a game, he keeps in that same demeanor."
It's also a bit of a gamble
Of course it's a gamble. For every Matt Ryan, there is a Ryan Leaf. Make the right move, and a No. 1 quarterback pick can be a franchise changer, a la Peyton Manning in 1998. But the investment is so much higher now. Bradford is projected to get roughly $50 million in guaranteed money. Shea says that in an ideal situation, Bradford would be able to watch and learn in 2010. History says he might not get that luxury.
Brandt ramped up the hype machine at Bradford's pro day when he compared his workout to Troy Aikman's. Aikman is a Hall of Famer; Brandt was part of the brain trust that drafted him. Truth is, Brandt was gaga over Bradford even before his pro day.
He raves about how Bradford used the injury to get stronger, how he added 18 pounds of muscle, how he probably would've been No. 1 in '09.
"It's kind of interesting," Brandt says. "The son of Martha and Kent Bradford is an only child, and a lot of times the only child is somewhat spoiled. I know him quite well. I think Sam's anything but spoiled.
"He'll be the face of your organization because he's one quality individual."
That's all Kent wanted, really, when he made up the list. He's scrambling these days, wondering where they'll have to drive to help Sam move. It's a little stressful, he says, the unknown. But then he chuckles. "There's a lot worse problems to have," he says. "I promise you."
The list grew to 10 at some point, and eventually Sam had them memorized. He made a slight mention of it when he won the Davey O'Brien Award two years ago, but didn't elaborate. It's between a father and a little boy. It's between two men who never imagined it could get this big.
"Those were things that I just tried to instill with him early on," Kent says. "It was just kind of meant to help him along."
Elizabeth Merrill is a senior writer for ESPN.com. She can be reached at merrill2323@hotmail.com.
Senior writer for ESPN.com
Formerly at "The Kansas City Star" and "The Omaha World-Herald"
SPONSORED HEADLINES
MORE NFL HEADLINES
MOST SENT STORIES ON ESPN.COM
2010 NFL DRAFT
From Oklahoma's Sam Bradford to Mr. Irrelevant (Weber State WR Tim Toone), the 75th NFL draft is in the books.
THE BREAKDOWN/PICKS ANALYSIS
TEAM-BY-TEAM PICKS
DIVISION DRAFT REVIEWS
MEL KIPER JR.
COLUMNS/FEATURES
FANTASY
SPORTSNATION
TODD MCSHAY AND SCOUTS INC.