Commentary
Safe-pick theory has pitfalls
Dolphins' 2008 draft decision magnifies importance of finding franchise quarterback
Originally Published:
April 13, 2011
By
John Clayton
| ESPN.com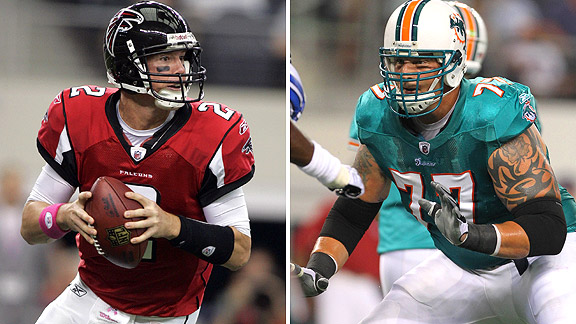 US PresswireThe Dolphins passed up Matt Ryan, left, in 2008 and selected Jake Long with the No. 1 pick. Ryan was taken at No. 3 by the Falcons, who have had three straight winning seasons.
Bill Parcells' recent statement that he may have missed the mark by not taking quarterback Matt Ryan in 2008 (when Parcells was the Dolphins' vice president of football operations) confirms the "safe pick" theory isn't really all that safe.
The safe pick that year was left tackle Jake Long, and he has lived up to all his pre-NFL billing. He has been to three Pro Bowls. He has never missed a start. He's a great leader on the field and in the locker room. In a normal situation, Parcells should be proud.
But to survive in the NFL decision-making business these days, playing it safe only works if the team has a great quarterback. With 59 percent of last season's plays leaguewide designed for the pass, a great quarterback can cover for any hole on a team. A tackle, a defensive end, a wide receiver or any other position can't do that.
On the surface, things couldn't have worked out any better for Parcells and the Dolphins. He drafted his Pro Bowl left tackle and was lucky enough to find a strong-armed quarterback (Chad Henne) available with the 57th pick in the second round. Defensive end Phillip Merling was there for Parcells with the first pick in the second round, so Parcells left the draft feeling he had filled three key positions.
But taking the safe pick at the top of the 2008 draft still has the Dolphins looking for that elite quarterback. The Falcons have made two trips to the playoffs in the past three years with Ryan at the helm, and Ryan has the aura of a quarterback who will get a chance at a couple of Super Bowl rings.
You always hear analysts discussing the safe-pick concept of a team -- particularly those teams toward the top of the draft. The problem with drafting in the top five or top seven is that one first-round pick isn't good enough to turn a franchise around -- unless he's a quarterback.
The Seahawks thought they made a safe pick in 2009 when they took linebacker Aaron Curry with the fourth pick overall. Curry has had only 5½ sacks in two seasons and hasn't dominated. The St. Louis Rams thought they were going the safe route by making defensive end Chris Long the second pick in 2008 and offensive tackle Jason Smith the second pick in 2009. Drafting safe got them to 1-15 in 2009 and the chance to get the first pick in 2010.
With the selection of quarterback Sam Bradford, the Rams jumped to 7-9 and should be a playoff contender for the next several years. Had they drafted safe and taken defensive tackle Ndamukong Suh, the 2010 defensive rookie of the year, the Rams might have not done better than 4-12 with their current talent base.
A safe defensive tackle can't turn around a team as much as a top young quarterback.
The tough part about the 2011 draft is there aren't a lot of safe picks. Cornerback Patrick Peterson might be the safest, but no cornerback has been taken No. 1. Da'Quan Bowers might be the best defensive end, but long-term worries about an injured knee could drop him out of the top 10. Defensive end Robert Quinn looks solid, but it's hard to overlook the brain tumor he had in high school and a suspension that kept him away from the football field for 18 months in college.
And clearly there is no safe pick in this year's quarterback class. Cam Newton was a one-year phenom at Auburn, but how long will it take for him to convert those raw skills into efficiently running an NFL offense? Blaine Gabbert threw 267 shotgun passes in Big 12 play last season but didn't take a snap under center and completed only 44 percent of his passes on third downs. With Jake Locker, you worry about accuracy. Ryan Mallett worries teams because of his personality.
The scariest part of this draft is it's loaded at defensive end. Believe it or not, defensive end has been the least-safe position to draft since 2007. The only Pro Bowl defensive end taken in the first round of the past four drafts is Brian Orakpo of the Redskins -- and he's now a linebacker in a 3-4 defense.
Of the 16 other defensive ends taken since 2007, Vernon Gholston, Lawrence Jackson, Kentwan Balmer, the late Gaines Adams, Adam Carriker and Jarvis Moss are no longer with the teams that drafted them. Derrick Harvey, Jamaal Anderson and Aaron Maybin have been labeled disappointments. Tyson Jackson is off to a slow start in Kansas City, and injuries ruined the first years of Brandon Graham, Derrick Morgan and Jared Odrick.
Only Long can claim some form of success in the defensive end group.
Offensive linemen, on the other hand, have been very safe investments. Of the 27 offensive linemen taken in the first round since 2006, 26 are full-time starters and those 26 have started 85.8 percent of the games. The only true failure is Andre Smith of the Bengals, who has started only five of 32 games.
What helps the success rate of offensive tackles is flexibility. Struggling tackles can be moved inside and teams can salvage productivity. Chris Williams struggled at both tackle spots, but at least he's starting at guard for the Chicago Bears. The Raiders salvaged Robert Gallery's career by moving him to guard.
Parcells might have drafted the best tackle since Joe Thomas went to the Cleveland Browns at No. 3 in 2007, but safe still left the Dolphins wanting at quarterback. Safe just isn't safe these days.
John Clayton, a recipient of the Pro Football Hall of Fame's McCann Award for distinguished reporting, is a senior writer for ESPN.com.
NFL senior writer
Senior NFL writer and commentator
Joined ESPN in 1995
Member of the writers' wing of the Pro Football Hall of Fame in Canton, Ohio
SPONSORED HEADLINES
MORE NFL HEADLINES
MOST SENT STORIES ON ESPN.COM
2011 NFL DRAFT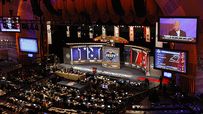 DraftTracker
|
Trade Tracker
|
Team talk
Gallery: Draft photos
|
Draft blog
PICK-BY-PICK ANALYSIS
TEAM-BY-TEAM PICKS
DIVISION DRAFT REVIEWS
ANALYSIS
NFC COLUMNS/BLOG POSTS
AFC COLUMNS/BLOG POSTS
SPORTSNATION
ESPN LOCAL DRAFT CENTERS
ESPN W