Blaine Gabbert works out for scouts
Updated:
March 18, 2011, 11:58 AM ET
ESPN.com news services
COLUMBIA, Mo. -- Six head coaches, several general managers and a Hall of Fame passer turned front-office executive joined scouts from each of the 32 NFL teams to watch former Missouri quarterback Blaine Gabbert as he worked out with a chance to be the No. 1 selection in April's draft.
The crowd at Missouri's pro day Thursday included Denver Broncos vice president John Elway and coach John Fox, New York Jets coach Rex Ryan, Jim Harbaugh of the San Francisco 49ers, Cincinnati Bengals coach Marvin Lewis, Leslie Frazier of the Minnesota Vikings and Tennessee coach Mike Munchak.
2011 NFL Draft

The Carolina Panthers are on the clock. Follow the latest developments with our division bloggers and Scouts Inc.
NFL Nation | Scouts Inc.

• Draft Machine: Your mock?
• Mel Kiper: Mock Draft 5.0

| Index
• Todd McShay: Mock Draft 6.0


• Draft Home | Draft on Twitter
• Complete draft order
• NFL draft topics page
The Carolina Panthers, who have the draft's top choice, sent several representatives. Coach Ron Rivera was scheduled to attend but did not.
Panthers coaches and officials will put Gabbert through a private workout Saturday in Missouri, a team official told ESPN NFL Insider Adam Schefter.
Gabbert is a likely first-round pick and hopes to be the first quarterback chosen in the April 28 draft ahead of Heisman Trophy winner Cam Newton, Washington's Jake Locker and Ryan Mallett of Arkansas. Some draft analysts project him as the overall top pick.
Gabbert, who is leaving Missouri following his junior year, said he embraces the prospect of being a top pick. He's represented by powerhouse agent Tom Condon, whose QB clients include former first-round picks Matt Ryan, Josh Freeman, Matt Stafford and Sam Bradford.
Bradford was selected as the top overall draft choice in 2010 by the St. Louis Rams, and, like Gabbert, was a quarterback who had to convince scouts he could transition from throwing out of the shotgun in a college spread offense to taking snaps under center.
Like Condon's other clients, Gabbert chose not to throw at the Indianapolis combine in late February, making Thursday's showcase even more important for the NFL talent evaluators.
"This is fun," Gabbert told a throng of reporters after his workout. "I'm going to be happy with whoever picks me."
Joyner: Ryan Mallett is the top QB prospect

KC Joyner analyzed game tape of Ryan Mallett and Blaine Gabbert from last season and determined that Mallett, not Gabbert, should be the first quarterback taken in the 2011 NFL draft. Story

Gabbert completed 44-of-49 throws in a scripted sequence laid out in advance by private quarterbacks coach Terry Shea. The script included hitch passes, fades, deep outs, five- and seven-step drops, rollouts to his left side and more -- with a makeshift cast of four small-college, draft eligible receivers whom Gabbert had to rely on thanks to restrictions under the NFL lockout.
The receiving corps from Division II schools Central Missouri and Northwest Missouri State and Lindenwood of the NAIA had three drops. But at least one of the crew -- wide receiver Jamorris Warren -- turned enough heads to earn an invite to private team workouts, including an Arizona Cardinals' session next week in Columbia where he will again play catch with Gabbert.
Not all the NFL contingent came to see Gabbert. Sculpted defensive end Aldon Smith, also projected as a first-round pick, impressed scouts with his athletic ability, agility and untapped potential. Center Tim Barnes is also expected to be chosen in the draft.
Both Condon and Gabbert said that they have not decided whether to sit out next month's draft ceremony in New York should the labor impasse still be in place.
"I'm not really educated on the subject," Gabbert said. "But the draft is a month-and-a-half away. I'm confident they're going to work things out."
In the meantime, the courtship continues. Gabbert dined with the Buffalo Bills on Wednesday night, with the Vikings picking up Thursday night's tab.
Shea said that he doesn't expect his latest pupil to wait very long before hearing his name called by NFL Commissioner Roger Goodell.
"I see him as the No. 1 pick in the NFL Draft," Shea said. "I remember the journey we traveled last year with Bradford. When I first met Sam, the Rams were talking nothing but two great defensive tackles. By the time it was over, Sam Bradford was the No. 1 pick. Blaine Gabbert is in that same class."
Information from The Associated Press was used in this report.
2011 NFL DRAFT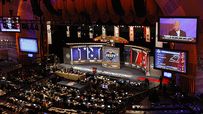 DraftTracker
|
Trade Tracker
|
Team talk
Gallery: Draft photos
|
Draft blog
PICK-BY-PICK ANALYSIS
TEAM-BY-TEAM PICKS
DIVISION DRAFT REVIEWS
ANALYSIS
NFC COLUMNS/BLOG POSTS
AFC COLUMNS/BLOG POSTS
SPORTSNATION
ESPN LOCAL DRAFT CENTERS
ESPN W
BWilliamsonESPN

Bill Williamson


From this afternoon: a fired-up Rich Gannon on #Raiders: 'Should be embarrassed' http://t.co/a6SizTeAtV
about 4 hours ago

Edwerderespn

Ed Werder


It is actually @theclaycook. Would love to have that Georgia Dome image your photographer took that included @TroyAikman and all band
about 4 hours ago

Edwerderespn

Ed Werder


Will be 4th time to see ZBB with this guy in front of @ClayCook, Jimmy De Martini, rest of great Southern band http://t.co/SUur11eL5Y
about 5 hours ago

Edwerderespn

Ed Werder


Can't wait for Colder Weather Friday in DFW to see ZBB with this guy in front of Clay Cook, Jimmy De Martini, all http://t.co/smIujMTOWD
about 5 hours ago

Seahawks

Seattle Seahawks


"I'm all about that action, boss." @MoneyLynch pets raccoon, eats Skittles in #NFLonXbox ad: [http://t.co/qvDN2E5bKo] http://t.co/UGBXUjtNsQ
about 5 hours ago

RichCimini

Rich Cimini


A football tragedy: A Long Island HS player dies after suffering a head injury in a game (via @Newsday). http://t.co/M4qI0D7UJv
about 6 hours ago

Edwerderespn

Ed Werder


CJ Spillman allegations?..RT..#HC Jason Garrett addressed players about how club will handle domestic violence caseshttp://t.co/3OR5VFBxVJ
about 6 hours ago

Edwerderespn

Ed Werder


Do I have this right? CJ Spillman investigated for sex assault, Frank Alexander suspended again, Aaron Dobson inactive for disrespecting OC.
about 6 hours ago

shalisemyoung

shalise manza young


on Dobson: source says he "mouthed off" to Josh McDaniels, leading to his being inactive vs. OAK & KC
about 6 hours ago

mikerothstein

Michael Rothstein


Always good to see my buddy @schadjoe tonight & the nice people we met at Grange restaurant in Ann Arbor.
about 6 hours ago

ESPNdirocco

Michael DiRocco


The news that Justin Blackmon news is seeking treatment is encouraging -- for him and the team. http://t.co/5APQMKBky3
about 6 hours ago

vxmcclure23

vaughn mcclure


Was cool chatting it up with @JLeu30 and @gregstiemsma at @SEVENMPLS this weekend. Two really good cats.
about 7 hours ago

AdamSchefter

Adam Schefter


Saints WR Marques Colston purchased a piece of the Arena League's Philadelphia Soul and is now part owner of team, Ron Jaworski confirmed.
about 7 hours ago

DNewtonespn

David Newton


Statement from suspended #Panthers DE Frank Alexander on how offense came from many months ago. http://t.co/QY9wpst6Ie
about 7 hours ago

DannyZuker

Danny Zuker


This isn't easy for me to say but watch new an all Modern Family on 9 funny at tonight ABC!
about 8 hours ago

RichCimini

Rich Cimini


Counting West Virginia and Jets, Sunday will be Geno Smith's 60th start -- first in the Pacific time zone (at SD), per @ESPNStatsInfo. #nyj
about 8 hours ago

DanWetzel

Dan Wetzel


Red Panda has retired. One of greatest athletes in NBA history. Adam Silver needs to honor her at All-Star Game http://t.co/Nb7rLdfK5e
about 8 hours ago

Edwerderespn

Ed Werder


#NFLInsiders today was me, @mortreport, @caplannfl and our trusty host @WendiNix_ESPN. The link to podcast: http://t.co/uEwgiMzdEa
about 8 hours ago

vxmcclure23

vaughn mcclure


According to ESPN Stats and Info, Falcons have won 6 straight games vs. the NFC East, longest active streak in NFL.
about 8 hours ago

HistoryInPics

History In Pictures


Jimi Hendrix in uniform during his time in the US Army, 1961 http://t.co/DYAaB2PClf
about 8 hours ago
MORE FROM ESPN NEW YORK

Check out ESPN New York, your destination for sports coverage in the Big Apple.