Blaine Gabbert works out for scouts
Updated:
March 18, 2011, 11:58 AM ET
ESPN.com news services
COLUMBIA, Mo. -- Six head coaches, several general managers and a Hall of Fame passer turned front-office executive joined scouts from each of the 32 NFL teams to watch former Missouri quarterback Blaine Gabbert as he worked out with a chance to be the No. 1 selection in April's draft.
The crowd at Missouri's pro day Thursday included Denver Broncos vice president John Elway and coach John Fox, New York Jets coach Rex Ryan, Jim Harbaugh of the San Francisco 49ers, Cincinnati Bengals coach Marvin Lewis, Leslie Frazier of the Minnesota Vikings and Tennessee coach Mike Munchak.
2011 NFL Draft

The Carolina Panthers are on the clock. Follow the latest developments with our division bloggers and Scouts Inc.
NFL Nation | Scouts Inc.

• Draft Machine: Your mock?
• Mel Kiper: Mock Draft 5.0

| Index
• Todd McShay: Mock Draft 6.0


• Draft Home | Draft on Twitter
• Complete draft order
• NFL draft topics page
The Carolina Panthers, who have the draft's top choice, sent several representatives. Coach Ron Rivera was scheduled to attend but did not.
Panthers coaches and officials will put Gabbert through a private workout Saturday in Missouri, a team official told ESPN NFL Insider Adam Schefter.
Gabbert is a likely first-round pick and hopes to be the first quarterback chosen in the April 28 draft ahead of Heisman Trophy winner Cam Newton, Washington's Jake Locker and Ryan Mallett of Arkansas. Some draft analysts project him as the overall top pick.
Gabbert, who is leaving Missouri following his junior year, said he embraces the prospect of being a top pick. He's represented by powerhouse agent Tom Condon, whose QB clients include former first-round picks Matt Ryan, Josh Freeman, Matt Stafford and Sam Bradford.
Bradford was selected as the top overall draft choice in 2010 by the St. Louis Rams, and, like Gabbert, was a quarterback who had to convince scouts he could transition from throwing out of the shotgun in a college spread offense to taking snaps under center.
Like Condon's other clients, Gabbert chose not to throw at the Indianapolis combine in late February, making Thursday's showcase even more important for the NFL talent evaluators.
"This is fun," Gabbert told a throng of reporters after his workout. "I'm going to be happy with whoever picks me."
Joyner: Ryan Mallett is the top QB prospect

KC Joyner analyzed game tape of Ryan Mallett and Blaine Gabbert from last season and determined that Mallett, not Gabbert, should be the first quarterback taken in the 2011 NFL draft. Story

Gabbert completed 44-of-49 throws in a scripted sequence laid out in advance by private quarterbacks coach Terry Shea. The script included hitch passes, fades, deep outs, five- and seven-step drops, rollouts to his left side and more -- with a makeshift cast of four small-college, draft eligible receivers whom Gabbert had to rely on thanks to restrictions under the NFL lockout.
The receiving corps from Division II schools Central Missouri and Northwest Missouri State and Lindenwood of the NAIA had three drops. But at least one of the crew -- wide receiver Jamorris Warren -- turned enough heads to earn an invite to private team workouts, including an Arizona Cardinals' session next week in Columbia where he will again play catch with Gabbert.
Not all the NFL contingent came to see Gabbert. Sculpted defensive end Aldon Smith, also projected as a first-round pick, impressed scouts with his athletic ability, agility and untapped potential. Center Tim Barnes is also expected to be chosen in the draft.
Both Condon and Gabbert said that they have not decided whether to sit out next month's draft ceremony in New York should the labor impasse still be in place.
"I'm not really educated on the subject," Gabbert said. "But the draft is a month-and-a-half away. I'm confident they're going to work things out."
In the meantime, the courtship continues. Gabbert dined with the Buffalo Bills on Wednesday night, with the Vikings picking up Thursday night's tab.
Shea said that he doesn't expect his latest pupil to wait very long before hearing his name called by NFL Commissioner Roger Goodell.
"I see him as the No. 1 pick in the NFL Draft," Shea said. "I remember the journey we traveled last year with Bradford. When I first met Sam, the Rams were talking nothing but two great defensive tackles. By the time it was over, Sam Bradford was the No. 1 pick. Blaine Gabbert is in that same class."
Information from The Associated Press was used in this report.
SPONSORED HEADLINES
MORE NFL HEADLINES
MOST SENT STORIES ON ESPN.COM
2011 NFL DRAFT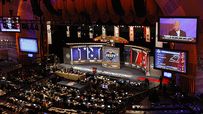 DraftTracker
|
Trade Tracker
|
Team talk
Gallery: Draft photos
|
Draft blog
PICK-BY-PICK ANALYSIS
TEAM-BY-TEAM PICKS
DIVISION DRAFT REVIEWS
ANALYSIS
NFC COLUMNS/BLOG POSTS
AFC COLUMNS/BLOG POSTS
SPORTSNATION
ESPN LOCAL DRAFT CENTERS
ESPN W
AdamSchefter

Adam Schefter


Meet and get a photo with Tom Brady & @Edelman11 in Boston on Dec. 22nd, all in support of @bestbuddies. Sign up at http://t.co/qMidFuZy6J
14 minutes ago

AdamSchefter

Adam Schefter


Titans-Jags have combined win % of .143, lowest win % for 2 teams meeting 14 games into season since 2-13 Bucs defeated 1-14 Colts in 1991.
46 minutes ago

AdamSchefter

Adam Schefter


Titans-Jags have combined win% of .143, lowest win% for 2 teams meeting 14 games into season since 2-13 Bucs... http://t.co/nSX5zzxtFw
47 minutes ago

clarkjudgeTOF

Clark Judge


@jamisonhensley Memo to Bill O'Brien: Won't make a difference. Going to get torched.
about 4 hours ago

mikecwright

Michael C. Wright


Is it wrong I'm still over here cracking up at @jemelehill's vine post?
about 5 hours ago

mikecwright

Michael C. Wright


The Bears have allowed 48 completions on throws 11 to 15 yards downfield, the most in the NFL, according to @ESPNStatsInfo
about 5 hours ago

WilliamsonNFL

Matt Williamson


.@jeffjondahl Turbin is a nice player that I want on my NFL team, but for Dynasty, always just a complementary piece
about 6 hours ago

mikecwright

Michael C. Wright


Clausen 1-9 in 10 starts. Threw 3 TDs/9 INTs, for league-worst Total QBR of 11.0 Total QBR lowest in of 9 seasons stat has been tracked.
about 6 hours ago

WilliamsonNFL

Matt Williamson


.@LIKEY5 Nah on Taliaferro for me…bet #Ravens draft RB pretty high (2nd Rnd?) & should resign Forsett
about 6 hours ago

WilliamsonNFL

Matt Williamson


.@hateurswag Bradford costs ZERO right now & his stock might really rise during offseason…trade him during training camp & make a profit
about 6 hours ago

WilliamsonNFL

Matt Williamson


DEEP Dynasty Stashes for '15…please add to list: Toon, D Sims, Cadet, A Wilson, Norwood, S Bradford, Polk, Escobar, Glennon
about 6 hours ago

ESPNChiBears

Jeff Dickerson


Say what you will about Cutler, but the punishments are viewed as extraordinarily inconsistent.
about 6 hours ago

ESPNChiBears

Jeff Dickerson


Cutler has his share of detractors, but plenty inside the locker room are confused and uncomfortable with how these situations were handled.
about 6 hours ago

espncowboysblog

espncowboysblog


Cowboys out of time to fix home woes http://t.co/jKnbw6SnpQ
about 6 hours ago

mikecwright

Michael C. Wright


Camp was a LONG time ago though.
about 6 hours ago

mikecwright

Michael C. Wright


Just now thought about it, but I remember a Bears staffer telling me during camp they'd be [expletive] if Cutler went down. Just saying.
about 6 hours ago

jemelehill

Jemele Hill


Live look in at Lions practice after it was announced Jimmy Clausen is starting https://t.co/344lhx5uZG
about 6 hours ago

mikefreemanNFL

mike freeman


Cutler remains this generation's Jeff George: http://t.co/BiqYq3Ycvt
about 6 hours ago

BWilliamsonESPN

Bill Williamson


@VicTafur All class.
about 7 hours ago

BWilliamsonESPN

Bill Williamson


Do #Raiders have to worry about Jim Harbaugh going to Michigan? http://t.co/qY40BDOZRv
about 7 hours ago
MORE FROM ESPN NEW YORK

Check out ESPN New York, your destination for sports coverage in the Big Apple.