Panthers make Cam Newton top pick
Updated:
April 29, 2011, 2:12 PM ET
ESPN.com news services
NEW YORK -- Cam Newton provided one of the few predictable moments, so far, in a bizarre NFL offseason.
While the league's labor dispute played out in the courts, the Heisman Trophy winner was selected No. 1, as expected, in Thursday night's NFL draft, taken by the Carolina Panthers.
Moments before the Auburn quarterback's name was called by Roger Goodell, frustrated fans showered the NFL commissioner with chants of "We want football. We want football."
Goodell responded with a smile, saying, "I hear you. So do I."
Newton led Auburn to an undefeated season and its first national championship since 1957. Carolina was 2-14 last year, using four quarterbacks, two of them rookies.
"I'm ready to change this whole organization around, to go from worst to first," said Newton, the third straight quarterback taken first overall. "Just being a Panther is the most special part about this."
First 10 Picks of the 2011 Draft

The Panthers made Auburn's Cam Newton the 15th quarterback taken with the No. 1 pick in the last 25 years.
Player
Team
1. Cam Newton, QB
Panthers
2. Von Miller, OLB
Broncos
3. Marcell Dareus, DT
Bills
4. A.J. Green, WR
Bengals
5. Patrick Peterson, DB
Cardinals
6. Julio Jones, WR
Falcons
7. Aldon Smith, DE
49ers
8. Jake Locker, QB
Titans
9. Tyron Smith, OT
Cowboys
10. Blaine Gabbert, QB
Jaguars


Pick-by-pick | Trade tracker
The draft was never in danger of not being held because it was protected under the old collective bargaining agreement that expired in March. Moments before it began, Goodell requested a moment of silence for victims of Wednesday's storms, which left at least 280 people dead in six states and hundreds more injured. On stage, he was surrounded by the Auburn and Alabama stars and their coaches.
The league, mired in a lockout that lasted 45 days, assured teams and players they could resume some of the normal day-to-day football operations beginning Friday.
And yet the lockout could be back in place if the NFL wins an appeal. If that happens, Newton, linebacker Von Miller and all the players chosen Thursday would be thrown back into a labor limbo.
With the second pick, the Denver Broncos selected Texas A&M's Miller to bolster a defense that was one of the NFL's worst last season and was last in the league in sacks. Miller is regarded as an outstanding pass-rusher.
Miller, a plaintiff in the antitrust lawsuit players filed to block the lockout, strode across the stage with tears in his eyes and hugged Goodell.
"I've never had anything against Roger Goodell," Miller said. "I just want to make sure football continues to get played. When I walked across the stage, I was meeting the commissioner. That was it."
Draft Daze: More from ESPN.com

The Panthers have thrown a draft Hail Mary by selecting Auburn QB Cam Newton with the No. 1 overall pick, Gene Wojciechowski writes. Story

---

Day 1 of the NFL draft at Radio City in NYC was full of surprises. ESPN.com's John Clayton breaks down the winners and losers. Story

---

Draft analyst Mel Kiper looks at three teams that did well, three that made questionable moves, and three scenarios to watch for Friday. Story


• Round 2: Mock draft

---

New Panthers coach Ron Rivera and general manager Marty Hurney certainly didn't draft Cam Newton to sit, Pat Yasinskas writes. Blog
• Yasinskas: Falcons go all-in on Jones
• Graham: Bills, Fins opt for safe picks
• Chadiha: Redskins made smart choice
• Kuharsky: QB rivalry brewing?
• Stats & Info: QBs dominate draft
• Goodell booed by football-hungry fans
Most draftees greeted Goodell with an emphatic hug, which didn't sit well with Packers running back Ryan Grant.
"It's really baffling for me to see these young guys hugging the commissioner with everyone that has gone on in past months..." Grant tweeted. " I absolutely want these guys to enjoy this night.. They worked their butts offto get to this point But to hug the man who... Literally is leading the campaign for taking money out your pocket doesn't sit well with me ...I might be wrong... But def happy for them."
With the third pick, the Buffalo Bills addressed their defense by taking Alabama defensive tackle Marcell Dareus, a versatile player who can excel on the interior or in the pass rush as an end in a 3-4 scheme.
The Bengals, perhaps calling the bluff of quarterback Carson Palmer, selected the top receiver in A.J. Green of Georgia with the fourth pick. Green is considered an immediate starter as Cincinnati tries to sort out its uncertainty at quarterback; Palmer is demanding a trade.
With the fifth pick, the Arizona Cardinals chose LSU cornerback Patrick Peterson, regarded by ESPN NFL draft guru Mel Kiper Jr. as the best overall talent in the draft.
Atlanta cut a massive deal with Cleveland and moved up from No. 27 to grab Alabama receiver Julio Jones -- the fifth Southeastern Conference player in the first six.
The Browns received the Falcons' first-rounder, second- and fourth-rounders, plus their first pick and a fourth-rounder in 2012.
"We knew it was going to be an aggressive move and cost us," Falcons GM Thomas Dimitroff said. "As an organization we felt very strongly about the move for a player who truly adds the explosive, urgent athleticism we're looking for ..."
The San Francisco 49ers used the seventh pick on Missouri defensive end Aldon Smith. Quarterback Jake Locker was a somewhat surprising eighth pick by a Tennessee Titans team desperate to bring stability to the position.
The Dallas Cowboys picked USC offensive tackle Tyron Smith with the ninth pick.
Jacksonville saw a chance to get its future quarterback at No. 10. The Jaguars moved up six slots for Missouri's Blaine Gabbert, dealing their first-round pick and a second-rounder to Washington.
"You really don't have any idea where you will go, especially with the lockout," Gabbert said. "But the trades are happening now."
The Houston Texans picked J.J. Watt, a defensive end from Wisconsin, with the 11th pick.
The Minnesota Vikings selected quarterback Christian Ponder of Florida State with the 12th pick.
More from ESPN City Sites:

• ESPNBoston.com
Patriots pick OT Solder
Pats Draft Center | Blog
• ESPNChicago.com
Bears nab OT Carimi
Bears Draft Center | Blog
• ESPNDallas.com
Cowboys select OT Smith
Cowboys Draft Center | Blog
• ESPNNewYork.com
Jets choose DE Wilkerson
Jets Draft Center | Blog
• ESPNNewYork.com
Giants grab CB Amukamara
Giants Draft Center | Blog
Auburn defensive tackle Nick Fairley was selected by the Detroit Lions at No. 13, while the St. Louis Rams took defensive end Robert Quinn of North Carolina with the 14th pick.
Mike Pouncey, whose twin brother, Maurkice, was a sensational rookie center for Pittsburgh last year, was chosen by Miami to play the same position.
Mark Ingram, the 2009 Heisman Trophy winner, went 28th overall to New Orleans, which traded with New England to get the spot. The Saints surrendered a 2012 first-rounder for the Alabama running back, giving them two Heisman winners in their backfield -- sort of. Reggie Bush won the award in 2005, but he relinquished it after an NCAA probe found he accepted improper gifts while playing at Southern California.
The remainder of picks from Round 1:
Purdue defensive end Ryan Kerrigan to the Redskins (from the Jaguars) at No. 16; Colorado offensive tackle Nate Solder to New England at No. 17; Illinois defensive end Corey Liuget to San Diego at No. 18; Nebraska cornerback Prince Amukamara to the Giants at No. 19; and Iowa defensive end Adrian Clayborn to Tampa Bay at No. 20.
Baylor defensive tackle Phil Taylor to the Browns (from Kansas City) at No. 21 (the Browns dealt their 2011 first- and third-round pick to the Chiefs); Boston College offensive tackle Anthony Castonzo to Indianapolis at No. 22; Baylor guard Danny Watkins to Philadelphia at No. 23; Cal defensive lineman Cameron Jordan to New Orleans at No. 24; and Alabama tackle James Carpenter to Seattle at No. 25.
Pittsburgh receiver Jonathan Baldwin to the Chiefs (who picked ahead of the Ravens) at No. 26; Colorado cornerback Jimmy Smith to Baltimore at No. 27; Wisconsin offensive tackle Gabe Carimi to Chicago at No. 29; Temple defensive tackle Muhammad Wilkerson to the Jets at No. 30; Ohio State defensive end Cameron Heyward to Pittsburgh at No. 31, and Mississippi State offensive tackle Derek Sherrod to Green Bay at No. 32.
The Bengals engaged the Packers in trade talks for the 32nd pick in an effort to acquire a quarterback, presumed to be TCU's Andy Dalton, league sources told ESPN senior NFL analyst Chris Mortensen. The two sides could not agree on the compensation for the pick, so the Packers selected Sherrod just prior to the expiration of the 10-minute clock.
In addition to Dalton, sources told Mortensen that the Bengals have spent considerable time with Arkansas quarterback Ryan Mallett, who also remains available. The second and third rounds of the draft will be held Friday night and the remaining four rounds on Saturday.
Information from The Associated Press was used in this report.
SPONSORED HEADLINES
MORE NFL HEADLINES
MOST SENT STORIES ON ESPN.COM
2011 NFL DRAFT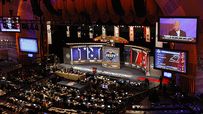 DraftTracker
|
Trade Tracker
|
Team talk
Gallery: Draft photos
|
Draft blog
PICK-BY-PICK ANALYSIS
TEAM-BY-TEAM PICKS
DIVISION DRAFT REVIEWS
ANALYSIS
NFC COLUMNS/BLOG POSTS
AFC COLUMNS/BLOG POSTS
SPORTSNATION
ESPN LOCAL DRAFT CENTERS
ESPN W
ESPN FAN SHOP