Friday, April 24 2015
Seahawks at Patriots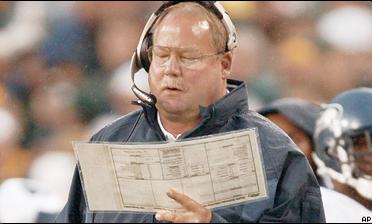 Mike Holmgren's Seahawks are facing a big road test.


Draft Features
Smith: Somewhere in the middle
Seattle's defense isn't as dominant as it looked through 15 quarters. Nor is it as weak as it looked late last Sunday.

Garber: Trite and true
Bill Belichick has the Patriots winning and breaking records in part because they're buying into clichés.

Focal point: Holmgren vs. Belichick
Our experts debate the matchup between Mike Holmgren and Bill Belichick.

Clayton: First ... And 10
The Seahawks' late collapse last week has increased the importance of Sunday's game at New England.

Fact or Fiction: Week 6
ESPN NFL experts debate the issues heading into Week 6 of the NFL season.

Motion: Seahawks at Patriots

The crew from NFL Live previews this week's Game of the Week -- Seahawks at Patriots.

Theismann: Cup O' Joe


It's going to be tough to beat the Patriots, but the Seahawks are equipped to pull it off.