Sunday, April 19 2015
Pick And Choose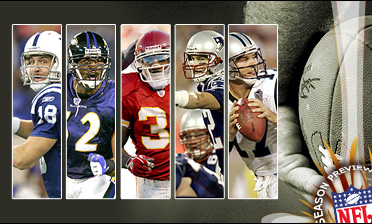 What's in store for some of NFL's top playmakers in 2004?


Patriots over Seahawks. Eagles over Colts. Those are just a couple of the Super Bowl
predictions from our experts
. All four teams sit high in
ESPN.com's Power Rankings
and are featured in John Clayton's
marquee matchups
.
Vote: 2004 season | Motion: Preview of Week 1 games
2004 NFL PREVIEW ... THE HOT SPOT
Monday, Aug. 30
The hottest thing ... Wide receivers
Pasquarelli:
They all look up to Jerry Rice
ESPN.com:
Greatest player in NFL history
Motion:
Greatest of all-time
Fact or Fiction:
Randy Moss is the best WR in the NFL
Fantasy:
Greatest fantasy WR ever?
Page 2:
Best rookie WR ever?
Tuesday, Aug. 31
Feeling the heat ... Cornerbacks
Pasquarelli:
CBs are under pressure
Pasquarelli:
Teams helped by emphasis
Fact or fiction:
CB is the hardest position to play
Allen:
How can CBs still succeed?
Motion:
Defenses will feel the heat
Wednesday, Sept. 1
The hottest trend ... Swiss Army Players (ESPN The Magazine preview)
Fleming:
Swiss Army Players
Wickersham:
Hall stays busy
Fleming:
Archuleta has no limits
Motion:
Top SwissArmy Player?
Thursday, Sept. 2
The hottest seat ... Andy Reid (and D. McNabb)
Paolantonio:
Pressure is on Reid and Philly
Pasquarelli:
McNabb the key on the field
Clayton:
32 players under pressure
Fact or Fiction:
The Eagles will get to the SB
Motion:
Under pressure
Friday, Sept. 3
The hottest return ... Joe Gibbs
Garber:
Coaches can't stay away
Pasquarelli:
What changes will Gibbs face
Clayton:
Former coaches take step back
Fact or Fiction:
Redskins will make the playoffs
Motion:
Old coaches vs. young coaches
Saturday, Sept. 4
The hottest duo ... Belichick and Brady
Garber:
Belichick's the boss
Garber:
Dillon in New England
Mueller:
A winning combination
Monday, Sept. 6
The hottest team ... Seattle Seahawks
Clayton:
Why is Seattle the hot team?
Clayton:
Mike Holmgren
Pasquarelli:
.500 to the SB?
Fact or Fiction:
'Hawks are best in NFC?
Motion:
Contender or pretender
Tuesday, Sept. 7
The hottest predictions
ESPN.com:
Expert picks
ESPN.com:
Preseason Power Rankings
Clayton:
Preseason First ... And 10
Theismann:
Preseason Cup O' Joe