Commentary
Len Pasquarelli's Hall of Fame honor is long overdue
Len Pasquarelli's long road to the Pro Football Hall of Fame started in Pittsburgh.
Originally Published:
July 31, 2008
By
John Clayton
| ESPN.com
Editor's note: ESPN.com pro football writer Len Pasquarelli will receive the McCann Award for distinguished service from the Pro Football Writers of America at the Hall of Fame dinner Friday night in Canton, Ohio.
Len Pasquarelli's road to Canton, Ohio, and the Pro Football Hall of Fame went through Fort Wayne, Ind., but it was based in the heart of pro football intensity in Pittsburgh.
Pasquarelli transcript

"I am proud and humbled and grateful to stand on the shoulders of people like Vito Stellino, Ira Miller, Jerry Magee, the late Will McDonough, all of whom won this award," Len Pasquarelli said Friday upon receiving the McCann Award for distinguished service from the Pro Football Writers of America. More
Len's friendship with me goes back to the Steelers' Super Bowl years, when he wrote for Pittsburgh Steelers Weekly. Back then, Pasquarelli was an underground favorite.
He knew the game as well as the coaches, and he was always able to connect pro football to readers in a fun, educated way. It led to him moving to Chicago to work for Pro Football Weekly, where he was able to expand his readership nationwide.
But an unfortunate financial situation forced Pro Football Weekly into a temporary hiatus, and Len was out of football. It was like Dan Marino or John Elway sitting out a season in the prime of his career.
Through a friend at the Pittsburgh Press, I was able to help Len get a job with a Chicago-based advertising company. As a native Pittsburgher raised in the tradition of hard work, Len was an instant star at the company, but football fans were deprived.
The crossroads for a couple of careers came in Fort Wayne.
I left the Press after 11 years to cover the Seattle Seahawks for the Tacoma News Tribune. Mike Kahn, a close friend covering the Colts for the Fort Wayne paper, came out to Tacoma with me, so we pushed like crazy to get Len the Colts job.
Other than Peyton Manning or Bill Polian, no individual had a bigger impact on the pro football landscape in Indianapolis than Len. He immediately established trust with the Colts players and escalated his Hall of Fame writing career.
When Chris Mortensen was looking for someone to follow him on the Atlanta Falcons beat, Len was the logical choice. Jerry Glanville might have dominated the Falcons headlines during his days as their head coach, but Len detailed one of the wildest eras in recent football memory. Len was "Too Legit to Quit" as he "Hammered" the competition.
McCann Award Winners
1969: George Strickler, Chicago Tribune
1970: Arthur Daley, New York Times
1971: Joe King, New York World-Telegram and Sun
1972: Lewis Atchison, Washington Star
1973: Dave Brady, Washington Post
1974: Bob Oates, Los Angeles Times
1975: John Steadman, Baltimore News-American
1976: Jack Hand, Associated Press
1977: Art Daley, Green Bay Press-Gazette
1978: Murray Olderman, Newspaper Enterprise Assoc.
1979: Pat Livingson, Pittsburgh Press
1980: Chuck Heaton, Cleveland Plain Dealer
1981: Norm Miller, New York Daily News
1982: Cameron Snyder, Baltimore Morning Sun
1983: Hugh Brown, Philadelphia Bulletin
1984: Larry Felser, Buffalo News
1985: Cooper Rollow - Chicago Tribune
1986: Bill Wallace, New York Times
1987: Jerry Magee, San Diego Union
1988: Gordon Forbes, USA Today
1989: Vito Stellino, Baltimore Sun
1990: Will McDonough, Boston Globe
1991: Dick Connor, Denver Post
1992: Frank Luksa, Dallas Morning News
1993: Ira Miller, San Francisco Chronicle
1994: Don Pierson, Chicago Tribune
1995: Ray Didinger, Philadelphia Daily News
1996: Paul Zimmerman, Sports Illustrated
1997: Bob Roesler, New Orleans Times-Picayune
1998: Dave Anderson, New York Times
1999: Art Spander, Oakland Tribune
2000: Tom McEwen, Tampa Tribune
2001: Len Shapiro, Washington Post
2002: Edwin Pope, Miami Herald
2003: Joel Buchsbaum, Pro Football Weekly
2004: Rick Gosselin, Dallas Morning News
2005: Jerry Green, Detroit News
2006: John McClain, Houston Chronicle
2007: John Clayton, ESPN.com
2008: Len Pasquarelli, ESPN.com

First, he gained the trust of
Deion Sanders
. Len captured the beat of that team along with giving Atlanta Journal-Constitution readers the most in-depth league coverage available.
Just as the Internet was ready to explode, Len turned CBS Sportsline into an NFL readers' destination when he was hired by Kahn, who had left Tacoma to manage the Web site.
Though I competed against Len on the NFL beat, we talked every day. Friends do that. I had moved on to ESPN to work with Mort, but the two of us pined for the day we could bring Len on board.
Former Seahawks, Bills and Rams coach Chuck Knox used to have a funny catch phrase when he would see two good football players walking near him. He'd say, "Here comes a pair that could be a full house."
Well, Mort and I wanted a full house at ESPN, and that was filled when Len came aboard.
No one in the football business works sources better than Len. He's a master of getting the inside details. He gets the information first and he gets it fast.
Last year, I had the honor of winning the McCann Award and having my name in the Pro Football Hall of Fame. To be honest, though, I never thought I would have a chance until after Len got in. Heck, he beat me enough times when I was competing against him.
To see a friend and colleague receive this long overdue award is almost as pleasing as the experience I had last year.
John Clayton, a member of the Pro Football Hall of Fame writers' wing, is a senior writer for ESPN.com.
NFL senior writer
Senior NFL writer and commentator
Joined ESPN in 1995
Member of the writers' wing of the Pro Football Hall of Fame in Canton, Ohio
2008 HALL OF FAME CLASS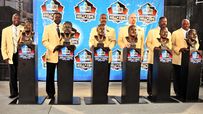 Fred Dean, Darrell Green, Art Monk, Emmitt Thomas, Andre Tippett and Gary Zimmerman were inducted into the Pro Football Hall of Fame on Saturday night.
Gallery: Induction day
|
Index
Pasquarelli honor overdue
...
'Humbled'
FRED DEAN
In the words of ...
|
Watch: Dean's Career
Hall of Fame speech

Position:
Defensive end
Team:
Chargers/49ers
Years:
1975 to '85
Seasons:
11
Honors and achievements:
• Second-round choice in 1975
• Had career-best 17.5 sacks in 1983
• Selected to four Pro Bowls
DARRELL GREEN
In the words of ...
|
Hall of Fame speech

Position:
Cornerback
Teams:
Washington Redskins
Years:
1983 to 2002
Seasons:
20
Honors and achievements:
• First-round pick in 1983 draft
• Had at least one INT in 19 straight seasons
• Selected to seven Pro Bowls
ART MONK
In the words of ...
|
Watch: Monk's Career
Hall of Fame speech

Position:
Wide receiver
Teams:
Redskins/Jets/Eagles
Years:
1980 to '95
Seasons:
16
Honors and achievements:
• First-round pick in 1980 draft
• Had at least one catch in 164 straight games
• Had five 1,000-yard receiving seasons
EMMITT THOMAS
In the words of ...
|
Watch: Thomas' Career
Hall of Fame speech
|
The 'Hall's' monitor

Position:
Cornerback
Teams:
Kansas City Chiefs
Years:
1966 to '78
Seasons:
13
Honors and achievements:
• Ranks ninth all-time in INTs with 58
• Led NFL with team-record 12 INTs in 1974
• Selected to five Pro Bowls
ANDRE TIPPETT
In the words of ...
|
Hall of Fame speech

Position:
Linebacker
Teams:
New England Patriots
Years:
1982 to '93
Seasons:
11
Honors and achievements:
• Second-round pick in 1982 draft
• Had 18.5 sacks in 1984
• Selected to five Pro Bowls
•
Graham: LT learned from Tippett
GARY ZIMMERMAN
In the words of ...
|
Watch: Zimmerman
Hall of Fame speech

Position:
Offensive tackle
Teams:
Vikings/Broncos
Years:
1986 to '97
Seasons:
12
Honors and achievements:
• Member of two all-decade teams (1980s, '90s)
• Made 169 consecutive starts
• Selected to seven Pro Bowls
•
Zoom gallery: Hall of Fame inductees

MOST SENT STORIES ON ESPN.COM