Commentary
Defensive end Fred Dean: In the words of ...
Originally Published:
August 1, 2008
By
Chris Conetzkey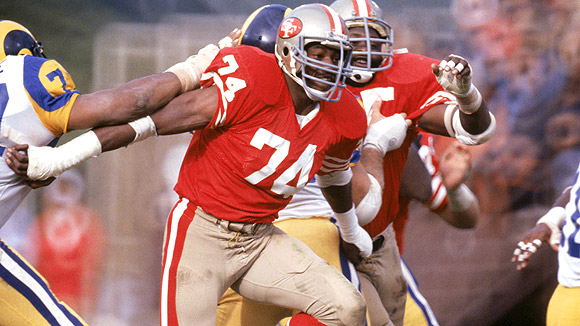 Andy Hayt/Getty ImagesFred Dean had a career-high 17.5 sacks for the 49ers in 1983, including six in one game.
Teammate Dwaine Board
Board on the importance of adding Fred Dean via a trade with the Chargers to a 1981 49ers team that went on to win the Super Bowl:
"Bill Walsh was putting together a puzzle. The team was just so young, and he infused Fred Dean into the team, and he brought something to the team that was kind of missing, and that was an attitude of when you step on the field you win. That was Fred's thing. And he won: He won at rushing the passer and was defensive player of the year. What more can you say? The guy was incredible.
"He was a true warrior. I remember in our last Super Bowl, he had warrior written on his shoe."
Opponent Mike Kenn
While going to the Pro Bowl five times as the Atlanta Falcons' left tackle, Kenn battled Dean many times during his 17-year career:
"Fred was a guy who ran in the 4.4s off the edge, and he was a remarkably strong man. With that great speed, he was a handful. He was one of the best pass-rushers that I faced in my career, and I faced a lot of them. I put him up there in my top five.
"There were a lot of sleepless nights. Fred was one of those guys I knew I had to play twice a year. That was not something you look forward to. I'm not like a cornerback that if I make a mistake I give up a touchdown. If I make a mistake, it causes a hospital shot, and I'm visiting the quarterback in the hospital. "He had this move where he could get a guy moving upfield with an inside one-arm rip on the edge, and he was basically able to reach back around and convert it into a club and basically throw people off the field. Reggie White developed the same type of move to rush from the left side, but Fred Dean was the first to utilize it. Those are the only two players that I saw that actually had the ability to make that work."
Fred Dean
Dean on one of his most memorable moments in the NFL, his three-sack performance in a win over the Cowboys in his first game with the 49ers:
"Bill Walsh told me they hadn't beat 'em in a while. It was in the paper and everything about how they had not -- it had been a little while since they beat them. For me, it was a platform for me to prove a point, that I still had it and could do it.
"I started for the Chargers, was a down lineman, played every down. With Coach Walsh, he said I'm going to use you sparingly for rushing the passer. He said he didn't know what my condition was. The first game, he said I'd only play like 10 or 12 plays. What was really good about it is he didn't want me to feel bad if I wasn't starting in the starting lineup. Instead of just naming 11 people, I was the 12th man. He made me really feel from the jump, really good. "Well, 10 or 12 plays turned into a whole game against the Dallas Cowboys. I asked him about that after the game, you know. He laughed and said, 'Your condition was good.' "
A Story
Although Dean was a warrior on the field, teammate Dwaine Board said Dean was a horse of a different color away from the gridiron:
[+] Enlarge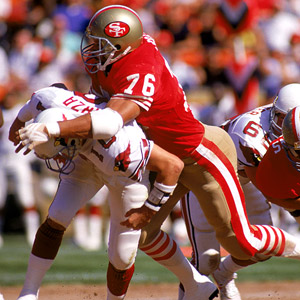 George Rose/Getty ImagesDwaine Board (above) says Fred Dean's experience and toughness helped a young San Francisco team take the next step.
"Fred was a guy that when he lined up on the field, he was all business. But then off the field, Fred was fun to be around. We used to go over to his house and he would feed everybody. We used to call him Grandma, and say we are going to Grandma's house to eat. Fred would fry some great chicken and he made cornbread, but anything Fred cooked was good. "He had a lot of talents, too. He played the guitar, the saxophone. Fred was a one-man show. He could do it all. He was very good at arm wrestling, too. Nobody wanted to arm wrestle Fred. He could beat anybody. The thing was, he claimed he couldn't swim, either. So one evening at training camp somebody challenged Fred to a swim meet. And Fred won it."
SPONSORED HEADLINES
MORE NFL HEADLINES
MOST SENT STORIES ON ESPN.COM
2008 HALL OF FAME CLASS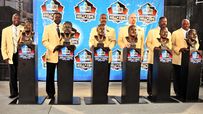 Fred Dean, Darrell Green, Art Monk, Emmitt Thomas, Andre Tippett and Gary Zimmerman were inducted into the Pro Football Hall of Fame on Saturday night.
Gallery: Induction day
|
Index
Pasquarelli honor overdue
...
'Humbled'
FRED DEAN
In the words of ...
|
Watch: Dean's Career
Hall of Fame speech

Position:
Defensive end
Team:
Chargers/49ers
Years:
1975 to '85
Seasons:
11
Honors and achievements:
• Second-round choice in 1975
• Had career-best 17.5 sacks in 1983
• Selected to four Pro Bowls
DARRELL GREEN
In the words of ...
|
Hall of Fame speech

Position:
Cornerback
Teams:
Washington Redskins
Years:
1983 to 2002
Seasons:
20
Honors and achievements:
• First-round pick in 1983 draft
• Had at least one INT in 19 straight seasons
• Selected to seven Pro Bowls
ART MONK
In the words of ...
|
Watch: Monk's Career
Hall of Fame speech

Position:
Wide receiver
Teams:
Redskins/Jets/Eagles
Years:
1980 to '95
Seasons:
16
Honors and achievements:
• First-round pick in 1980 draft
• Had at least one catch in 164 straight games
• Had five 1,000-yard receiving seasons
EMMITT THOMAS
In the words of ...
|
Watch: Thomas' Career
Hall of Fame speech
|
The 'Hall's' monitor

Position:
Cornerback
Teams:
Kansas City Chiefs
Years:
1966 to '78
Seasons:
13
Honors and achievements:
• Ranks ninth all-time in INTs with 58
• Led NFL with team-record 12 INTs in 1974
• Selected to five Pro Bowls
ANDRE TIPPETT
In the words of ...
|
Hall of Fame speech

Position:
Linebacker
Teams:
New England Patriots
Years:
1982 to '93
Seasons:
11
Honors and achievements:
• Second-round pick in 1982 draft
• Had 18.5 sacks in 1984
• Selected to five Pro Bowls
•
Graham: LT learned from Tippett
GARY ZIMMERMAN
In the words of ...
|
Watch: Zimmerman
Hall of Fame speech

Position:
Offensive tackle
Teams:
Vikings/Broncos
Years:
1986 to '97
Seasons:
12
Honors and achievements:
• Member of two all-decade teams (1980s, '90s)
• Made 169 consecutive starts
• Selected to seven Pro Bowls
•
Zoom gallery: Hall of Fame inductees