Distinct Bills flavor at Hall enshrinement
Updated:
August 9, 2009, 3:09 AM ET
Associated Press
CANTON, Ohio -- All that was missing were the chicken wings, because the Pro Football Hall of Fame induction ceremony had a distinct Buffalo flavor.
Bills owner Ralph Wilson opened by loosening up the crowd with a few humorous anecdotes. And the chants of "BRUUUCE!" resounded through Fawcett Stadium on Saturday night, even before former Bills defensive end Bruce Smith had taken the podium.
[+] Enlarge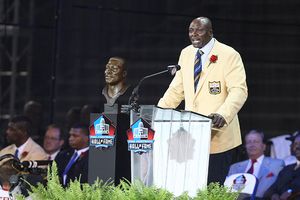 Matthew Emmons-US PresswireBruce Smith said the Bills fans made his induction feel "like a home game."
And once he took the stage, the cheers didn't stop for the player who had a record 200 sacks.
Smith acknowledged the fans -- a large contingent wearing Bills jerseys -- by saying, "This certainly feels like a home game."
Wondering where the time has gone after his 19-year career ended in 2003 with Washington, Smith said: "And now I come full circle. I stand before you humble and honored."
In between there were emotional moments, when Kansas City Chiefs linebacker Derrick Thomas and Dallas Cowboys receiver Bob Hayes were inducted posthumously.
"For all Derrick Thomas fans, the light has gone back on," former Chiefs president Carl Peterson said of Thomas, who died in February 2000 following a car accident, cutting short what had already been a stellar 11-year career.
Hayes, meanwhile, was introduced by his son, Bob Hayes Jr., who noted his father always wondered why it took so long for this achievement to happen. Hayes died in 2002 at the age of 59.
"It hurts, because he's not here to enjoy this," Hayes said. "But I know wherever he is, he's smiling down."
Also inducted was defensive back Rod Woodson, who described himself as humbled, again letting his numbers speak for themselves as during his playing days. Woodson was a triple-threat during a 17-year career, in which he excelled at cornerback, safety and returning kickoffs.
The NFL's defensive player of the year in 1993, Woodson was an 11-time Pro Bowl selection and was selected to the NFL's 75th anniversary team while still playing. He still holds the record for career interceptions returned for touchdowns (12).
Woodson appeared in three Super Bowls with three different teams -- Pittsburgh, Baltimore and Oakland -- and won one with the Ravens in 2001.
And then there was Minnesota Vikings offensive guard Randall McDaniel, who cracked that he didn't feel comfortable being up on stage alone without four other linemen next to him.
McDaniel was a 12-time Pro Bowl selection during a 14-year career, most of it spent with Minnesota. He was part of an offensive line that helped the Vikings score a then league-record 556 points in 1998, and blocked for six 1,000-yard rushers.
A first-round pick out of Arizona State, McDaniel played his final two seasons with Tampa Bay.
The biggest cheers came from Bills fans, who are in town not only to honor their two Hall of Famers, but also preparing to see Terrell Owens make his debut in a Bills uniform on Sunday, when Buffalo plays Tennessee Titans in the Hall of Fame game.
Smith was the No. 1 draft pick out of Virginia Tech, and part of a speedy Bills defense that helped the team win four consecutive AFC titles in the early 1990s.
Smith played his final four seasons in Washington, and acknowledged Redskins owner Daniel Snyder, who was in attendance. Smiths' best memories, though, are the time he spent in Buffalo, where he was two-time NFL defensive player of the year.
"In the annals of NFL history, the sum total of my career will forever be defined by the 15 years I spent playing for the Buffalo Bills," Smith said. "And what a ride it was."
Wilson's induction came as the NFL prepares to celebrate the 50th anniversary of the founding of the American Football League. He was a member of the so-dubbed "Foolish Club," headed by late Kansas City Chiefs owner Lamar Hunt.
Wilson provided a big laugh when recalling the first time he went to address his players in the locker room at halftime, during a game which the Bills trailed 21-7. The Bills then went on to lose 51-7, which led to coach Buster Ramsey approaching Wilson after the game.
"Buster said to me, 'Hey, Ralph, next time, talk to the other team,'" Wilson said with a laugh.
"It has been a grand ride for me, and tonight is the high point," said Wilson, who paid tribute to his daughter, Linda Bogdan, who died last spring. "My luck prevails, and closing in on 91, I still feel that I have youth on my side."

Copyright 2009 by The Associated Press
2009 HALL OF FAME INDUCTION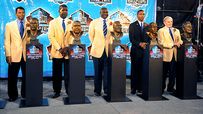 On Aug. 8, the Pro Football Hall Of Fame welcomed the Class of 2009: Rod Woodson, Ralph Wilson, Bruce Smith, Derrick Thomas, Randall McDaniel and Bob Hayes. Blog


NEWS
COMMENTARY/FEATURES
VIDEO
AUDIO
CHATS
PHOTOS
2009 HALL OF FAME CLASS
BOB HAYES

Position: Wide receiver
Teams: Cowboys/49ers
Years: 1965 to 1975
Seasons: 11
Presented by: Roger Staubach
Honors and achievements:
• Seventh-round choice in 1964
• Four-time all-NFL performer
• Cowboys-record 71 TDs
RANDALL MCDANIEL

Position: Guard
Teams: Vikings/Buccaneers
Years: 1988 to 2001
Seasons: 14
Presented by: O.K. Fulton
Honors and achievements:
• First-round pick in 1988 draft
• Blocked for six 1,000-yard rushers
• Selected to 12 consecutive Pro Bowls
BRUCE SMITH

Position: Defensive end
Teams: Bills/Redskins
Years: 1985 to 2003
Seasons: 19
Presented by: Ted Cottrell
Honors and Achievements:
• No. 1 overall pick in 1985 draft
• NFL's all-time leader in sacks (200)
• Member of four consecutive AFC championship teams

DERRICK THOMAS

Position: Linebacker
Team: Kansas City Chiefs
Years: 1989 to 1999
Seasons: 11
Presented by: Carl Peterson
Honors and achievements:
• Finished career with 126½ sacks
• Member of the NFL's all-decade team in 1990s
• Selected to nine Pro Bowls

RALPH WILSON JR.

Position: Founder/owner
Team: Buffalo Bills
Years: 1960 to present
Seasons: 50
Presented by: Chris Berman
Honors and achievements:
• One of the original founders of American Football League
• Formed Bills in 1959
• Served on NFL pension committee among others

ROD WOODSON

Position: Cornerback/safety
Teams: Steelers/49ers/Ravens/Raiders
Years: 1987 to 2003
Seasons: 17
Presented by: Tracy Foster
Honors and achievements:
• Member of NFL's 75th-anniversary team
• Selected to 11 Pro Bowls
• 71 career interceptions


MOST SENT STORIES ON ESPN.COM