Rice, Seau headed for Canton
While labeling someone a future Hall of Famer during their career is tough, a number of guys fit the billing.
Updated:
November 21, 2003, 4:04 PM ET
By
Jeff Reynolds
| Pro Football Weekly
If you never have cast a ballot for the Pro Football Hall of Fame and stood in the room where impassioned campaigns are launched for and against some of the all-time greats, it is difficult for you to understand or relate to the nerve it takes to declare a modern-day star a "future Hall of Famer."
Truth be told, there are no locks. No sure things, no shoo-ins. Only probables and should-bes.
In a poll of a handful of longtime NFL writers and Hall of Fame voters, Pro Football Weekly is casting its ballot using the "Gale Sayers Rule," meaning a player, even if his career ended tomorrow, would be voted into the Pro Football Hall of Fame.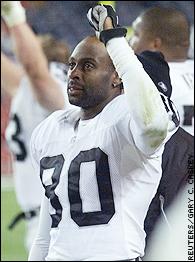 Jerry Rice is considered by some as the best player of all time.
A few of our panelists were not sold on the merits of players such as
Ray Lewis
, who has been outstanding. But, they asked, has he been Hall of Fame-good, and the best at his position over an extended period of time? The majority of writers, not all of whom were voters, said yes to Lewis. By the same token, even the perceived sure thing has detractors. During our inquiries,
Jerry Rice
was ripped,
Junior Seau
rejected and backups ballyhooed. Our point? Putting a player's greatness to a vote has a tendency to incite passionate debates. But, hey, this is how you end up in the Hall. With the field limited to active players, here's who we believe are headed to Canton, in alphabetical order:
Tim Brown: The 16-year Oakland veteran has topped 75 catches in each of his last 10 seasons and has not missed a game since 1992. Early in his career, the former Notre Dame standout excelled as a kick- and punt-return man with four career touchdown returns. Brown went from big-play threat to possession receiver without mention and is nearing 15,000 yards receiving. Only Jerry Rice and Cris Carter have more receptions.
Voter's comment: "He has the yards, and the TDs, and the numbers and all that. However, he'll have some factors going against him. 1) He never won a Super Bowl; 2) what catches has he made that are indelibly planted in our memory?; (and) 3) there are Hall of Fame selectors who believe there are too damn many Raiders already. There are no Broncos (John Elway will be the first). There are no Falcons. There's one Bengal. When I think of Hall of Famers, I think of "The Best of The Best." Tim Brown is good, even great, but not the best of the best."
Marshall Faulk: A combination of Marcus Allen and Barry Sanders, one voter said, who set the bar but was aided by the offensive system in which he played. Faulk may have reached the other side of the hill at the age of 30.
Voter's comment: "A strong candidate for the Hall of Fame, but I'm not sure if I'd push him through on the first ballot. I look at guys who have been forced to wait, and he may be one of those guys (for a year or two after he's eligible). When I think of Faulk, I think of versatility, flexibility and explosiveness. His body is breaking down now, but at the peak of his career, he showed excellent durability. There's a completeness about his running and receiving skills that makes him a solid Hall candidate."
Brett Favre: Favre hasn't missed a game since the 1992 season, his first in Green Bay. The 34-year-old could take down many of the records for his position, but has said he won't play as long as John Elway, Joe Montana or Dan Marino did for the sake of adding records to his bio. Favre has won the Super Bowl, so there is next to nothing that can keep him out.
Voter's comment: "There's no question with him. He's the most durable quarterback who ever lived. He's unique in a lot of ways, but his greatest skill is sliding in behind the line of scrimmage to buy the time. He's beyond compare."
Ray Lewis: There are character issues and then there are character issues. Off-the-field conduct aside, Lewis has been among the most electric defensive players in the NFL for six of the last seven seasons with 2002 being the exception because of a shoulder injury. His position coach, Bears Hall of Fame middle linebacker Mike Singletary, says Lewis is a Hall of Famer.
Voter's comment: "It's almost too soon to judge. There would be reservations, and not relating to off-the-field incidents."
Randy Moss: Last Sunday, Moss became the first NFL player to notch 1,000 yards receiving in each of his first six seasons. Moss has numbers that rival those of Jerry Rice and is always in the conversation surrounding the who's who of great receivers. He has, with the one glaring difference being Moss' size, the physical tools of a Lance Alworth and may be the most naturally gifted receiver to play the game thanks to his combination of raw speed, size and great hands.
Voter's comment: "Reputation isn't supposed to factor into (a voter's) decision, but it does. Effort will be a part of the discussion. If there is a perception that you don't appreciate and respect the game, you don't get respect and appreciation from the voters. That said, Moss is in, Terrell Owens isn't, solely because Moss has the better numbers."
Jonathan Ogden: He has missed only four games since joining the league in 1996, when he was the first player ever drafted by the Ravens and started all 16 games at left guard. Ogden and Tony Boselli are the most dominant offensive tackles in the NFL in the last 10 years.
Voter's comment: "He's the Art Shell or Anthony Munoz of this era, yet he seems to get little exposure. Even if he sticks around too long, Ogden will leave the game as one of the best to ever line up at offensive tackle."
Bill Parcells: Parcells has two Super Bowl rings and only four losing seasons in his previous 15 years as a head coach. He has more wins in two fewer seasons than Marv Levy and at his current pace could approach Bud Grant, Paul Brown and Chuck Knox by the end of next season. The major strike against Parcells is that he never truly seems to be done. Once he retires, the committee will refuse to consider Parcells until it is certain he won't reappear -- again.
Voter's comment: "This will be controversial. It depends on when he's being judged. The Hall of Fame doesn't want coaches named who are apt to come back. It can be embarrassing. Bill Walsh was named and then resumed his career. Bill Parcells will be a Hall of Famer, but his day will include a wait."
Jerry Rice: In many rooms, Rice has to be considered the best ever -- at least at his position. Rice has more records than your LP-collecting father, including 202 total touchdowns, and is the prototype West Coast offense wide receiver because of his run-after-the-catch skills. He has 23 more 100-yard games (73) than the next closest receiver. Fans have long admired Rice's blue-collar work ethic.
Voter's comment: "He has to be picked. His credentials are impeccable. He might be the greatest receiver of all time. The only guy you can compare with him is Don Hutson."
Junior Seau: A 12-time Pro Bowl selection, Seau has also been a pillar in the San Diego community. The 1994 NFL Man of the Year is known for his philanthropic efforts in Southern California, which only can aid his case for enshrinement.
Voter's comment: "In his heyday, Junior was an outstanding player in an outstanding defense. But I've never thought he was as good as many others. He has deficiencies as a pass defender."
Shannon Sharpe: Before Warren Sapp made chatting cool, Sharpe was the governor of gab. He has more catches and yards than any tight end, three Super Bowl rings, 10 seasons with 50 or more catches and three 1,000-yard seasons (only 13 have been posted by tight ends in NFL history), and at 35, he is still one of the most athletic at his position.
Voter's comment: "In a way, he was a trendsetter, but it's more amazing that he's still holding his own with the (Jeremy) Shockeys and Tony Gonzalezes."
Bruce Smith: A picture of durability and longevity, Smith wasn't as successful tackling a Super Bowl title as he was quarterbacks. A runner-up in the championship game four times in Buffalo, Smith does figure to end his career as the game's all-time leader in sacks; he is already the all-time leader in postseason sacks.
Voter's comment: "When I think of great pass rushers, I think of Reggie White, Lawrence Taylor and Bruce Smith. Because of Smith's talent, durability, longevity and sustained excellence, I would vote for him for the Hall of Fame."
Emmitt Smith: Clearly, the all-time leading rusher is going to the Hall. Smith had designs on running until he hit the 20,000-yard mark, but he may not last that long. Regardless, Smith has three Super Bowl rings and 20,393 career all-purpose yards, four rushing titles and was the league MVP in 1993.
Voter's comment: "A sure-fire, first-ballot Hall of Famer. I remember watching him early in his career in a game at Cleveland. I saw speed (inside and outside), power, balance and an incredible desire to get into the endzone."

Jeff Reynolds is an associate editor for Pro Football Weekly
Material from Pro Football Weekly.
Visit PFW's web site at http://www.profootballweekly.com
SPONSORED HEADLINES
MORE NFL HEADLINES
MOST SENT STORIES ON ESPN.COM
EDITORS' PICKS
After two straight losses, Mark Sanchez and the Eagles are desperate for a victory against Washington.
Preview »

Will the Colts or Cowboys win on Sunday? We pick every Week 16 game.
NFL Nation »

Texans DB Jumal Rolle plays to support his son, who survived brain surgery.
Ganguli »