Former backups find their way to Hawaii
QBs Matt Hasselbeck, Trent Green and Marc Bulger are enjoying their first trip to the Pro Bowl.
Updated:
February 6, 2004, 1:41 PM ET
By
Peter Lawrence-Riddell
| ESPN.com
HONOLULU -- Count Matt Hasselbeck among the players who are the happiest to be in Hawaii for the Pro Bowl. In practice and even when the media and camera crews descend on the players, Hasselbeck's smile hasn't left all week.
And why should it? For Hasselbeck, the Pro Bowl is a long way from his senior season at Boston College when he wasn't even invited to the NFL Scouting Combine.
"This is a dream come true for me," said Hasselbeck, who is playing in his first Pro Bowl. "I was drafted in the sixth round, so I'm having a blast."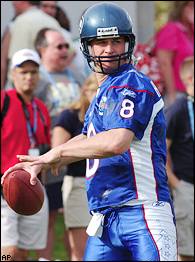 Hasselbeck has been all smiles in Hawaii this week.
He's surrounded by familiar faces, with four other Seahawks -- running back
Shaun Alexander
, offensive tackle
Walter Jones
, guard
Steve Hutchinson
and wide receiver/special teamer
Alex Bannister
-- joining him on the NFC Pro Bowl squad.
"Yesterday we stepped in the huddle at one point and we had five Seahawks in the offensive huddle," said Hasselbeck. "It's unusual for us and hopefully we can continue that and do a little more of that.
"I think it's a credit to our coaches and also to the guys we played with who aren't here. My being here has a lot to do with the help of guys like Trent Dilfer and Robbie Tobeck and Mack Strong and Bobby Engram, who aren't here."
The next question for the Seahawks is whether they can build on this season's 10-6 finish that saw them reach the playoffs before losing in the first round to the Packers.
"I think we had an opportunity this season, we just need to play a little better, maybe stay healthy and stay out of trouble," Hasselbeck said. "If we can do that again next year, I think we'll be okay. There's some good teams in the NFC, but I think we're right up there with them."
Long road for Green

| | |
| --- | --- |
| | |
| | Green |
Another quarterback who is ecstatic to be at the Pro Bowl is Chiefs signal-caller
Trent Green
.
Since entering the NFL as an eighth-round pick of the San Diego Chargers in 1993, Green has seen his share of ups and downs. After jumping from San Diego to British Columbia of the CFL, Green played in only one game from 1995-97 with the Redskins before getting his big break in 1998 when he started 14 games, throwing 23 touchdown passes and just 11 interceptions. Green parlayed that success into a deal with the Rams and just when things were looking up, he tore the ACL, MCL and lateral meniscus in his left knee and missed the entire 1998 Super Bowl-championship season for the Rams.
In 1999, Green saw action in eight games (five starts) in place of an injured Kurt Warner. Green excelled in the Rams high-powered offense, throwing 16 touchdowns and just five interceptions. But with Warner entrenched as the starter, Green was traded to the Chiefs, who had hired his old Rams coach Dick Vermeil to lead their team. In his three seasons in Kansas City, Green has started 48 straight games, throwing for 67 scores and 49 interceptions.
"It's great to be out here," said Green. "It took a long time to get here. A lot of struggles and I just want to enjoy it. I brought my wife and my two boys out and my parents and my in-laws. I want everybody to enjoy it, because a few years back when I was going through all those surgeries and rehabs and stuff, they were my support system and they were the ones getting me through it.
"So, this isn't only for me, it's also for all of them. It's very rewarding for everybody."
As important as his family has been, on the field Vermeil has been a huge part of Green's success.
"I can't say enough about coach Vermeil. He took a chance on me bringing me to St. Louis," said Green. "Then obviously coming off all the knee surgeries in St. Louis, for him to make the commitment of a first-round pick to get me traded to Kansas City, he put himself on the line twice for me and I would like nothing better than to reward him with another world championship."
On the Marc

| | |
| --- | --- |
| | |
| | Bulger |
Like Hasselbeck and Green,
Marc Bulger
is also playing in the Pro Bowl for the first time, but he got to Hawaii a little bit quicker than his fellow quarterbacks.
Bulger, 26, started 15 games and led the Rams to a 12-4 record. He was added to the team as an injury replacement for Donovan McNabb.
"When you get into the NFL, your No. 1 dream is to win the Super Bowl. But second is to get to the Pro Bowl," said Bulger, a four-year pro. "To do it this early in my career is a tremendous honor and hopefully it won't be my last time.
"It's a tremendous honor. I didn't find out until two weeks ago that I was coming here. It was kind of a scramble and a rush, but once you're here, just getting to hang out with all these guys and getting to know them and build some friendships is great."
Peter Lawrence-Riddell is the NFL editor for ESPN.com
SPONSORED HEADLINES
MORE NFL HEADLINES
MOST SENT STORIES ON ESPN.COM
EDITORS' PICKS
Eric Berry has received an outpouring of support since being diagnosed with cancer.
Ashley Fox »

John Clayton's mailbag: Give Jerry Jones his due for the Cowboys' success. Plus: Russell Wilson's value and more.
Mailbag »

Vikings QB Teddy Bridgewater, not Odell Beckham Jr., is the best choice for offensive ROY.
Joyner