Announced agreement still isn't signed
Updated:
March 24, 2005, 7:36 PM ET
Associated Press
NEW ORLEANS -- New Orleans Saints coach Jim Haslett, who rallied his team from a 4-8 mark to finish the season 8-8, still has not received the contract extension the team promised him at the end of the year.
Although the team announced that Haslett had received a two-year contract extension in January, nothing had been signed as of Thursday.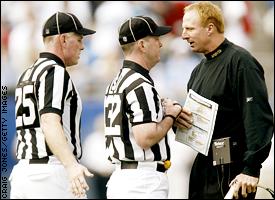 GettyJim Haslett is requesting a buyout clause for job security, not money.
"I'm not worried," Haslett said. "We will sit down with time and work it out."
Negotiations have resumed in recent days between Saints general manager Mickey Loomis and Haslett's agent, Jimmy Sexton. The sides have traded proposals on a three-year extension that would run through 2009. A two-year extension also has been discussed.
"There are other priorities," Haslett said. "We wanted to get through free agency and we have come to the end there. Really, the priority was not my situation, it was trying to make our team better."
Haslett said owner Tom Benson offered him the extension during a Jan. 7 meeting in West Palm Beach, Fla. Benson, though, said Wednesday he was not aware of ongoing negotiations and called any talk of a pending extension "premature."
"That's the first I've heard of it," Benson said. "We need to concentrate on the upcoming season and winning football games. We've got a chance to be a pretty good team. That's what we need to focus on."
The sticking point is the Saints' insistence that the contract include a buyout clause.
"I don't know of any other coach who has that," Haslett said.
Haslett's camp balked at the buyout, countering with a proposal that would keep his current deal in place with a $500,000 increase over his annual $3 million salary.
Haslett insists that a raise is not as important to him as the security and stability a new deal would bring him and his coaching staff. The Saints have run through 13 head coaches in 39 seasons, an average of a new coach every three years. Haslett's current five-year tenure is tied for the second longest in club history.
"I'm not going to go through what I went through last year," Haslett said. "The first thing the media does is they get a list together of the coaches that are next to get fired. As soon as the first coach gets fired, they move on to the next guy. I'm not going to subject myself to it. I'm not going to subject my family to it, and I'm not going to subject the coaching staff to it."
Haslett, 49, has two years remaining on a five-year contract. He signed a five-year extension in August 2002.
His record of 42-38 (.525) is the second best in team history, behind Jim Mora's 93-78 (.543). Yet the Saints have failed to make the playoffs the past four seasons, one of seven teams in that category along with the Arizona Cardinals, Buffalo Bills, Cincinnati Bengals, Detroit Lions, Jacksonville Jaguars and Washington Redskins.
The Saints finished 8-8 last season, tied with the Minnesota Vikings and St. Louis Rams for the final two NFC playoff berths.
New Orleans lost out under NFL tiebreaker rules.

Copyright 2005 by The Associated Press
EDITORS' PICKS
J.J. Watt envisions himself in the pantheon of NFL greats, and nothing will stop him from making it a reality.
Ashley Fox »

Peyton Manning is up to an unprecedented 510 TD passes, and he's far from done.
Legwold »


The Percy Harvin trade has long-term ramifications for Seattle.
Sando