Owens reports after skipping mini-camps
Updated:
August 2, 2005, 12:04 AM ET
Associated Press
BETHLEHEM, Pa. -- Terrell Owens bobbed his head to the music on his headphones, ignored dozens of reporters and walked quietly into his dorm room.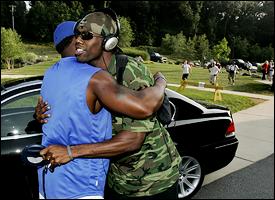 APT.O. (right) refused to speak with reporters when he arrived at camp.
His silence and attire -- Owens wore a camouflage shirt and cap -- spoke volumes about his mood.
Owens reported to training camp Monday, ending months of speculation about whether the disgruntled All-Pro receiver would hold out because of a contract dispute with the Philadelphia Eagles.
Though Owens refused to answer questions, his agent, Drew Rosenhaus, accompanied him and said he will meet with Eagles coach Andy Reid and president Joe Banner on Tuesday to discuss his client's contract.
"All the talk, all the rhetoric in the offseason is meaningless," Rosenhaus said. "He's here. He's not happy with his contract, but he's a professional and he'll do his best to help the Eagles win a championship."
Owens arrived shortly after 6 p.m. Players were due to report by 7 p.m. for a team meeting. Pro Bowl running back Brian Westbrook didn't show up, even though he said earlier this summer he wasn't going to hold out. Westbrook signed a one-year, $1.43 million contract in June but wants a long-term deal.
"We've been very aggressive in trying to secure a long-term contract for Brian. We had thought we were making good progress in that regard. Unfortunately, Brian made a counterproductive and almost unprecedented decision to not report to training camp," the Eagles said in a statement.
Defensive tackle Corey Simon also wasn't in camp. He still hasn't signed a one-year, $5.13 million franchise tender and doesn't plan to report.
Owens' squabble has dominated headlines in Philadelphia since the Eagles lost to New England 24-21 in the Super Bowl almost six months ago.
Owens skipped mini-camps and, along with Rosenhaus, was very vocal about wanting a new contract one season into the seven-year, $48.97 million deal he signed after coming to Philadelphia in March 2004.
The Eagles have said they won't renegotiate the contract. Rosenhaus is hopeful the team will change its stance.
"It's always productive when you have dialogue," Rosenhaus said. "We're looking forward to it."
Owens was a big part of Philadelphia's offense last season, setting team records with 14 touchdown receptions and seven 100-yard games.
Philadelphia started 13-1, winning nine of the first 12 games by double-digit margins, including five by at least 21 points.
Owens, however, broke his leg and severely sprained his right ankle in Week 15 against Dallas, an injury that sidelined him until the Super Bowl. He defied his doctor's advice and returned for the title game, catching nine passes for 122 yards.
Owens earned a total of $9.16 million last year, including a signing bonus, and is scheduled to earn $3.25 million this year, plus incentives.
He has another signing bonus of $2.5 million, a roster bonus of $5 million and a base salary of $770,000 for a total of $8.27 million in 2006.
"Terrell is here to play football, he's very serious and businesslike," Rosenhaus said. "Let me and the Eagles handle his concerns over his contract."
Rosenhaus didn't completely rule out that Owens could leave camp but said he's optimistic the two sides can avoid that scenario.
"We're not here to negotiate in bad faith or threaten to walk out," Rosenhaus said. "This isn't about leverage."
Owens was expected to practice with the rest of the team on Tuesday afternoon. It was to be the first time he was on the field with quarterback Donovan McNabb since the two stars traded verbal jams in the offseason.
"I'm confident that relationship will be fine," Rosenhaus said.

Copyright 2005 by The Associated Press
SPONSORED HEADLINES
MORE NFL HEADLINES
MOST SENT STORIES ON ESPN.COM
EDITORS' PICKS
In what was a historic game by Tony Romo, the Cowboys routed the Colts and claimed the NFC East title.
Archer »

The Seahawks' offense caught fire as they wrested control of the NFC West from the Cardinals.
Blount »

The Falcons beat the Saints to set up a winner-take-all matchup against Carolina for the NFC South title.
McClure »