Financial fallout to hit Philly, Reebok headquarters
Updated:
November 7, 2005, 9:54 PM ET
By
Darren Rovell
| ESPN.com
Fans used to chant "T.O. Must Go!" But with the wide receiver, for all intents and purposes, no longer associated with the Eagles, retailers are quickly taking up a new battle cry.
"Everything T.O. Must Go!"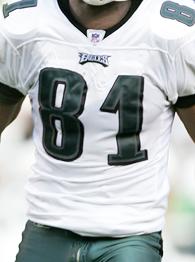 Drew Hallowell/WireImage.comIf you're selling a Terrell Owens jersey, expect chump change in return.
Throughout the week, a glut of Terrell Owens jerseys started appearing on online auction site eBay. As of Monday afternoon, the fire sale was officially under way. More than 150 No. 81 Eagles jerseys are currently on the site, with minimum bids as low as $5.
The financial fallout of the Eagles suspending Owens -- for Sunday night's loss to the Redskins and three more games without pay; after that, the Eagles plan to deactivate him for the rest of the season -- will be felt in fan shops in Philadelphia as well as at Reebok headquarters in Canton, Mass.
Those retailers who had Owens jerseys on the racks are now forced to try to make some money back off outdated Owens gear. Officials with Reebok, which makes the replica and official jerseys, were not immediately available for comment, but one retailing insider told ESPN.com that the company won't be reeling from the receiver's situation because orders had slowed throughout the season when retailers got the sense that the public was growing tired of his antics.
When Ricky Williams suddenly retired before the 2004 NFL season, Reebok had already made thousands of his jerseys in every size and team color available. When stores canceled their orders, the jerseys piled up in Reebok's warehouses. Although Williams is back with Dolphins, his performance this year hasn't exactly encouraged the masses to consider buying his jersey again.
Owens' Eagles jersey was the third most popular jersey sold on NFLShop.com from April through August. But by Sept. 30, his jersey had slipped to 13th in the ratings.
"This guy had the city of Philadelphia wrapped around his finger," said Scott Rosner, a director of the Wharton Sports Business Initiative at the University of Pennsylvania. "The guy was a hero. Now he's the goat."
As the off-the-field battles between Owens and the Eagles organization intensified in recent months, Rosner said he noticed that fewer people were wearing No. 81 jerseys.
"Wearing a T.O. jersey around Philadelphia made you a bit of a target," Rosner said. "You had to know that if you were wearing it you would be opening yourself up to some verbal abuse."
So what will happen to all Terrell Owens Eagles gear?
An NFL spokesman said Monday night that it was unclear whether the league would discontinue the sale of Owens items as a result of his banishment from the team. As of 8 p.m. ET, the Eagles still had five Owens-related items in their online shop, including three different replica ladies jerseys, a bobblehead and a No. 81 mini helmet.
The merchandise glut could also hit Owens himself.
On his official Web site, www.terrellowens.com, Owens is selling a full-size Eagles autographed helmet for $749, a signed authentic Eagles jersey for $499 and an autographed Eagles football for $139.
Items that might be salvagable include T.O.'s honey-roasted peanuts and peanut brittle, both of which do not carry the Eagles logo.
Darren Rovell, who covers sports business for ESPN.com, can be reached at Darren.rovell@espn3.com.
ESPN.com Sports Business reporter
ESPN.com's sports business reporter since 2012; previously at ESPN from 2000-06
Appears on SportsCenter, ESPN Radio, ESPN.com and with ABC News
Formerly worked as analyst at CNBC
THE T.O. SAGA
Excerpts from Graham Bensinger's exclusive interview with Terrell Owens for ESPN.com:
Owens talks about ...

The Super Bowl: People take the things I say out of context

Contract negotiations: Owens: Somebody's got to win, somebody's got to lose
Donovan McNabb: We'd be in a better situation [with Favre]
Touchdown celebrations: I just go out there and try to have fun
His Super Bowl regrets: Putting career on the line
Achieving success: Sometimes the truth hurts
Media attention: It's almost like I'm in a no-win situation with the media
Reaction and analysis:
• Mort: Arbiter to decide if punishment was excessive

• T.O. apologizes, but Eagles not impressed
• Clayton: Eagles have the goods on T.O.

• Eagles say Owens won't return this season
• Gene Wojciechowski: Why can't we all just get along?
• Len Pasquarelli: T.O.'s future prospects? See Keyshawn
• Rick Spielman: Building a case

• Michael Smith: For Eagles, an issue of self-respect
• ESPN experts: Great talent, not worth the trouble
• Come and get 'em: T.O. jersey fire sale under way

ESPN Radio analysis
• Sal Paolantonio: Story is like being 'put through the wringer'

• Freddie Mitchell: Bad blood only between Owens and McNabb

MOST SENT STORIES ON ESPN.COM