Eagles and Giants face distractions
With both teams battling distractions, the Giants host the Eagles this weekend in a huge game for both teams.
Updated:
November 18, 2005, 4:04 PM ET
By
Greg Garber
| ESPN.com
PHILADELPHIA -- It really isn't fair to call this soaring space where the Eagles hang their clothes a locker room.
Carved into the NovaCare Complex, a few dozen Hail Marys from Lincoln Financial Field, it has an elevated ceiling with a remarkable peaked roof made of glass. When the sun pours into the airy room trimmed in forest green, as it did Thursday morning, it has the charm of a breakfast nook.
Unfortunately, during the 45-minute period that it was open to the media, there was little charming conversation. The day before Terrell Owens' grievance against the team was to be heard, there was a yawning silence at the Eagles' complex. Answers, in the wake of what many consider to be the end of the Eagles' season, were difficult to come by.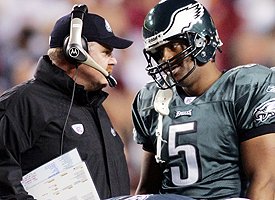 AP/Evan VucciAndy Reid is on a mission to protect Donovan McNabb.
Quarterback
Donovan McNabb
, after a consultation with Philadelphia surgeon Dr. William Meyers confirmed his worst fears -- Meyers recommended immediate surgery for his now-infamous sports hernia injury -- shuffled slowly across the floor in obvious pain. Still, he was elusive enough to shake off a vast sea of media types. Defensive end
Jevon Kearse
waved off interview requests, saying he had to attend to treatment. Rookie wide receiver
Reggie Brown
, who has replaced Owens in the starting lineup, muttered something about having to put on his shoes.
Eventually, running back Brian Westbrook -- the last dangerous offensive player still standing -- allowed himself to be surrounded by microphones.
"We're not going to slack off because everybody's written us off," he said.
Is it realistic to think the Eagles can win Sunday's critical game against the New York Giants without McNabb and Owens?
"Yeah, it's realistic," Westbrook said. "If it wasn't realistic, we wouldn't come out here every day. I think we have to go out and try to win these next seven games, and we still have the opportunity to hopefully get into the playoffs."
It isn't quite that desperate for the 4-5 Eagles. Six wins in seven games might get them into the postseason. But while that was a realistic goal for the teams of the last four seasons -- the ones that won the NFC East and reached the NFC Championship Game -- for this group that constitutes an enormous stretch.
After a horrific loss to the Dallas Cowboys on Monday night, the Eagles are reeling. They led by 13 points late in the game, but the Cowboys scored two touchdowns in a span of 21 seconds -- the second on an interception thrown by McNabb that resulted in a 46-yard return by Roy Williams. Philadelphia is 0-3 in the division they recently have dominated and two games behind the 6-3 Giants and Cowboys.
The Giants, meanwhile, aren't feeling so good about themselves, either.
They had a chance to establish themselves as the favorites in the NFC East last Sunday, but gave away a game to the embattled Vikings. The defense didn't allow a touchdown for the third straight game, but punt, kickoff and interception returns for touchdowns gave Minnesota an unlikely 24-21 victory.
Then on Tuesday night, three weeks after Wellington Mara died of cancer, co-owner Robert Tisch succumbed to brain cancer at the age of 79. On Wednesday, the flags at Giants Stadium stood at half mast in the oddly balmy air.
Head coach Tom Coughlin tried to rally his players.
"You know what Bob Tisch, if he was standing right here now, would say?" Coughlin told his players. "'Don't spend any time feeling sorry for me. I've had a great life.' So he would say to us, 'Get going. Get on with the business of preparing for the Philadelphia Eagles.'"
Indeed, football is a business. It must be conducted amid the distractions that life invariably offers. Like the Eagles, the Giants have had more than their share.
The Sept. 11 home opener was played on the fourth anniversary of the terrorist attacks on the World Trade Center. A week later, the Giants hosted a game relocated from New Orleans after Hurricane Katrina. After the loss of the beloved Mara, the Giants responded with a 36-0 victory over the Washington Redskins that was shocking in its fury and completeness. How will they respond this time?
"We'll have to see," Coughlin said. "This is a strong group. Hopefully, we can channel things."
And what about the Eagles?
Only nine games into the 2005 season -- after the wearying and predictable battle with Owens -- it is difficult to conjure the image of the team that won 15 of 18 games and reached Super Bowl XXXIX in Jacksonville. The Eagles seem to be slipping into the undertow that has engulfed the last four Super Bowl losers. All of those teams -- the 2001 Giants (7-9), the 2002 Rams (7-9), the 2003 Raiders (4-12) and the 2004 Panthers (7-9) -- failed to make the playoffs the following year.
And yet, the unfailingly optimistic Eagles maintain that the last two games, going back to a spirited 17-10 loss at Washington, have been among their best.
Although McNabb said the team was better off without Owens, who caught 20 touchdown passes in his 21 games with the Eagles, they are 0-2 without him. Now, will McNabb argue Philadelphia is also better with third-string quarterback Mike McMahon -- a man who is 1-6 as a starter in his five-year NFL career -- under center?
Is it realistic to think they can win this must-win game with McMahon throwing to Reggie Brown? Their only collaboration late in the game against the Cowboys fell incomplete.
"Absolutely," said defensive tackle Darwin Walker, sounding something less than convincing. "If I thought any other way I wouldn't need to be here. There's no doubt in my mind we can go out and still win games."
Greg Garber is a senior writer for ESPN.com.
Writer, Reporter
Greg Garber joined ESPN in 1991 and provides reports for NFL Countdown and SportsCenter. He is also a regular contributor to Outside the Lines and a senior writer for ESPN.com.
SPONSORED HEADLINES
MORE NFL HEADLINES
MOST SENT STORIES ON ESPN.COM
EDITORS' PICKS
He never worked as a referee, but Dean Blandino has been the right man to be the NFL's officiating czar.
Merrill »

Flem File: The Seahawks' expertise in manipulating the NFL rulebook makes them somewhat impervious to penalties.
Fleming »

Who's more crucial to the Patriots' vast success - Brady or Belichick? We tap myriad experts for the answer.
Garber »
Nike Men's Home Limited Jersey New York Giants Eli Manning #10 Shop »