Sources: Chiefs, Jets talk compensation for Edwards
Updated:
January 5, 2006, 10:00 AM ET
ESPN.com news services
NEW YORK -- Herman Edwards is close to becoming the next Chiefs coach.
Kansas City and the Jets discussed a compensation package for Edwards on Wednesday, a person close to the situation told the Associated Press. Another person familiar with the negotiations told the AP the talks were almost completed.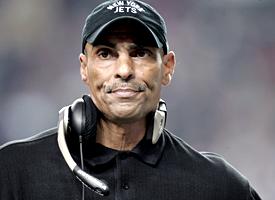 Rex Brown/WireImage.comHerm Edwards has said he intends to stay with the Jets, but appears to be closing in on becoming Dick Vermeil's successor.
Both sources spoke on condition of anonymity because of the sensitivity of the talks.
The Chiefs, rumored to be interested in Edwards for the past two months, would have to give up draft picks to hire Edwards because he is still under contract with the Jets. Edwards has ties to the Kansas City organization and general manager Carl Peterson, and would replace retired coach Dick Vermeil.
The NFL must approve the deal before it can be official, and nothing was submitted to the league office Wednesday, both sources said.
Edwards and Jets GM Terry Bradway previously had scheduled a season-ending news conference for Thursday, but that was postponed.
Giving up draft picks is nothing new to the Chiefs. Kansas City surrendered a second-round pick and a third-round pick when it hired Vermeil, who was technically under contract with St. Louis at the time even though he was retired. Peterson was upset about that, and though he declined to discuss Edwards at a news conference Tuesday, he did say "Any time I have to part with a No. 1 draft choice, it's painful."
ESPN.com's Len Pasquarelli reports that, under the compensation parameters discussed Wednesday, the Chiefs would not surrender a first-round choice for Edwards. League guidelines stipulate that the clubs must reach an agreement on compensation, approved by the league, before an interview can take place.
Sources told Pasquarelli that Jets officials, who initially wanted to retain Edwards but who have grown weary of all the talk about him leaving for Kansas City, have already begun drawing up a list of potential replacements.
Among the candidates are ex-Saints coach Jim Haslett, New York newspapers reported Thursday. Also being considered, according to the New York Daily News: Ravens offensive coordinator Jim Fassel, Giants defensive coordinator Tim Lewis, ex-Packers coach Mike Sherman and Steelers offensive line coach Russ Grimm.
On Wednesday, the Jets maintained that the Chiefs hadn't officially contacted them. Edwards' agent, Gary O'Hagan, said he hadn't spoken with the Jets or Chiefs, saying, "I'm only talking to Coach Edwards." A phone message for Edwards wasn't returned.
Edwards, who has two years left on his contract, wants an extension so he could have more time to rebuild the Jets. At $2 million a year, Edwards is one of the lowest-paid coaches in the league, and he wanted a raise as a reward for taking the team to the playoffs three times in five years.
He maintained throughout the season and as late as Monday that he planned to be the Jets' coach. In November, team owner Woody Johnson also said he wanted Edwards to stay.
"I'm happy to be the coach here, and I'm going to be the coach here, like I said before, and that's as far as I want to comment on it," Edwards said earlier this week.
It appears that is no longer likely.
Peterson tried to recruit Edwards to go to UCLA, then signed him as an undrafted free agent with Philadelphia. Peterson gave him his first NFL job as an executive in the Chiefs' player personnel department in 1990.
When the Jets played Kansas City to open the 2005 season, Edwards and his wife had dinner with Peterson and his wife -- something Peterson said was rare for him to do during the year. Before the game, Edwards expressed his gratitude to Peterson and Vermeil for giving him a chance.
"They were a great influence, there's no doubt about it," Edwards said at the time. "They really set the table for my pro career as a player and as a coach and a scout. I can't be more grateful to both of those guys."
Information from The Associated Press was used in this report.
SPONSORED HEADLINES
MORE NFL HEADLINES
MOST SENT STORIES ON ESPN.COM
EDITORS' PICKS
Can the Lions win in Green Bay? Here are all our Week 17 picks.
NFL Nation »

J.J. Watt isn't just a trendy MVP pick. There's a smart argument to be made for why he deserves the award.
Sando

The NFL's punchline division crowns a champ Sunday. Will Carolina or Atlanta have the last laugh?
Preview: CAR-ATL »