Turner hired to run 49ers offense
Updated:
January 17, 2006, 8:21 PM ET
Associated Press
SANTA CLARA, Calif. -- Norv Turner is going back to what he does best, and his assistant-turned-boss is glad he chose the San Francisco 49ers.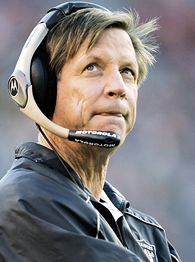 Brian Bahr/Getty ImagesConsidered one of the NFL's top offensive minds, Norv Turner wasn't out of work for long.
Turner, fired as coach of the Oakland Raiders two weeks ago, moved across San Francisco Bay to become the 49ers' offensive coordinator on Tuesday.
Coach Mike Nolan hired his former boss with the Washington Redskins to replace Mike McCarthy, named the Green Bay Packers' head coach last week after one terrible season with the Niners.
Though Turner has failed twice as a head coach, the two-time Super Bowl winner with Dallas was courted by at least four teams last week for his vaunted offensive mind and respected skills as a coordinator. Though he wouldn't directly comment, Turner seems to realize his strengths might be best suited to an assistant's role.
"There's a good foundation here, and the way the 49ers ran the ball late in the year is exciting for me," Turner said Tuesday as he formally took over the NFL's worst offense in 2005. "This is a young team, and I look forward to being part of the young players' development."
For once in a peripatetic coaching life, Turner won't have to move to his next job -- and his son, who's been in five schools in four years, can stay enrolled as well. The native of nearby Martinez said he plans"to be here for a long time."
Turner, who also coached the Redskins for nearly seven years, was fired by the Raiders after just two losing seasons. Nolan was the first NFL coach to call Turner after his dismissal, and many others followed.
Job offers soon arrived -- a sign of respect for Turner's career, which is highlighted by his work as the Cowboys' offensive coordinator during two championship seasons. His reputation took a hit this season when the Raiders struggled mightily on offense despite stars Randy Moss, LaMont Jordan and Kerry Collins.
"There were other places out there I could have gone, but I feel very comfortable with Mike," Turner said."I know what Mike is about, and he knows what I'm about."
Nolan was Turner's defensive coordinator in Washington from 1997-99, but Redskins owner Dan Snyder essentially forced Nolan to resign when his contract ran out. Both coaches believe their mutual respect will smooth this transition in their relationship.
"I had some bad years at Washington, and it makes you step back and re-evaluate what's important to you," Nolan said. "[Washington] was a difficult situation. ... We tried to make it work, but there was always this outside force making it hard to make it work."
Turner went 49-59-1 with just one playoff berth in Washington before getting fired with three games left in the 2000 season. He took charge of the Raiders in January 2004 but won just nine games, leading to his dismissal by owner Al Davis.
Turner will take over for McCarthy, who presided over one of the worst offensive seasons in NFL history in Nolan's first year in San Francisco. The Niners (4-12) managed just 3,587 total yards -- the fewest in the league, the franchise's lowest total since 1963 and the fifth-fewest since the NFL began playing 16-game schedules in 1978.
With a talent-thin roster and four starting quarterbacks, including No. 1 draft pick Alex Smith, the Niners averaged fewer than 15 points. Smith didn't throw his first touchdown pass until the season finale -- after 11 interceptions and seven starts. San Francisco finished with franchise lows in offensive touchdowns (17), first downs (191) and yards passing (1,898).
Turner isn't a strict disciple of the West Coast system established in San Francisco by Bill Walsh and revived by McCarthy last season, but Nolan expects the 49ers to keep much of the same terminology used by McCarthy to minimize confusion for his young players.
Nolan isn't concerned about moving away from the West Coast offense after Smith's first season in it, saying there are more similarities than differences in Turner's scheme, which has its roots in the work of famed coaches Ernie Zampese and Don Coryell.
"I'm not going to say we're going to look like the Dallas Cowboys of the early '90s, but that's where it starts," Nolan said.
Turner is the fourth offensive coordinator in four seasons for the 49ers, following Greg Knapp (2003), Ted Tollner (2004) and McCarthy.

Copyright 2006 by The Associated Press
SPONSORED HEADLINES
MORE NFL HEADLINES
MOST SENT STORIES ON ESPN.COM
EDITORS' PICKS
Big, fast cornerbacks are in demand but hard to find.
Legwold »

The Ravens have no choice but to draft a RB.
Hensley »

Will Peyton Manning thrive on his past football discomfort?
Legwold »