Treatment center helped Robinson get life in order
Pro Bowler Koren Robinson didn't just reestablish himself on the field in 2005. He also turned his life around.
Updated:
February 9, 2006, 12:46 PM ET
By
Len Pasquarelli
| ESPN.com
HONOLULU -- Ten special teams players are here for Sunday evening's Pro Bowl game, split evenly between the AFC and NFC all-star squads.
Of those selected for their standout 2005 performances in the kicking part of the game, the honor is most special (literally) for Koren Robinson.
This place, with its practice field tucked inside a crater and surrounded on two sides by lush greenery, is a slice of paradise to most of the Pro Bowl participants and the family members who accompanied them. But for Robinson, it is heaven, with his football redemption hard-earned by eight months of sobriety, thousands of hours of introspection and an act of self-contrition that remains a day-to-day challenge.
| | | |
| --- | --- | --- |
| | " | Let's face it, I could have killed myself, and my family, my mother who means so much to me, would have spent the rest of her life mourning me. Or worse yet, I could have killed some innocent people and their families would have then suffered a great loss. Lay awake at night and think about that for a while. If that doesn't scare you, then something's wrong with you." |
| | | —Koren Robinson |
"It's not enough for me to just say I'm sorry for the things I did," said Robinson, who played for the Minnesota Vikings in 2005. "I have to basically live out the sorry part with everything I do on a daily basis. But, yeah, being here, just looking around this place, being on the field with such great players, shows me how far I've come in a very short period of time. It is like heaven to me. And it reminds me that, whatever I've done to get things turned around in my life, well, I've got to keep doing it."
Only eight months ago, released by the Seattle Seahawks following a DUI incident that confirmed rampant rumors of his recidivism, Robinson wasn't certain what he was doing. The ninth overall selection in the '01 draft, and a talented but tainted wide receiver whose four-year tenure in Seattle had been defined by moments both exquisite and excruciating, Robinson was a man without a team, without a paycheck and, seemingly, without a future in the NFL.
At the advice of family, friends and his agent, and "just about at rock bottom," the former North Carolina State star checked into a 30-day treatment center in Charleston, S.C., that specializes in alcohol addiction. Four weeks later, sober for the first time in years and clear-headed enough to realize he didn't want to squander his athletic skills and regret having wasted a career, Robinson exited as a new man.
Shortly after that, he had a new team, signing a modest contract with the Vikings after Minnesota cornerback Brian Williams, a onetime college teammate, made a pitch to then-Minnesota coach Mike Tice on his behalf. At the behest of Williams, Tice had phoned Robinson during his treatment program and told him that, if he could get clean, he would get a clean slate if the Vikings opted to sign him.
In 14 games, including five starts, Robinson caught 22 passes for 347 yards and one touchdown. But it was as a kickoff return man, a role he had never before filled for any length of time at any level of the game, that Robinson most excelled.
Having never before returned a single kickoff in the NFL, he ran back 47 kickoffs for a 26.0-yard average and one touchdown.
"He had a great season," said Tice. "On and off the field. And, for Koren, the [latter] might be even more important."
Robinson, 25, doesn't mind talking about his seven kickoff returns of 40 yards or more, including a long runback of 86 yards, and he can detail each of the big plays. What he prefers to discuss, though, is returning to an existence in which he has regained his self-respect, the love of life and his moral compass.
During his treatment, Robinson had a chance to reflect on the DUI charge to which he pleaded guilty in mid-July, with all but one day of a one-year sentence suspended. And he had long days and nights, between treatment sessions and other activities aimed at plumbing the depths of his alcohol addiction and identifying its genesis, to think about the potential ramifications.
It was, Robinson recalled, a sobering dose of chilling reality.
"Let's face it, I could have killed myself, and my family, my mother who means so much to me, would have spent the rest of her life mourning me," Robinson said. "Or worse yet, I could have killed some innocent people and their families would have then suffered a great loss. Lay awake at night and think about that for a while. If that doesn't scare you, then something's wrong with you."
Robinson insists he was scared straight and that his priorities, in order, are family, God, respect for others and regard for himself. "If I'm a better man than I am a football player, well, that's just fine," Robinson said.
At the treatment center, Robinson was befriended by another patient whom he refers to only as "Chad," a man who clearly made a profound difference in his life. Chad came from a family whose spiritual tenets included the belief that, if you fast for six days and immerse yourself in the Bible, you will have a series of dreams. A person then goes to his pastor to have the dreams interpreted.
Robinson fasted for six days, read scripture for hours on end and, indeed, had a series of dreams. The most prominent: Robinson saw himself involved in a card game. Just behind the table where he was playing with the friends was an apple that was guarded by a huge snake. In the recurring dream, every time the snake left for a while, Robinson snatched the unattended apple. In the final dream, however, the snake returned just as Robinson reached for the apple, and inflicted a painful wound.
"I don't think I needed a pastor to explain the dream," Robinson said. "I knew, after just thinking about it a little, what it meant. It was more like a nightmare. The apple was alcohol. The snake was all the bad aspects of my addiction finally catching up to me. It got to a point where, no matter how [clever] I thought I was, or how much I told myself I didn't have a problem, I couldn't avoid being bitten by it anymore. I couldn't outrun it."
Since he left the treatment center, having progressed so well during his stay that he was released two days early, Robinson hasn't experienced the dream. He hasn't had a drop of alcohol. Instead of dwelling on the past, Robinson has focused on the future. And although there is still some uncertainty surrounding his NFL future, there are no longer any fears that his career is over.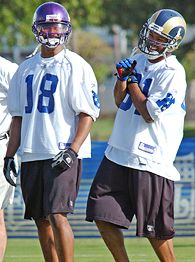 AP Photo/Ronen ZilbermanKoren Robinson has gotten his career back on track.
He is scheduled to be a free agent, but the Vikings, as a part of his contract, retain a right of first refusal. That means if another team signs Robinson to a deal, Minnesota can keep him by matching it. Robinson's preference is to return to the Minnesota franchise that afforded him a second chance, even though Tice has departed and the staff headed by Brad Childress is now in place.
No matter what, Robinson said, he is in a better place in life and vocation, and he is confident things will work out.
He spent last Sunday watching his former Seattle teammates in Super Bowl XL, a tough ordeal, given the regard in which he holds coach Mike Holmgren, who invested plenty of time in Robinson, and the Seahawks players he still counts as friends. Holmgren spoke quite eloquently on at least two occasions last week about his personal feelings for the one-time first-round draft choice, and said he is pleased Robinson has turned things around.
It is obvious, while watching Robinson complete the hardly taxing, half-speed drills that constitute practice here, that he remains an explosive athlete. His gliding style belies his quickness, and the Carolina Panthers staff coaching the NFC squad has been impressed by his big-play potential and work ethic.
Robinson might never return to the level of excellence he achieved in the 2002-2003 campaigns, when he averaged 71.2 receptions, 1,068 yards and scored nine touchdowns. At the same time, watching the facility with which he catches the ball and his innate athletic grace, it's easy to project him filling a bigger role than simply as a kickoff return specialist.
Then again, if that's what the rest of his career is about, Robinson can live with it.
He plans to spend the rest of this week auditioning not just his football skills, but also his life skills, trying to demonstrate to any lingering doubters that his demons have been exorcised. Asked if every day provides another temptation for him, Robinson smiled and slowly nodded, then vowed he will continue to overcome his biggest challenges.
"I know what I have to gain," Robinson said. "And, believe me, standing here and looking around at how beautiful this is and what a reward it's been for me, I definitely know what I have to lose, too."
Len Pasquarelli is a senior NFL writer for ESPN.com. To check out Len's chat archive, click here
.
Pro Bowl Coverage
ESPN.com senior NFL writer Len Pasquarelli was in Hawaii all week covering the Pro Bowl. • NFC defeats AFC 23-17
• Pasquarelli: Brooks wins POG
• Motion: Brooks earns honor

• Alexander willing to test market
• Pasquarelli: Safeties in numbers
• Pasquarelli: 2,500 for Johnson?
• Pasquarelli: Owens a hot topic
• Pasquarelli: WR gets life in order
• Pasquarelli: Colts looking forward
• Pasquarelli: James done in Indy?
• AFC roster | NFC roster
• 2006 Pro Bowl TV schedule


MOST SENT STORIES ON ESPN.COM