Franchise ownership makes for taxing days
It's Friday, April 14, and you know what that means. It means we've got one day left (OK, the weekend; they're giving us 'til Monday at midnight this year) to find that elusive loophole in the Internal Revenue Service tax code before we have to get a postmark on our annual returns. It happens every spring.
But for some of the wealthiest Americans, it's happening every spring, summer, autumn and winter. And their search for ways around the tax burden often requires creative strategy and long-term planning that make our annual rasslin' matches with Form 1040 amount to something less than a hill of bean-counting. It's pretty hard to mail in an envelope when you're dead. As the value of professional sports teams has escalated, the smart owner who might be a little long of tooth and has a desire to keep the franchise in the family is worrying about estate taxes. Currently, those taxes are levied on estates valued at more than $4 million, which pretty much means they're a factor for every franchise owner in pro sports.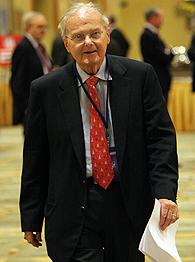 AP Photo/D.J. PetersChiefs owner Lamar Hunt saw the estate tax coming and did something about it.
In 1960, Lamar Hunt bought the Kansas City Chiefs for $25,000. Thirty seven years later, Hunt transferred 80 percent of the team to his daughter and three sons. While he had to pay a gift tax equal to the estate tax -- then 55 percent -- he paid that tax based on the value of the team back then. According to Financial World Magazine, the team's value in 1997 was $188 million. "It's something I thought about doing for a number of years," Hunt told the New Orleans Times-Picayune in 2000. "If I was real farsighted, I would have done it when the franchise was worth $10 million. But for some people, it's hard to think in terms of dying. They don't want to admit it could happen to them at any time. In that sense, I was a foot-dragger." Even still, executing the plan when he did saved his heirs hundreds of millions of dollars. Today, Forbes Magazine values the team at $762 million. If an owner who has 100 percent of the team in his name passes away this year, and if his children wish to inherit and own that team, they will be required to pay federal estate tax equal to a whopping 46 percent of the value of the franchise. In the case of an NFL team, that could amount to fortune in and of itself. Estate taxes actually date back all the way to the first century A.D., when Roman Emperor Augustus Caesar taxed property that was passed on outside the immediate family. Over time, estate taxes were used in the United States in the late 18th century to finance the military. Eventually, they became a way simply to help redistribute the wealth from the rich to the less fortunate. As it stands today, only one out of every 100 estates are subject to the tax. But, because sports teams are so valuable, the children of sports owners are always subject to this tax, as their assets generally go beyond the exempted amount. That means there's plenty of behind-the-scenes planning taking place as owners look for a way around that burden. Unlike most of the rest of us who are plowing through the IRS code and crunching our own tax numbers right now, today's franchise owners can afford to make themselves privy to the most sophisticated techniques in existence that might lighten the tax burden for the next generation in their families. Take the Chicago Bears as an example. George Halas bought the team in 1920 for $100; and when he died in 1983, he transferred ownership to Virginia McCaskey, his daughter. McCaskey, who is now in her 80's, reportedly has a controlling interest with an 80 percent share in the club. But technically, those shares were at some point gifted to her 11 children; so that when she passes away, there will be a minimal transference and therefore few estate taxes related to the club. Bears spokesman Roger Hacker said the percentage owned by each of the children is not public information and would not be released, but it appears that we can expect the McCaskeys to own the Bears for a while longer, at least.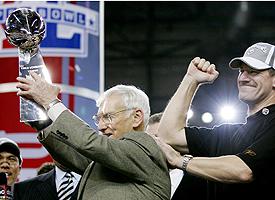 AP Photo/David J. PhillipThe Steelers' Dan Rooney is still nervous about estate taxes, but maybe the Lombardi Trophy will calm him down for a while.
The average NFL owner is 66 years old. Five of them are at least 80, and an additional seven are in their 70s. In fact, only six NFL owners -- the Redskins' Daniel Snyder, the Browns' Randy Lerner, the Eagles' Jeffrey Lurie, the Seahawks' Paul Allen, the Ravens' Steve Bisciotti and the Colts' Jim Irsay -- are not senior citizens (less than 55 years old). Giants co-owners Wellington Mara, who was the league's oldest owner at 89, and Robert Tisch, 79, both died of cancer within three weeks of each other last year. Because Mara's 11 children are said to have shares of the team that Mara's father, Tim, purchased in 1925 for $500, it doesn't appear the Maras will face significant estate-tax issues in keeping the club in the family. In fact, no estate taxes will be paid right away for either half of the team, as long as Wellington's share is transferred to his wife, Ann, and Tisch's wife, Joan, takes over her late husband's portion. Lateral moves to a spouse do not trigger the estate tax. "I think we've done some careful planning, which we believe will allow us to carry on control of the organization," Wellington Mara's son, John, told The New York Times in 1995. Specifics of the future plans for financing the inheritance of the team, which Forbes values at $806 million, are unknown. Both John Mara and Tisch's son, Steve, declined to be interviewed for this story. Dan Rooney, who owns the Super Bowl Champion Pittsburgh Steelers, has been adamant that his team -- which was purchased for $2,500 by his father, Art, in 1933 and today is said to be worth more than $700 million -- will stay in the family. But as the franchise's value has grown, Rooney has kept the estate-tax implications in mind. "Estate taxes make every one of us nervous," Rooney told Bloomberg News six years ago. "If there's an owner who isn't, he has his head in the sand." Last year, the 73-year-old Rooney told the Pittsburgh Tribune-Review that estate tax issues with the team still had to be resolved. When Cleveland Browns owner Al Lerner died in October 2002, the team -- which he bought in 1998 for $530 million -- stayed in the family. No immediate taxes had to be paid because part of the club was controlled by his wife, Norma. Although the family sold 40 percent of its stake in credit card giant MBNA to help defray the tax burden, it appears the Browns will be able to remain the property of the Lerners for generations to come simply based on the family's sheer wealth. Forbes ranked Al Lerner's wife the 258th richest American with $1.3 billion in net worth in 2005. "Some of these owners have so much money they can literally call up a bank and get a $100 million loan on the spot," Clark Griffith, whose family owned the Minnesota Twins from 1920 to 1983, told ESPN.com. "If they need to pay off a tax, they could easily get it financed." In 1994, a $47 million estate tax burden forced the family of the late Joe Robbie to sell the remaining half of the Miami Dolphins to Wayne Huizenga.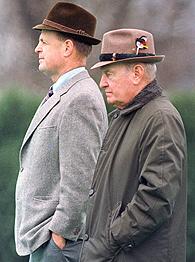 AP Photo/Al BehrmanPaul Brown, shown in 1986 with his son Mike, was one smart owner. He found a way around some of the estate-tax obligation.
Interestingly, the will of New York Jets owner Leon Hess, who passed away in 1999, barred his family from having an ownership stake in the team and reportedly promised to reduce by 25 percent the share of any beneficiary who attempted to challenge the sale. The team, which cost Hess $10.2 million to become its complete owner over the course of his 36-year involvement, sold to Woody Johnson for $635 million. One of the most interesting estate tax situations in the NFL involves the Cincinnati Bengals and the Brown family. In 1983, Paul Brown sold all but one of his shares in the team to then-team president John Sawyer. The deal stipulated that Brown maintain the majority voting rights in team decisions, and included the option that his two sons, Mike and Peter, could buy back his shares in 10 years at $25,000 a pop. They did so eight years later when their father passed away, buying back Sawyer's shares for $8.2 million. Everything was fine until 1994, when a bill from the IRS came … to the tune of $29.8 million. The shares weren't technically being handed down directly from Paul Brown to his sons -- they went through Sawyer -- but the IRS claimed the process was a sham intended to avoid estate taxes. In 1997, a judge ruled that the deal was an arm's length transaction, essentially meaning it was not coerced and was for fair market value. The Browns maintained ownership. For most teams, behind-the-scenes financing is a private issue. ESPN.com attempted to contact the owners of 10 NFL franchises for comment on their current ownership structure and their interest in keeping their teams into the future. All 10 declined to be interviewed. One owner whose family eventually will sell the franchise is the Buffalo Bills' Ralph Wilson, who at 87 is now the oldest owner in the league and who still owns 100 percent of his team. Wilson told the Sports Business Journal last year that none of his family members is interested in carrying on with the team. It will be neither easy nor cheap, but the owners who want to keep their teams in the family after their deaths likely will be able to find a way to make that happen. If they're interested in financing the estate tax, there are several ways to do it. If an owner can prove that the team is a closely held business, meaning that more than 35 percent of the club is owned by a small number of people, the law allows the estate tax on the property to be paid over a 14-year period. That buys time. Another way to minimize the tax implications is to transfer the team to a trust and designate a charity to receive its income. When the family members withdraw the cash, the transaction is not subject to estate tax because over time, there isn't likely to have been substantial interest accrued. "Of course the more money that is involved here, the higher the risk of a challenge by the IRS," says Leslie Klinger of Kopple & Klinger LLP, a Los Angeles firm that represents high net-worth individuals and their holdings. One of the more obvious ways for an owner to ease the burden for his children who want to run the team is to pre-pay the tax by paying premiums on large life insurance policies worth tens of millions of dollars. When an owner dies, the life insurance policy can be used to pay off the onerous estate taxes. Once an owner dies, a face-off typically takes place between the family and the IRS. Representation for a former team owner typically values the franchise on its positive cash flow basis, which shows relatively measly profits, while the IRS usually points to the sale price of the last teams that changed hands. Wayne Lueders, a partner in Foley & Lardner's Sports Industry Team, says that some majority owners benefit from making sure the club is owned by a group of people. That means that there's a controlling partner who can choose to keep a team in the family, but because his actual percentage of the team is smaller, it's easier to pay the taxes on that portion. An example: Should the family of Al Davis want to keep the Raiders in the family, their way ought to be eased a bit by the fact that Davis only owns approximately 40 percent of the team despite exercising complete autonomy over it. Assuming the Raiders' current valuation of $676 million, Davis' share would be worth $270 million. Estate taxes, then, would be around $124 million; but over the permitted 14-year period, that amounts to an annual tax payment of about $8.8 million. Then there's the slightly less controllable way for a franchise owner to avoid estate taxes in the future: die in the year 2010. President Bush's 10-year, $1.35 trillion tax cut in 2001 included a phase out of the estate tax in that calendar year, a move motivated by a desire to help owners of family businesses. The way the law reads now, after the one-year hiatus in 2010, the estate tax in 2011 will return to the levels stipulated when the current act began in 2002. For a sports team owner, then, the difference between dying on Dec. 31, 2010, and Jan. 1, 2011, could mean hundreds of millions of dollars in savings for his family. "They'll be pulling plugs at intensive care units across the country," Griffith says. "They'll be tax guys hovering over doctors trying to get them to fudge the time of death." That exemption loophole might not survive, though. Because of the current huge federal deficit, according to Lueders, an owner's best hope for the exemption to remain in place is for a Republican president with Republican control over Congress to replace George W. Bush in the White House after 2008. "The way Bush's popularity is going right now, it doesn't look like that is going to happen," he said. Klinger agrees, saying the odds that there will be no estate taxes is virtually nil. "There's not a chance in hell that we won't have some sort of estate tax in 2010," Klinger said. "They can't afford to repeal the tax, so they'll compromise in some way."
Darren Rovell, who covers sports business for ESPN.com, can be reached at Darren.rovell@espn3.com.
ESPN.com Sports Business reporter
ESPN.com's sports business reporter since 2012; previously at ESPN from 2000-06
Appears on SportsCenter, ESPN Radio, ESPN.com and with ABC News
Formerly worked as analyst at CNBC
EDITORS' PICKS
If Adrian Peterson's court victory doesn't mean he's been reinstated, what does it mean? We sort it all out.
Seifert »

Is Jameis Winston still the top pick? Here's how the combine impacted Todd McShay's first-round outlook.
Mock 3.0

How would an everyday schlub fare in an NFL game? "Madden" utilized a human guinea pig to find out.
FiveThirtyEight »

MOST SENT STORIES ON ESPN.COM