Seahawks, Holmgren agree to two-year extension
Updated:
May 17, 2006, 3:48 PM ET
ESPN.com news services
Mike Holmgren isn't going anywhere after all.
Holmgren agreed to a contract extension with the Seahawks on Tuesday and said Wednesday that he appreciated being given time to consider staying through 2008.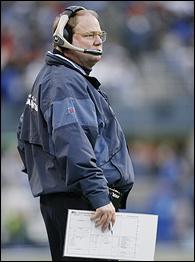 Otto Greule Jr/Getty ImagesHolmgren's new contract extension will keep him in Seattle through the 2008 season.
"We're all pulling in the same direction and there's a lot of very, very positive things going on in this organization," Holmgren said.
Team president Tim Ruskell said Holmgren "is a great fit for this team."
Holmgren, the architect and play-caller for the NFL's highest-scoring offense in 2005, was entering the final season of a $35 million, eight-year contract that was to pay him $7 million this season. He signed that deal upon arriving in Seattle in 1999 from Green Bay, where he was the Packers' coach from 1992-98 and won a Super Bowl after the 1996 season.
With a $7 million salary in 2006, Holmgren was the highest-paid coach in the league. Financial terms were not disclosed, but ESPN.com's John Clayton reported Tuesday that the extension is worth between $15.5 million to $17 million.
Holmgren's agent, Bob LaMonte, finalized the extension one week after flying to the Seattle area for two days of discussions with Seahawks executives.
Holmgren acknowledged those discussions were complicated. He said in March that he would like to return to the general manager-type duties he had over his first four years in Seattle. But Ruskell currently has the GM role in Seattle.
"Now there's a little more to talk about, in fairness to everybody," Holmgren said last week after his agent met with the Seahawks.
Those were the first contract negotiations since Holmgren said in late March that he was "thinking about what I want to do, honestly."
"I wanted us to win the Super Bowl and ride off on a white horse," he said then.
Holmgren, who turns 58 next month, has four daughters and four granddaughters. Six weeks ago, he talked of spending more time with them and his wife, Kathy.
But last week, the San Francisco native and former 49ers offensive coordinator said for the first time he had decided he wanted to continue beyond a 15th season as an NFL head coach.
About a month ago, after relaxing and taking some time off, Holmgren told LaMonte to start working on extension. LaMonte did some preliminary work on a deal in April. He entered last Tuesday's meeting optimistic that something would get done within a week.
His new contract completes what has been an almost perfect Seattle spring.
In March, the Seahawks re-signed league MVP and rushing leader Shaun Alexander for $62 million and eight years -- with $15.1 million guaranteed. They also brought back his Pro Bowl blocking back, Mack Strong.
Then in April, they replaced departed free-agent receiver Joe Jurevicius with the younger, faster, more elusive Nate Burleson. The Seattle native and Minnesota Vikings restricted free agent signed for $49 million and seven years.
On defense, Seattle signed former San Francisco 49ers two-time Pro Bowler Julian Peterson ($54 million, seven years, $18.5 million guaranteed). And it drafted Kelly Jennings 31st overall to fill a huge need for a starting cornerback.
The only blip to the Seahawks' offseason was when All-Pro guard Steve Hutchinson left for Minnesota. He signed a tricky, unprecedented free-agent offer sheet with the Vikings that had guarantee provisions Seattle could not match.
When owner Paul Allen originally signed Holmgren in 1999, he tried to talk Holmgren into taking a 10-year contract. That deal would have had base salaries of $8 million and $9 million in the final two years. Though this is unconfirmed, Holmgren is likely to have received those salaries -- $8 million and $9 million -- in his new extension. There does not appear to be an escape clause in his contract if a general manager job opens up. Holmgren accepted a short-term deal so he would have time after 2008 to get a general manager job on another team if he wishes.
Information from ESPN.com senior writer John Clayton and The Associated Press was used in this report.
SPONSORED HEADLINES
MORE NFL HEADLINES
MOST SENT STORIES ON ESPN.COM