Report: Roethlisberger didn't have motorcycle license
Updated:
June 13, 2006, 6:25 PM ET
ESPN.com news services
Ben Roethlisberger might have been riding without a license to drive a motorcycle when he was involved in an accident Monday.
Pittsburgh television station KDKA reported Tuesday that police are checking whether the Pittsburgh Steelers quarterback had a license.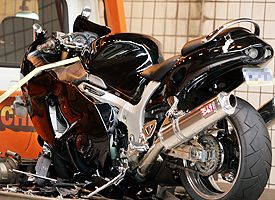 AP Photo/Keith SrakocicRoethlisberger was riding this motorcycle when he collided with an automobile in Pittsburgh on Monday morning.
Sources told the TV station that Roethlisberger had a license to operate a car but has never had a Pennsylvania motorcycle license.
Roethlisberger had a learner's permit to operate a motorcycle that expired March 29 but had never taken the written and driving tests for a motorcycle license, a source told KDKA.
Pittsburgh police spokeswoman Tammy Ewin told the station that police would "have no comment on licensing issues" until after the accident investigation.
Roethlisberger, the youngest quarterback to lead a team to the Super Bowl championship, had surgery Monday for injuries suffered in a motorcycle crash.
His condition was upgraded Tuesday to fair, and doctors said the Super Bowl star fractured his upper and lower jaw bones and broke his nose. He also sustained head lacerations in addition to losing two teeth and chipping several others.
Roethlisberger, 24, was not wearing a helmet, police said. He has said he likes to ride without one, a habit that once prompted a lecture from Pittsburgh coach Bill Cowher.
In May 2005, Cowher warned him about safe riding after Cleveland Browns tight end Kellen Winslow Jr. was injured in a motorcycle accident. Winslow tore knee ligaments and was lost for the season.
Roethlisberger has pointed out a Pennsylvania state law requiring helmets was amended in September 2003 to make helmets optional.
ESPN.com football writers Len Pasquarelli and John Clayton and The Associated Press contributed to this report.
SPONSORED HEADLINES
MORE NFL HEADLINES
MOST SENT STORIES ON ESPN.COM
Roethlisberger Injured
Roethlisberger
Ben Roethlisberger will be cited by Pittsburgh police for riding without a permit or a helmet in a June 12 motorcycle accident that left him with a broken jaw and other injuries.
Story
STORIES
•
Hospital releases Roethlisberger
•
Steelers warned Roethlisberger about riding
•
Clayton: Steelers relieved
•
Wojciechowski: Enough to convince 'em?
•
Report: Roethlisberger didn't have license
•
Roethlisberger upgraded to fair condition
•
Rovell: Player contracts and motorcycle clauses
•
Big Ben undergoes seven hours of surgery after crash
•
Big Ben discusses riding in July 2005 interview
•
Athletes involved in motorcycle accidents
•
Cowher warned Big Ben of riding dangers
VIDEO
• Roethlisberger issues apology

• Roethlisberger's jaw not wired shut
AUDIO
• Bill Cowher: A tough lesson, but it should motivate

• Ike Taylor on effect on team

• Bob Holtzman: Hospital scene

• Mark Madden: Local reaction from Pittsburgh

• Roethlisberger interview: morning of the crash