Holmes still not ready to run as training camp nears
Updated:
July 9, 2006, 11:17 PM ET
By
Len Pasquarelli
| ESPN.com
Four more seasons remain on his contract with the Kansas City Chiefs, and three-time Pro Bowl tailback Priest Holmes would like to play two or three of those years. The reality, however, is that Holmes doesn't know yet if he'll play even one more snap, let alone one more season.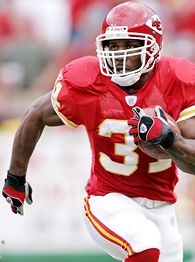 G. Newman Lowrance/WireImage.comPriest Holmes averaged 1,530 yards and 18.7 rushing TDs in his first three seasons with the Chiefs before injuries got in his way.
Less than three weeks remain until the Chiefs open training camp and Holmes, still recovering from the severe head and neck trauma he sustained more than eight months ago in a game against San Diego, hasn't been cleared to return to the field.
And doesn't know when, or if, he will be.
"Everything is on hold," Holmes, 32, told the San Antonio Express-News, his hometown newspaper, over the weekend.
Kansas City is solid at the starting spot, with emerging star Larry Johnson, who rushed for 1,750 yards and 20 touchdowns in 2005, having supplanted Holmes in the No. 1 role. Johnson compiled nine consecutive 100-yard performances, including five outings of 140-plus yards, after Holmes' injury moved him to the top of the depth chart. One of the first things new coach Herm Edwards did upon arriving in Kansas City as Dick Vermeil's successor was to meet with Johnson and apprise him he would go to camp as the starter.
Given last year's Pro Bowl performance by Johnson, a first-round pick in the 2003 draft, the move should not be a problem. What could be a dicey situation for the Chiefs, especially with Edwards' stated goal of running the ball even more this season, is locating a viable backup if Holmes cannot play.
The two most experienced reserve tailbacks on the roster after Holmes are journeymen Quentin Griffin and Dee Brown. The pair has totaled just 1,037 career rushing yards and six touchdowns. Kansas City is one of at least four franchises that has indicated interest in trading for New Orleans backup Michael Bennett, who was rendered expendable by the addition of Reggie Bush in the draft.
But Saints officials are in no hurry to deal Bennett until they reach a contract accord with Bush and reassess the ongoing rehabilitation of starter Deuce McAllister, who is coming off a torn anterior cruciate ligament.
A typically confident Edwards has steadfastly maintained that, if Holmes is not cleared to play again, one of the backups will step up. But the situation would be significantly ameliorated if Holmes, who has met several times with Dr. Robert Watkins in the offseason and will consult again with the Los Angeles-based specialist in the days before camp begins July 27, is able to return to the field.
The odds of that, though, appear to be long. Holmes has not worked out in organized football drills in the offseason and his usual conditioning and weight lifting regimens have been curtailed by his back woes. Watkins has cautioned Holmes about the potential long-term ramifications of another back or neck injury. And it appears that Holmes, who has appeared in only 15 games over the last two seasons, first because of a career-threatening hip injury in 2004 and then last year's head-and-neck trauma, is prepared to abide by Watkins' verdict on his football future.
"It's not what it will do to me today," Holmes said. "It's what it will do when I'm 40 or 50."
In his first three seasons in Kansas City (2001-03), after signing as an unrestricted free agent, Holmes averaged 1,530 yards and 18.7 rushing touchdowns. In the past two seasons, the nine-year veteran totaled 1,343 yards and 20 touchdowns. Limited to seven appearances in 2005, after a head-to-head collision with San Diego linebacker Shawne Merriman, he gained just 451 yards, his lowest output since his 1997 rookie season with the Baltimore Ravens.
One of the game's top all-around tailbacks, Holmes has carried 1,734 times for 8,035 yards and 86 touchdowns in 109 games. He also has 334 receptions for 2,945 yards and eight touchdowns.
Having faced the potential end to his career once before, when most skeptics did not expect him to return from the 2004 hip displacement injury, Holmes seems at peace with whatever transpires in coming weeks.
"I don't think anybody's going to feel like they were [cheated]," if he doesn't play again, Holmes said. "I think I gave everybody their money's worth."
Len Pasquarelli is a senior NFL writer for ESPN.com. To check out Len's chat archive, click here
.
SPONSORED HEADLINES
MORE NFL HEADLINES
MOST SENT STORIES ON ESPN.COM
EDITORS' PICKS
NFL Nation reporters offer live updates, and our fantasy gurus have the info you need.
Game Day HQ

Philip Rivers led the Chargers to an OT win to keep their playoff hopes alive.
Williams »

A stunning loss to the Redskins put the QB-needy Eagles on the brink of playoff elimination.
Sheridan »