Owens refutes report, says he didn't attempt suicide
Updated:
September 28, 2006, 1:08 PM ET
ESPN.com news services
DALLAS -- Terrell Owens has been stirring things up for years, from edgy touchdown celebrations to mean-spirited comments about his quarterbacks and cries of being underpaid. Yet the drama was always about football, never matters of life or death.
"It's very unfortunate for the reports to go from an allergic reaction to a definite suicide attempt."
-- Terrell Owens
Then came news late Tuesday that Owens was taken in an ambulance to an emergency room. Details from the police report that came out Wednesday morning included words like suicide, overdose and depression.
Within hours, T.O. insisted it was all a misunderstanding -- then brought the story back to football.
He checked out of the hospital and made his way to Dallas Cowboys headquarters in time to catch some passes Wednesday afternoon, then showed up to a packed news conference wearing workout gear and his usual wide smile.
Owens returned to practice Thursday for the first time since breaking his right hand a week ago Sunday against Washington. He had surgery the day after the injury. If all goes well, he thinks he can play for the Cowboys on Sunday in Tennessee.
Owens seemed more amused than peeved. He apologized for being a distraction, thanked his friends for worrying about him and said he felt so good that he expects to play Sunday in Tennessee -- regardless of the broken hand that led to the pain pills which, in turn, led to this latest saga.
"It was just an allergic reaction," Owens said. "It's very unfortunate for the reports to go from an allergic reaction to a definite suicide attempt."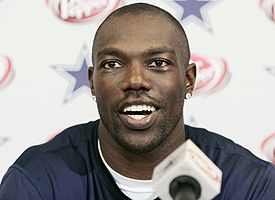 AP Photo/Tony Gutierrez"I was kind of out of it. I can barely even remember the doctors, much less the police officers asking me questions," Owens said of Tuesday night's events.
Owens was hospitalized Tuesday night for what his publicist, Kim Etheredge, called an allergic reaction to medicine he was taking for his broken hand. Then, the story erupted around 8 a.m. Wednesday, when WFAA-TV in Dallas reported details of the police report it obtained.
The document stated that a friend, later identified as Etheredge, called 911 about a suicide attempt; that she told paramedics Owens was depressed; that his bottle of painkillers was empty; and that Owens said he was trying to harm himself.
After that, specifics were hard to come by.
At a police news conference, a spokesman would only confirm they were called and that whatever happened was "not a criminal offense." He released the internal narrative that started all of the back-and-forth, but the juiciest parts were blacked out.
A fire department official provided even fewer details. However, the department still holds what could be the next domino to fall in this story: the tape of the 911 call from Owens' publicist after she saw him becoming incoherent a little before 8 p.m. Tuesday night.
The Associated Press filed a request under the Texas Public Information Act to get a recording of the call. Fire department spokesman Joel Lavender said it would not be available before late Wednesday, perhaps not until Friday.
It is not a crime in Texas to attempt suicide.
Owens was seen leaving the hospital before noon, flashing a thumb's up sign to reporters. But with no other information released and Owens not yet having told his side of the story, Cowboys coach Bill Parcells was peppered with Owens-related questions at his daily news briefing. He ended up walking out nine minutes into what is normally a 25-30 minute session.
"When I find out what the hell is going on, you will know," he said. "Until then, I'm not getting interrogated for no reason."
Next up was Owens, who said he's "not depressed by any means."
"I am very happy to be here," said Owens, who received a $25 million, three-year deal from the Cowboys in March, four days after the Eagles released him.
The report said rescue workers were called because Owens attempted "suicide by prescription pain medication." There was mention of 35 pills that weren't accounted for.
"The rumor of me taking 35 pills, I think is absurd," Owens said. "I don't think I would be here if I had taken 35 pills."
He explained that the bottle of hydrocodone, a generic form of Vicodin, was indeed empty, but the extra pills were in a drawer. He had taken two or three, along with some all-natural supplements, and he believes the combination made him groggy.
Etheredge saw how he was acting, noticed the empty bottle and called for help.
"This is a very strong human being," Etheredge said. "When I ask him a question and he is not responding and I know he is not feeling well, I used my judgment to call 911."
The police report, which WFAA shared with the AP, said Etheredge saw Owens pop two more pills, then "attempted to put her fingers in (Owens') mouth to retrieve the pills."
"I did not take anything out of his mouth," said Etheredge, equally adamant in denying that she told anyone Owens was depressed.
David Kunkle, chief of police in Dallas, reaffirmed the report submitted by the responding officers.
"Officers report what people tell them," Kunkle told the Dallas Morning News. "They do whatever preliminary investigation they are able to do, which is sometimes not much. They document what they hear and file it in a report. I don't know how this was any different than that.
"Typically, patrol officers don't have a lot of time to wait around to see if the story changes. They're answering calls."
The report also lists Owens as saying, "Yes," when asked whether he'd emptied the pill bottle and whether he was trying to harm himself. He said he doesn't know what he told emergency responders.
"I was kind of out of it," Owens said. "I can barely even remember the doctors, more or less the police officers that were asking me questions. I couldn't tell you if they were the EMTs or the police or the doctors."
Etheredge also accused police of taking advantage of her friend and client.
"I'm just upset," she said. "Had this been someone else, this may not have happened."
Dallas police officials declined to comment on Etheredge's denials, citing privacy laws.
Teammates and friends throughout the league rallied to support Owens even before he spoke. Many, including Dallas quarterback Drew Bledsoe, said they doubted that Owens would try to kill himself.
"Because of the reputation that T.O. has because of the attention that has been around him in the past, anything that happens turns into a bigger deal," Bledsoe said Wednesday. "I understand that. We understand that as a team."
Former Cowboys star Deion Sanders was with Owens at his home before he went to team headquarters.
"From my understanding, looking at him in the eye as a man and as a big brother, I said 'Be straight up with me.' He seems to be OK," Sanders told the NFL Network, where he works as an analyst.
"Terrell has 25 million reasons why he should be alive."
-- Kim Etheredge, Owens' publicist
Owens has played two games for the Cowboys, catching nine passes for 99 yards and a touchdown. He broke the bone leading to his right ring finger against Washington a week ago Sunday. The next day, doctors screwed in a plate so the bone could heal without fear of further damage, leaving a 2-inch scar on top of his hand.
The Cowboys were still listing Owens as questionable on the injury report because of the hand injury. If he doesn't play this weekend, No. 81 will almost surely be in the starting lineup the following Sunday in Philadelphia: He's been looking forward to that game as a chance to seek revenge against the team that dumped him midway through last season.
Owens has almost always been an attention magnet during his 11-year NFL career, from his touchdown celebrations to his public treatment of quarterbacks -- even a risque promotional stunt with one of ABC's "Desperate Housewives" before a Monday night game against Dallas in 2004 that prompted an apology from the network.
Months after Owens was heavily praised for playing in the February 2005 Super Bowl just weeks after ankle surgery, his relationship with quarterback Donovan McNabb deteriorated and the Eagles got rid of him amid contract complaints and other personality squabbles.
The Cowboys were eager to welcome him to the fold. By way of explaining why Owens would never attempt to kill himself, Etheredge referred to his Cowboys paycheck.
"Terrell has 25 million reasons," she said, "why he should be alive."
Information from The Associated Press was used in this report.
SPONSORED HEADLINES
MORE NFL HEADLINES
MOST SENT STORIES ON ESPN.COM
Owens Overdose
Dallas police have classified Terrell Owens' case as an "accidental overdose," not an attempted suicide, closing their investigation Thursday of the Cowboys receiver's hospitalization.
Story
More From ESPN.com:
•
Owens starting against Titans
•
T.O. making trip; Parcells yet to decide if he'll play
•
Transcript of Owens publicist's call to 911
•
T.O. practices in pads, could play Sunday
•
Reid, McNabb among T.O.'s well-wishers
•
Scoop: Incident will help T.O.'s image
•
Clayton: T.O. Q&A
•
Le Batard: I believe T.O.
•
Forde: Carnival ride of his life
•
Players, fans react to T.O.'s rough night
•
Police Dept.'s incident report
•
Terrell Owens timeline
•
SportsNation: How do you feel about T.O.?
•
SportsNation: Your thoughts on Owens
ESPN Motion:
•
Terrell Owens timeline
•
Owens disputes suicide reports
•
Owens' publicist Kim Etheredge
•
Michael Irvin reacts
•
Chris Mortensen on the saga
•
Bill Parcells' news conference
•
Owens released from hospital
•
Police Won't Confirm or Deny
PodCenter:
•
The Fort Worth Star-Telegram's Randy Galloway on Parcells
•
Newy Scruggs of NBC 5 Dallas doubts Parcells had "no idea" about T.O.
•
Chris Mortensen is curious about conflicting accounts
•
Ed Werder with early reaction from Dallas
•
Dan LeBatard would like to hear from T.O. before rushing to any judgments
•
ESPN The Magazine's Tom Friend says Owens had trouble when his spotlight was taken
•
Dr. Joel Fish, a sports psychologist, says nothing in Owens' past indicated possible suicide
•
Ron Jaworski previews Week 3
From ESPN The Magazine Preview
•
Friend: Can Terrell Owens be the savior for the Dallas Cowboys?
ESPN FAN SHOP