Haynesworth expects punishment for stomping Gurode
Updated:
October 3, 2006, 9:26 AM ET
ESPN.com news services
NASHVILLE, Tenn. -- Tennessee defensive tackle Albert Haynesworth was ejected early in the third quarter Sunday after he kicked Dallas center Andre Gurode in the face. Now the tackle expects to be punished, and knows he deserves it.
More On Haynesworth
Kreidler

Nothing can condone what Tennessee's Albert Haynesworth did Sunday. NFL decorum says he should have handled his business during the play. Story

• To listen to Joe Theismann talk pro football, click here.
• Eric Allen says there was no justification for Haynesworth's attack on Andre Gurode, but Haynesworth did save himself from a longer suspension by apologizing. To listen to Allen, click here.
• Dallas Cowboys linebacker Bradie James tells Game Night on ESPN Radio that Haynesworth's five game suspension is "well-deserved" because he violated the unwritten player code. Listen
• Sean Salisbury says the punishment absolutely fits the crime. Haynesworth will never live this down -- he lost control, and it was a bad move, but he was contrite and is getting the punishment he deserves. Listen
"I apologize to Andre," Haynesworth said. "What I did was disgusting. It's something that should never happen. I mean, I'm not a dirty player. I don't play dirty. I have respect for the game. What I feel like is I disgraced the game, disgraced my team and disgraced my last name."
Julius Jones had just scored on a 5-yard run, putting Dallas up 20-6 in what wound up as a 45-14 victory. Gurode's helmet came off, and Haynesworth, standing over him, used his right foot to kick Gurode in the head.
Gurode said they hadn't been talking or having any exchanges that led to Haynesworth kicking him twice. He received stitches above his forehead and beneath his eye.
"In all my years of football, this has never happened to me. I've never been kicked in the face like this, and I've never seen anybody kick nobody else in the face," Gurode said.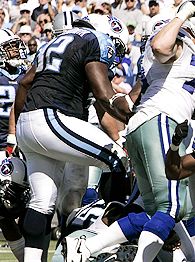 AP Photo/ John Russell"What I did was disgusting," the Titans' Albert Haynesworth said of his stomp on Cowboys center Andre Gurode's face.
A flag was thrown, and Haynesworth followed an official toward the Titans' sideline, protesting.
Haynesworth pulled off his helmet and slammed it to the ground, prompting another flag. Referee Jerome Boger disqualified Haynesworth, and the player walked off the field after talking briefly with Titans coach Jeff Fisher.
The coach called Haynesworth's actions unacceptable and promised he would be punished by the Titans even if the NFL disciplines him.
"It's ridiculous to get to that point. Two back-to-back penalties like that, there's no place for it," Fisher said.
Gurode didn't play the rest of the second half.
"This vision was kind of blurry in my left eye," he said. "If it was clear, I would have tried to come back in to play."
Information from ESPN.com's John Clayton and The Associated Press was used in this report.
SPONSORED HEADLINES
MORE NFL HEADLINES
MOST SENT STORIES ON ESPN.COM