Former Eagles DB Andre Waters, 44, commits suicide
Updated:
November 21, 2006, 9:00 AM ET
ESPN.com news services
TAMPA, Fla. -- Andre Waters, a defensive back who spent most of his 12 seasons in the NFL with the Philadelphia Eagles, was found dead of a self-inflicted gunshot wound early Monday. He was 44.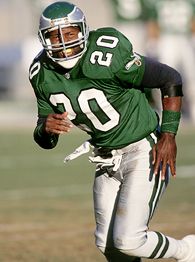 Allen Kee/WireImage.comAndre Waters played for the Philadelphia Eagles from 1984-1993.
His body was found at about 1:30 a.m. at his Tampa home, the medical examiner's office said. He had shot himself in the head. Toxicology reports were ordered and results will be available in four to six weeks, the office said.
Waters' body was found by his girlfriend, Hillsborough County sheriff's spokeswoman Debbie Carter said. The woman's name was not available, and the sheriff's office had no further details, Carter added.
"What a devastating piece of news," Eagles radio voice Merrill Reese said in a statement on the team's Web site. "Andre was a guy who could light up a room with his personality. As a football player, he came from nothing. But he made himself into a fine player by working hard and dedicating himself to the game."
Waters, an assistant football coach at Fort Valley State in Georgia, joined the Eagles out of Cheyney State in 1984 and played with them at cornerback and safety through 1993. He was known as one of the NFL's hardest hitters and often was fined for some of his tackles. He spent his last two seasons with the Arizona Cardinals.
Missing a teammate and friend
I'm still shocked and numb knowing that Andre Waters is no longer with us. He was one of the guys who helped guide me at the start of his career and he was always someone I regarded as a friend even when we weren't on the same team. I know I wouldn't have been half the player or man that I am today if not for Andre being on my team. He was a great player and a good man.

It hurts me to know that Andre was in such a deep depression and in so much pain emotionally that he felt that taking his own life was an option. He had so much to live for and I wish he knew there were other options. I'll miss Andre's friendship on and off the field. -- Eric Allen
Tennessee Titans
coach Jeff Fisher, who worked with Waters in Philadelphia, called his death a tragic loss.
"The personnel staff there when we got here said, 'This guy will never play for you. He'll never play for you.' And he proved everybody wrong," Fisher said. "He had a huge heart, and this is a loss."
"Everybody has been in such shock," Fort Valley State spokeswoman Cindy Gambill said.
Waters was in his first year coaching at the school. Many students, including football players, are not on campus this week because of Thanksgiving.
Football coach Deondri Clark lauded Waters for an "outstanding" college career that enabled him to make the NFL.
Waters, who was born in Belle Glade, also coached at Morgan State, South Florida and Alabama State before coming to Fort Valley State this summer.
Funeral arrangements are incomplete.
The Associated Press and SportsTicker contributed to this report.