Sidelined Kerney staying upbeat
Patrick Kerney talks about his injury, singing karaoke, the Falcons' struggles and more in the Weekly Conversation.
Originally Published:
December 1, 2006
By
Graham Bensinger
| Special to ESPN.com
Editor's note: Each week during the season, Graham Bensinger talks with a high-profile NFL figure for ESPN.com's Weekly Conversation. This week, he checks in with Falcons DE Patrick Kerney, who is out for the season after tearing his right pectoral muscle in Week 11.
Graham Bensinger: Ahman Green told me a few weeks ago that his injury last year was a blessing in disguise because it allowed him to take a break from football and be able to actually enjoy the holidays with his family. You got injured nearly three weeks ago and are done for the season. What do you think?
Patrick Kerney: My injury is nothing career-threatening so I'm happy about that. When you get injured like this you have to find silver linings. My mother came down and took care of me for two weeks after surgery. It's great to be able to spend time with her. During the holidays, I'll be able to enjoy myself a little more at parties than if I was worried about needing proper rest for Sunday.
Bensinger: I would hope being injured doesn't preclude you from the team Christmas party.
Kerney: (laughs) No it doesn't. I'm sure I'll be expected to do my karaoke performance of Mele Kalikimaka (a Hawaiian Christmas song) that I do every year.
Bensinger: Your solo talents are always on display there.
Kerney: I wouldn't call them talents, but my solo act is on display and has become something of a tradition, unfortunately.
Bensinger: How would you describe your performance?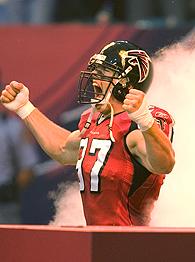 Paul Abell/US PRESSWIREPatrick Kerney is confident he'll be able to make a full recovery from his season-ending injury.
Kerney: I just try to do my best to Bing Crosby imitation. It's not good, but I really try to distract the crowd by getting a few cheerleaders and have them as backup dancers. Then, no one notices my voice that much.
Bensinger: So the cheerleaders are participating again …
Kerney: Usually they're pretty quick to volunteer. They can sort of do their Hawaiian dance to go along with the Hawaiian song. It takes the attention off of me.
Bensinger: Don't you have a karaoke machine in your house?
Kerney: Absolutely. It's a portable one. It's really easy to take anywhere. I actually brought it to Italy last year. I've gone worldwide with it, really.
Bensinger: How does someone who has never met you before react when they then encounter this 6-5, 273-ponnd football player singing karaoke?
Kerney: Usually, they think I'm one of the stranger people in the world. Then, they see me start doing my karate kicks in the air and they become convinced of that.
Bensinger: Back in 1999, you were drafted in the first round, yet, for the longest time you drove an aqua-green Ford Bronco with an N'Sync bumper sticker on it … Am I missing something?
Kerney: (laughs) It was a Backstreet Boys sticker.
Bensinger: Backstreet Boys. Is that the group you try to model yourself after when you're doing karaoke?
Kerney: No, that was just a big old joke slapping that bumper sticker on there. My buddy thought he was pretty funny when he went out and bought an N'Sync key chain so I one-upped him with a Backstreet Boys bumper sticker. I finally got the thing repainted and reupholstered about three years ago. Unfortunately, the people that were repainting it pulled it off.
Bensinger: OK. So how exactly did you get injured?
Kerney: I was just tackling Steve Heiden of the Cleveland Browns. As we both went down, my arm got pinned underneath him. After tackling him, I was whipped off his body, but my arm was still stuck underneath. It was one of those situations where something had to give. Unfortunately, it was my pectoral muscle.
Bensinger: How bad did you think it was versus the reality of what it turned out to be?
Kerney: I knew right away my season was over. I felt the tear and in my mind, at least, I heard the tear. The surgery went great. I'm two weeks out and the stitches are out. I'm using the hand for day-to-day functions just fine with no irritation. They do say it's a full five-month recovery before I'll be fully lifting and training hard with that arm again.
Bensinger: To what extent has it altered what you're able to do?
Kerney: It was really just the first 10 days that I struggled. That's why it was great that my mom was here. I couldn't put socks on. I couldn't cut my own food. When your arm is pinned against your chest, things that you take for granted you often need help with. One of the silver linings was getting to spend time with her.
Bensinger: How do you see your injury affecting your stock on the free-agent market this offseason?
Kerney: I don't. I think 95 percent of these injuries heal to 100 percent strength. Anybody that's interested in me knows very well the kind of worker that I am. I'll be the exact same player that I've always been come next year.
Bensinger: How likely is it that you'll re-sign with the Falcons?
Kerney: I think it's highly likely.
Bensinger: Some players who have been with their teams for a long time are ready to move on when they become a free agent. Other players want to re-sign. How much interest do you have in going elsewhere?
Kerney: I'd like to stay here. I understand that there's a business side for both parties. I love Mr. [Arthur] Blank as [a team] owner. I like our management, I like our coaches, and I like my teammates and particularly my defensive linemates. I'm in a great situation. There's nothing really saying to me that I don't want to be here. It's a great city that I've really made home for me.
Bensinger: It beats Syracuse, N.Y., where I am right now. That's for sure. You mentioned your defensive linemates. It makes an enormous difference when the Falcons don't have Patrick Kerney and John Abraham as their starting ends. How much has that impacted the team?
Kerney: It's definitely been a bit of a hindrance. John and I talked before the season and it's been evident in the games we've played that our rush styles complement each other so well. From the day that he signed as a free agent, we couldn't wait to be playing live games on Sunday. The first play of the game, I tore my tricep against Carolina. By the end of the game, he had ripped up his groin pretty good. The great Abraham-Kerney experiment has a total of about eight plays under its belt so far this year.
Bensinger: How much has that contributed to the losing streak?
Kerney: Not much. Last week, on both of the long passes that beat us, John [Abraham] was half a step away from the QB. You have to give [New Orleans Saints quarterback] Drew Brees credit. He made some great throws. I have a lot of faith in the guys replacing me. I'd like to think I bring some unique talents, but Chauncey Davis and Paul Carrington have done good jobs filling in for me. I like to say to the guys that the losing streak we're going through right now is just part of the NFL. I told our defense on Monday that Pittsburgh was pretty much sitting in the same shoes at this point last year and they're wearing rings. Despite this storm that we're going through, we got to make out our mind that we're going to get out of it and ride it straight through to the playoffs.
Bensinger: As someone who has been a spectator the past couple weeks, how do you evaluate the team?
Kerney: Here's what's amazing: Coach [Jim] Mora came in on Monday and said we just need to make a play. You watch on Sunday, from a fan's perspective, and we took an 18-point loss. By NFL standards, that's a whipping. Yet, it was really a three-play difference: the Hail Mary they completed and the two dropped passes that we had. Right there, the game is flipped. Coach Mora couldn't have said it any better on Monday when he said we just need to make a play. When our number is called, when we're at the point of attack whether it is on the line, the secondary, the target of a pass, when we're carrying the ball -- we need to make a play. It's only two or three more per game that we need to make. Hopefully, that will start this weekend.
Bensinger: Fans reached their limit this past Sunday when they started booing. What was that like?
Kerney: We've been booed before. That's part of this business. I just hope guys don't really take it to heart.
Bensinger: But it was your hometown fans booing …
Kerney: Sure, they're disappointed. They don't like losing. They don't like watching us lose. There is no guarantee we will win, but at the same time we want to win for them. We understand the disappointment, but we hope they have the faith in us that we'll turn it around starting this week. The boos will turn to cheers real quick.
Bensinger: Michael Vick gave the finger, which was caught on camera. The way I look at it: He's busting his butt, he gets booed, and he's ticked off. Obviously, when you're a public figure you have to be more careful, but the amount of criticism he took was just ridiculous. What do you think?
Kerney: Here's the big misunderstanding: He jammed his index finger late in the game and had it immobilized. He was actually telling the fans that they were No. 1. He had no other option with his index finger so he just moved one over to his middle finger and let them know they're No. 1.
"I told our defense on Monday that Pittsburgh was pretty much sitting in the same shoes at this point last year and they're wearing rings."
-- Patrick Kerney
Bensinger: (laughs) Exactly. That's a good way of putting it. I bet you've never given anyone the finger before.
Kerney: You know, I haven't … At every away stadium we go to you'd think they'd be hostile towards us. It's amazing that at every stadium I've played at, a lot of the fans tell us we're No. 1. You have to love the generosity and kindness that opposing NFL fans have for us.
Bensinger: (laughs) Obviously, you never want to single out one group, but the receiving wasn't at the expected level. How's the team generally feel about the WRs?
Kerney: They're part of us. We can just keep encouraging them. We know they're working because we're out there with them every day. We see them putting special emphasis on things that don't feel right for them. We can just continue to expect them to put in the hard work. The worm will turn.
Bensinger: When a player has a bad game, what, if anything, do you say to him?
Kerney: I say you have two choices: You can either quit the game forever or you go and start working to fix what went wrong. In this business, it's a bunch of tough-minded, competitive men. Every last one of them is going to say I'm going get back to work. I'm going to put my blue collar on and fix the problem that I'm having.
Bensinger: What impact has Jim Mora had on the Atlanta Falcons?
Kerney: I can't say enough about Jim. I know he's under a lot of pressure, especially now, but he goes the extra mile. He has all of the right ideas when he speaks to us. He actually spent our off day, on Tuesday, playing catch with a couple of our receivers. He was just talking to them as friends. He understands the difficult profession and wants to help guys. I don't know how many head coaches go out of their way on a one-to-one basis with a guy and try to help with their problems whether it is on or off the field. He has that compassion for his players.
Bensinger: How's the team changed since he became head coach?
Kerney: I loved playing for Dan Reeves and I love playing for Jim. It's like when you tell your ex-girlfriend she's not better, she's just different. (laughs)
Bensinger: You always have to take the optimistic look at everything, don't you?
Kerney: I'm an optimistic fool. (laughs) It's a long, hard life if you're not. That's just a philosophy of mine. People are already writing us off. Every year I've played this game, until we're mathematically out of the playoffs, I expect us to win a Super Bowl. That's absolutely the mind-set I have now even though I can't physically have any impact on it.
Bensinger: You mentioned people writing you off and others have speculated that Coach Mora would be fired if the Falcons don't make it to the playoffs. What do you make of that?
Kerney: It is just hearsay until Arthur Blank or [Falcons president and general manager] Rich McKay say that. I know everyone in our locker room hopes that's not the case. Everyone really enjoys playing for Jim and wants to win for him.
Graham Bensinger is a regular contributor to ESPN.com. Visit his Web site at: TheGBShow.com. You can e-mail him at graham@thegbshow.com
Contributing Writer, ESPN.com
Graham Bensinger is a regular contributor to ESPN.com. Visit his Web site at: TheGBShow.com. You can e-mail him at graham@thegbshow.com
EDITORS' PICKS
Extra points will likely be different in 2015, but how? NFL Nation reporters dissect the proposed changes.
Roundtable »

Using GIFs to support his argument, Todd McShay illustrates Jameis Winston's edge over Marcus Mariota.
Story

Late-round QBs are wasted picks. Dallas shouldn't worry about replacing Tony Romo until he hangs it up.
Archer »
Nike Youth Home Limited Jersey Atlanta Falcons Matt Ryan #2 Shop »

MOST SENT STORIES ON ESPN.COM