Football grind forces coaches to put family second
We've always admired NFL coaches who ignore their families and think only about winning. But the grind has become so harsh that even some of the winners are wondering if it's worth it.
Originally Published:
May 24, 2007
By
David Fleming
| ESPN The Magazine
Seated in a black leather chair in his spacious office, Brian Billick is deep into a second hour of ruminating on a single topic: the bizarre culture of NFL coaches and the havoc their high-profile, high-pressure jobs can wreak on their families.
Staring down at the morbidly obese playbook, the holy grail for all coaches, Billick looks to have made the breakthrough he's been chasing. "This profession glorifies the workaholic," he says. "Fans, owners, they want that coach sleeping in the office. You know, the Jon Gruden I'm-in-at-4-a.m.-every-day bull. But at the same time, those same people are out there going, 'Well, what kind of father are you that you're never with your kids?' So, really, we're damned if we do and damned if we don't."
Damned. It's an odd way to describe men who hold 32 of the most coveted jobs in one of the planet's most popular sports, jobs that make them multimillionaires and instant celebrities and offer immense power and prestige. But a recent string of events has forced NFL bosses to take a hard look at their vocation, specifically the time it steals from their families and the personal costs of football glory. The relentless grind, in fact, sent former Dolphins coach Nick Saban scurrying back to campus, and has young coaches like Eric Mangini of the Jets asking older coaches for parenting advice.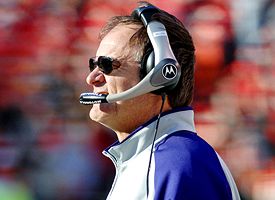 Denny Medley/US PresswireBrian Billick says it's hard to please everyone when it comes to juggling football and family.
"We have more information and more technology, and we spend more and more time at the office," says Tony Dungy. "But are we coaching better? I'm not sure."
Not too long ago, zombified coaches who slept in their offices and logged 90-hour weeks were either canonized or excused with a laugh. At last March's owners meetings in Phoenix, Joe Gibbs joked about how once, during the 1980s, he completely forgot that his 8-year-old son Coy was visiting Redskins camp.
"I never even thought about him," Gibbs said.
"How do coaches balance their lives?" asks Dick Vermeil, the godfather of all grinders who, at 62, set himself an office curfew … of 1 a.m. "Simple. They don't. The job requires too much time. It just can't be done any other way."
That attitude changed, briefly, in December 2005, when fans of all allegiances mourned with Dungy after his son James committed suicide. Among coaches, the most chilling aspect of the 18-year-old's death was that, by all accounts, Tony Dungy leads the most balanced life of any head coach. "He is faith, family and football, in that order and with no exceptions," says Herm Edwards. For his peers, the unspoken message was that if it could happen to Dungy, no one's family is safe.
More public incidents followed. Last October, Bill Belichick's son Stephen, 19, was placed on probation for six months after he was arrested for marijuana possession. In early January, Bill Cowher walked away after 15 years of coaching the Steelers to spend more time with his family. Then, on Jan. 30, while Andy Reid and his wife were on vacation, two of their sons -- Garrett, then 23, and Britt, then 21 -- were in separate traffic incidents, Garrett's involving drugs and Britt's involving both drugs and guns. Less than two weeks later Reid took a five-week leave of absence from the Eagles. It's easy to condemn coaches as wealthy control freaks who can make 300-pound men whimper but can't handle their own children.
But it's the profession that's become sick, not the men. "Some coaches work hard to give off that image of being unrelenting, and young coaches see that and think that's what they have to do," says Texans owner Bob McNair. "You deprive yourself of sleep and time with your family and that will eventually take a big toll in productivity and success."
Right now, one of the few outlets these men have is one another. One team exec says that his coaches spend two hours on the phone every day with colleagues around the league, gossiping about potential job openings and complaining about how hard they work. Still, some sideline prowlers are looking for more help. A handful of coaches and front office execs have informally requested that the NFL provide counseling. What they want from the league is an outlet, a counselor or employee-assistance program to help them deal with job stress and family issues so they can get real help and not have to rely solely on advice from their buddies.
The league is aware of the coaches' needs and, according to spokesman Greg Aiello, it is pushing for every team to retain a mental health counselor. Right now, only around half the teams do so. "This is a selfish, relentless and unforgiving profession," says Billick.
"When that 6-year-old looks up at you, you think a coach doesn't stop and think, What am I putting these kids through?"
Mike Nolan, who has moved his family nine times in the past 22 years, swears he would quit coaching the 49ers tomorrow if his wife asked him to. But in the next breath, he says, "Would I work myself to exhaustion, stay another hour or so to get even a little more chance to win? Heck yeah, I'd do that." Catching himself, Nolan adds, "That's what happens: The job, the pressure, it all just creeps up on you. We justify it by the money we make, by the life we provide our families. But we get so wrapped up in what we're doing, we forget what our families face."
Like father, like son
Coaching might be a full-time obsession, but there are plenty of coaches' kids who grow up thinking that the life looks pretty good. Wade Phillips watched his daddy, Bum, coach the Oilers and the Saints. Both Ryan boys (Baltimore's Rex, Oakland's Rob) are defensive coordinators, just like dad Buddy. And Marty Schottenheimer's son Brian is offensive coordinator for the Jets.

The wins of the father aren't passed down only in the NFL: Three of Bobby Bowden's sons -- Terry, Tommy and Jeff -- became college football coaches; Pete Carroll's son, Brennan, is on Dad's staff; in the NBA, Donnie Nelson assisted dad Don in Dallas; in college hoops, Pat Knight has spent years sitting next to Bob.

And then there are the Lebos.

Son Jeff was a senior star at Carlisle (Pa.) High when he helped dad Dave win his first state title, in 1985. "My most memorable moment is us hugging afterward," says Dad. Thirteen years later, when Jeff needed to fill out a staff for his first head job, at Tennessee Tech, his dad was there to lend a hand. "The first call I wanted to make was to my dad," says Jeff, who spent four years playing for Dean Smith at North Carolina. "It's been a really terrific journey for both of us."

That was nine years ago.

After four seasons at Tennessee Tech and two more at Tennessee-Chattanooga, Dave followed Jeff to Auburn, in 2004. Says Dave: "To be able to help him when I think he needs it, but also to let him stumble and find things on his own; to be part of his life the way I am -- I thank basketball for that."
-- Anna Katherine Clemmons
Even for coaches determined to maintain balance, the number of hours required by the job has become staggering. It doesn't matter if you're an assistant trying to become a head coach or a head coach trying not to become an assistant again -- the workload is monstrous. From July to January, coaches work without a day off, putting in 12- to 16-hour days at least five times a week. Typically, six or more days pass without quality contact with their families. When their team is playing on the road, coaches leave their homes Saturday morning, attend a walk-through practice, head straight for the airport and return to town late Sunday evening.
But while their players go home, the coaching staff heads to the office and pulls the first of many all-nighters. They need to cut and grade game film by the time the players arrive for treatment Monday morning.
The rest of the week, coaches struggle to keep up with their jobs so players can do theirs. On Mondays, after reviewing yesterday's game with players, coaches frantically study the next opponent and prepare for an early meeting Tuesday (players have the day off). That's when the next game plan is debated and put into motion. Which means the night before is spent culling dozens of plays, formations and personnel, organizing film, writing the plan and scheduling the week's practices down to the minute.
Wednesday is actually worse. It's the longest day of the week, as the game plan is refined, communicated, inserted into playbooks and practiced. That night, coaches stay late again, to prepare their lessons for Thursday, when specialty plays like red zone and third-and-long are inserted into the game plan.
"I think coaches overdo it. I don't believe in the sleep-in-your-office plan or getting two hours of sleep at night or the way some coaches, like Joe Gibbs, work themselves into a frenzy until they're ready to drop," says McNair. "If you are efficient and organized there is no reason to stay at the stadium 22 hours a day."
And yet, most do. It's only on Thursday evenings, if everything goes smoothly -- no injuries, new players, arrests or other fires -- that coaches finally get to leave the office in time to see their children before bed. "But there were many times I only went home because of pressure I was feeling from the people there," says Vermeil. "And my wife would say, 'Dick, what you have left by the time you get to us isn't all that pleasant.' She was right. I'd be sitting there going, 'Why am I home? I should be working.'"
In the late 1970s, when Vermeil was coaching in Philadelphia and surviving on two to three hours of sleep in his stadium office, Tom Landry took him aside before a game and told him to slow down. He didn't. And when reporters began intimating that the young Vermeil was outworking the legend, Landry privately quipped to his staff, "If I had to stay up until 3 a.m. every night to formulate my game plan, frankly, I'd be embarrassed to tell anyone." Landry's teams, by the way, ended up 104 against Vermeil's.
The tension between the two coaching camps -- the grinders and the lifestylers -- has ratcheted up steadily over the years within what is an otherwise close, if highly competitive, fraternity. Ask Billick when he gets to work, and he'll joke that he arrives a half hour earlier than the time Gruden is lying about as the start of his day.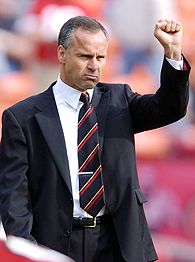 Kyle Terada/US PresswireMike Nolan admits it's easy for coaches to lose sight of how their job can affect life at home.
"Hey, some guys get off on that identity," says Nolan. "Like, Look at me, aren't I a hard worker? These guys are never too busy to tell you just how busy they are."
Most coaches look for solutions to their time crunch in the margins of their lives. Many teams, for example, have family dinners on Tuesday at their training facility. Dungy has been bringing his kids to the office -- and allowing them to roam the sideline on game day -- since his first season in Tampa.
Nolan's wife, Kathy, drives him to and from work every day so they can have an hour of alone time. And when he was the Vikings head coach, Mike Tice lived seven minutes from the office; his son Nate's school was so close that he often could leave work to coach the boy's teams. But even the most empathetic Vikings fans are probably wondering: Why didn't he spend more time coaching his adults? Now you understand the pressure facing these fathers and husbands.
Truth be told, though, many NFL coaches have strong marriages and happy children. "Kids of coaches have every right to dog cuss their dads," says Billick. "But I'd wager a majority of them wouldn't. So we need to be careful painting too bleak or too one-sided a portrait, like we're all such a--holes for loving what we do and spending so much time at it."
Thursday night family dinners are sacred to Billick and his wife, Kim. The Billick daughters -- Keegan, 18, a high school senior, and Aubree, 23, a merchandiser for Abercrombie & Fitch -- save up tales of new boyfriends, school problems and fender benders for that dinner, which could stretch for hours. Yes, Aubree says, her dad missed her first steps and her first words, and watching her open her acceptance letter to college. But Aubree has always considered her family blessed and her father lucky to have found a job he loves so much. "As a child, you see the pain on his face because he can't be around," she says. "My dad hurt. Somehow, that keeps things real and makes it okay."
Not that it slows coaches down. In the macho fraternity of football, the only way for them to compete with the players or make their mark is a superhuman work ethic. Says Tice, an assistant head coach for the Jaguars: "Coaches want to be thought of as tough too."
Young coaches too often advance because of how long they work instead of how well they work. Reid, a masterful motivator and tactician, earned his stripes as a Green Bay assistant from 1992 to 1998. He was known for arriving at Lambeau at 4:30 a.m., often racing the Pack's wide receivers coach, Gruden, to see who could get there first.
Tice used to physically remove young assistants from the building. But there are many coaches who keep their assistants in the office until 11 p.m. in the offseason. "Those attaboys and comments in meetings about so-and-so being the last one out feel good," Tice says. "Guys are driven to be the best, and that's what they think gets them there."
The irony is that, come Sunday, coaches are too fried to focus on what they love most about their jobs: teaching and strategy. And parity means that games, and entire seasons, are often determined by things coaches cannot control: chance plays, injuries, turnovers. "All the hours don't necessarily lead to a better team or a better game plan," says Dungy. "But we do it anyway because it takes a lot of confidence and a very good grasp of things to be able to say the words: 'We're ready, we should all go home.'"
To his credit, Dungy continues to walk the talk. Just 72 hours before kickoff at this year's Super Bowl, he spent an afternoon at the NFL Experience with his family. It was a bold, if unintentional, statement aimed at the heart of the problem, one he hopes will have a lasting impact. But he's not betting on it.
"Unfortunately, there is a new generation of coaches under the impression that a 60-to-70-hour week is normal," Dungy says. "Those interested in regular life are few and far between."
ESPN The Magazine
Senior writer for ESPN The Magazine FlemFile columnist for ESPN.com.
Has written more than 30 cover stories for SI and ESPN.
Author of "Noah's Rainbow" (a father's memoir) and "Breaker Boys" (stolen 1925 NFL title).
EDITORS' PICKS
If Adrian Peterson's court victory doesn't mean he's been reinstated, what does it mean? We sort it all out.
Seifert »

Is Jameis Winston still the top pick? Here's how the combine impacted Todd McShay's first-round outlook.
Mock 3.0

How would an everyday schlub fare in an NFL game? "Madden" utilized a human guinea pig to find out.
FiveThirtyEight »

MOST SENT STORIES ON ESPN.COM