Falcons' Vick indicted by grand jury in dogfighting probe
Updated:
July 18, 2007, 12:49 PM ET
ESPN.com news services
RICHMOND, Va. -- NFL star Michael Vick was indicted by a federal grand jury Tuesday on charges of sponsoring a dogfighting operation so grisly the losers either died in the pit or sometimes were electrocuted, drowned, hanged or shot.
The Atlanta Falcons quarterback and three others were charged with competitive dogfighting, procuring and training pit bulls for fighting and conducting the enterprise across state lines.
The operation was named "Bad Newz Kennels," according to the indictment, and the dogs were housed, trained and fought at a property owned by Vick in Surry County, Va.
Vick and the other three defendants will appear in district court in Richmond on July 26.
Vick, Purnell Peace, Tony Taylor and Quanis Phillips will appear before a magistrate judge, Dennis Dohnal, at 3:30 p.m. for bond and at 4 p.m. in front of Judge Henry Hudson for arraignment.
The 19-page federal indictment, filed in the U.S. District Court for the Eastern District of Virginia, alleges the 27-year-old Vick and his co-defendants began the dogfighting operation in early 2001, the former Virginia Tech star's rookie year with the Falcons.
The indictment states that dogs fought to the death -- or close to it.

The activities alleged are cruel, degrading and illegal. Michael Vick's guilt has not yet been proven, and we believe that all concerned should allow the legal process to determine the facts.
NFL spokesman Brian McCarthy
If convicted, Vick and the others could face up to six years in prison, $350,000 in fines and restitution.
Telephone messages left at the offices and home of Vick's attorney, Larry Woodward, were not returned. A woman who answered the phone at the home of Vick's mother said "no comment" and hung up.
"We are disappointed that Michael Vick has put himself in a position where a federal grand jury has returned an indictment against him," NFL spokesman Brian McCarthy said.
"The activities alleged are cruel, degrading and illegal. Michael Vick's guilt has not yet been proven, and we believe that all concerned should allow the legal process to determine the facts."
Vick and the Falcons are scheduled to report to training camp on July 25.
"Obviously, we are disturbed by today's news," the team said in a statement posted on its Web site, apologizing to fans for the negative publicity.
"We will do the right thing for our club as the legal process plays out. We have a season to prepare for," it said.
John Goodwin of the Humane Society said the manner in which losing or unwilling dogs were killed was especially troubling.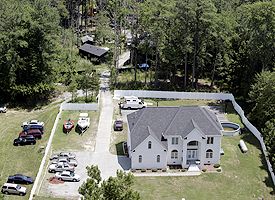 AP Photo/Steve HelberState and federal officials load coolers of evidence into a truck as they search the grounds behind a home owned by Michael Vick in Smithfield, Va., on July 6.
"Some of the grisly details in these filings shocked even me, and I'm a person who faces this stuff every day," he said. "I was surprised to see that they were killing dogs by hanging them and one dog was killed by slamming it to the ground. Those are extremely violent methods of execution -- they're unnecessary and just sick."
Vick and the others are accused of "knowingly sponsoring and exhibiting an animal fighting venture" and conducting a business enterprise involving gambling, as well as buying, transporting and receiving dogs for the purposes of an animal fighting venture.
About eight young dogs were put to death at the Surry County home after they were found not ready to fight in April 2007, the indictment said. They were killed "by hanging, drowning and/or slamming at least one dog's body to the ground."
The indictment also outlined a rough chronology:
• In March 2003, after a pit bull from Bad Newz Kennels lost in a fight, it said Peace consulted with Vick about the losing dog's condition, then executed it by wetting it with water and electrocuting it;
• In March 2003, after two Bad Newz Kennels dog lost fights to dogs owned by a cooperating witness, it alleged that Vick retrieved a bag containing $23,000 and gave it to the owner of the winning dogs. One of the fights had a $20,000 purse;
• In the fall of 2003, a person witnessing a dog fight involving one of the dogs trained by Bad Newz Kennels incurred the ire of another cooperating witness by yelling out Vick's name in front of the crowd during the fight.
It also said that after establishing Bad Newz Kennels in early 2002, Vick and the others obtained shirts and headbands promoting their affiliation with the kennel.
After a police raid on the property in April, Vick said he was rarely at the house, had no idea it may have been used in a criminal enterprise. He blamed family members for taking advantage of his generosity.
On Vick's Web site, he lists his birthplace as Newport News, "a.k.a. BadNews."
Purses for the fights ranged from hundreds of dollars to the thousands, and participants and spectators placed side bets, the document said.
Local authorities have been investigating the allegations since the April 25 drug raid at the property Vick owned. On June 7, officials with the Department of Agriculture executed their own search warrant and found the remains of seven dogs.
Surry County prosecutor Gerald G. Poindexter said he didn't know of the indictment before it was filed, and said he's not sure how the county will continue its case.
At the start, authorities seized 66 dogs, including 55 pit bulls, and equipment commonly used in dogfighting. About half the dogs were tethered to car axles with heavy chains that allowed the dogs to get close to each other, but not to have contact -- an arrangement typical for fighting dogs, according to the search warrant affidavit.
The indictment said dogfights were held at the Virginia property and dog owners brought animals from six states, including New York and Texas.
In a search warrant executed July 6, the government said the fights usually occurred late at night or in the early morning and would last several hours.
Before fights, participating dogs of the same sex would be weighed and bathed, according to the filings. Opposing dogs would be washed to remove any poison or narcotic placed on the dog's coat that could affect the other dog's performance.
Sometimes, dogs weren't fed to "make it more hungry for the other dog," it said.
Information from The Associated Press was used in this report.
VICK SENTENCED TO 23 MONTHS

Michael Vick was sentenced to 23 months in federal prison and three years' probation for his role in a dogfighting conspiracy. The suspended Falcons quarterback is looking at a scheduled release of July 2009. Story
Update
•
GM: Falcons will attempt to trade Vick
•
Lawyer: Vick might move to halfway house
•
Former Vick estate fails to sell again
•
Vick house fails to sell at auction
•
Vick files for bankruptcy protection
•
Prosecutor: Vick's Virginia trial can wait
•
Vick ordered to repay Canadian bank $2.4 million
•
Judge denies NFL motion to reverse Vick ruling
•
Report: Vick not playing organized football in jail
•
Report: Vick passes time with prison-yard football
•
Vick's state dogfighting trial to begin June 27
•
Munson: Vick yet to enter drug treatment
The sentence
•
Vick sent to Kansas to serve rest of sentence
•
Vick asked judge for leniency before sentencing
•
Vick sentenced to 23 months
|
Document (pdf)
•
Poll: What do you think?
|
What they're saying
•
Clayton: Sentence puts career in jeopardy
•
Munson: Tough sentence by displeased judge
•
Teammates show support at Falcons game
•
Can Vick return to playing in NFL?
•
Pasquarelli: No longer top of mind in Atlanta
•
Last Vick co-defendant sentenced
•
Podcasts

:
Cossack

|
Schlereth

|
Munson/Naqi

|
Pasquarelli

•
Chat wrap: David Cornwell
Post Plea
•
NFL wants court to reverse Vick bonus ruling
•
Victory for Vick: QB can keep $20 million bonus
•
Fifth defendant in Vick case receives probation
•
Vick's house for sale for $1.1M
•
Some Falcons to visit Vick in prison
•
PETA unveils new e-card
•
Former Virginia estate fails to sell at auction
•
Out of Falcons' sight, almost out of mind
•
Judge's casework offers look at possible sentence
•
Remaining dogs placed with rescue groups
•
Source: Feds may push judge to up sentence
•
NFLPA argues Vick should not lose roster bonus
•
Vick co-defendants get 18, 21 months in prison
•
Vick agrees to put up almost $1M for dogs' care
•
Vick given April trial date on state charges
•
Vick surrenders to begin serving sentence early
•
Home at center of Vick dogfighting scandal sold
•
Vick fires one of his lawyers in dogfighting case
•
Man who sold Vick pit bull pleads guilty
•
Man connected to Vick dogfight ring pleads guilty
•
Third bank sues Vick, claims he defaulted on loan
•
Arbiter: Falcons have right to reclaim bonuses
•
PETA: Vick had class on animal cruelty
•
Evaluations show 48 of Vick's dogs placeable
•
Vick tests positive for marijuana
•
Vick supporters turn out for town meeting
•
Vick's apology notes fetch $10.2K at auction
Vick's Plea/NFL Suspension
•
Vick pleads guilty to federal dogfighting charge
•
The plea
(PDF) |
Statement of facts
(PDF)
• Vick's statement:
Watch it

|
Read it
•
Roger Cossack explains plea deal
•
Poll: Vick should be banned
•
Va. Tech, Beamer continue to support Vick
•
Vick supporters drown out protesters
•
NFL suspends Vick indefinitely
|
Goodell
(PDF)
•
Chris Mortensen on Vick's suspension
•
Vick files plea agreement admitting to dogfighting
Indictment
•
Marbury's about-face: Vick 'is 100 percent wrong'
•
National NAACP: Vick 'not a victim'
|
Audio

•
Atlanta NAACP: Vick should be allowed to return
•
Falcons come to terms with 'ex-teammate'
•
Vick timeline
|
What they're saying
•
Helyar: Even Atlanta turns against Vick
•
Goodell: Vick not overshadowing season
•
Vick co-defendant pleads guilty to charges
• Tony Taylor:
Summary of Facts
|
Plea agreement
•
Hometown residents stand by Vick
•
Falcons had planned to suspend Vick
•
Commish tells Vick to avoid camp
•
Vick indicted
|
The indictment (pdf)
|
Civil arrest warrant (pdf)
Town Hall meeting
•
Town Hall chat wrap: Chadiha
Previous columns/analysis
•
Munson: Q&A on Vick reporting to prison early
•
Munson: Looking at Judge Hudson
•
Vick's high school learning lessons
•
Bryant: Confounded by race issue
•
Munson: Q&A about local indictment
•
Munson: Next focus for Vick is length of sentence
•
Schlabach: Vick an afterthought on VT campus
•
Chadiha: Vick not running from truth
•
Hill: Coverage means bigger issues ignored
•
Wojciechowski: Pay attention to the fallen star
•
Bryant: Vick's plea deal comes with baggage
•
Bryant: In failing Vick, NFLPA fails itself
•
Munson: Vick plea means surrender
•
Forde: Vick's epic fall
•
Pasquarelli: Major blow for Falcons
•
Chadiha: Lots of lessons to be learned
•
Wojciechowski: Punishment with teeth
•
Easterbrook: Little sympathy?
•
Clayton: Vick's NFL future might be bleak
•
E-Ticket: A history of mistrust
•
Chadiha: Vick's bad choices

MOST SENT STORIES ON ESPN.COM