Indictment puts Vick's earning power in limbo
Michael Vick's future as a marketable commodity off the football field took a huge hit when Tuesday's indictment on dogfighting charges came down, writes Wayne Drehs.
Originally Published:
July 18, 2007
By
Wayne Drehs
| ESPN.com
The video is months old and isn't all that easy to find at mikevick.com, the seldom-updated official Web site for the Atlanta Falcons' quarterback. But in the clip, the playmaker stands before the camera, sharing the first look at a new Nike football cleat while he rambles on about how much it means to have his own shoe.
"It means a lot,"
Michael Vick
says in the video. "It means a lot that people accept my shoe and want to be part of the Mike Vick movement." Perhaps it's a video that Vick should ask someone to store for him, to put away for safekeeping. After all, he's smiling, he looks proud. He's wearing a Nike headband, blindingly bright diamond earrings, dark sunglasses and a massive silver chain. Life seems good. But after the Vick's indictment Tuesday on federal charges related to illegal dogfighting, storm clouds are hovering over the Mike Vick movement. The future doesn't seem in any way bright. "The cumulative hits to his reputation have simply become too much to overlook," said Scott Becher, president of Sports and Sponsorships, a Florida-based sports marketing firm. "He's simply damaged goods. This is not the time for any company to beat its chest about associating with the values of Michael Vick."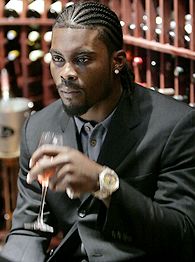 AP Photo/John AmisIn March, Michael Vick celebrated the grand opening of The Tasting Room, a new restaurant in which he is a partner in East Point, Ga.
Despite published reports that Vick had endorsement contracts with Coca-Cola, Hasbro, Kraft and several other companies, those deals have already expired. As of Thursday, Nike was still standing by Vick. But Vick's legal troubles prompted Nike to suspend the release of a signature shoe, the Nike Zoom Vick V. The shoe had been scheduled to be released in stores on Aug. 23 for a suggested retail price of $100. A statement released by Nike Inc. said the company "is concerned by the serious and highly disturbing allegations made against Michael Vick, and we consider any cruelty to animals inhumane and abhorrent. We do believe that Michael Vick should be afforded the same due process as any citizen; therefore, we have not terminated our relationship." The statement released by Nike spokesman Dean Stoyer said the company would continue to monitor the situation closely and would not comment further at this time. On Wednesday morning, the sports shoe and apparel company, along with Falcons CEO Arthur Blank and NFL commissioner Roger Goodell, received a joint letter from hip-hop mogul Russell Simmons, civil rights leader the Rev. Al Sharpton and PETA president Ingrid E. Newkirk, condemning Vick's alleged involvement in the dogfighting ring and asking all parties involved to distance themselves from Vick. "Ultimately, the message we want to send is that if you're associated with dogfighting, you're not someone people should look up to," said Dan Shannon, an assistant director with PETA. "Most Americans would agree with that assessment. Nobody wants to go out and buy the shoes that Michael Vick wears when he goes to a dogfight. That's not really a good pitch." In May, when rumors of Vick's alleged involvement with the Virginia dogfighting ring first surfaced, Atlanta-based AirTran announced it would not renew its endorsement deal with the quarterback. For Vick, the fall from the top of the sports marketing mountain has been a swift one. As recently as two years ago, Vick had the No. 2-selling jersey in the league, behind then Oakland-bound wide receiver
Randy Moss
. Forbes ranked him No. 33 overall on its Celebrity 100. And Vick's Nike commercials, including one titled "The Michael Vick Experience" in which a fan takes a spin on a Vick-themed amusement park ride, were overwhelmingly popular. But several hits to Vick's public image in recent years -- even before Tuesday's indictment -- have sent his marketability into a tailspin. In January, Vick made headlines when he refused to surrender a suspicious water bottle to airport security in Miami. He was never charged. Last November, the Falcons fined the quarterback $10,000 for making an obscene gesture to fans after a game. And earlier last year, Vick settled a civil suit brought by a woman who claimed Vick had infected her with genital herpes. On the field, things haven't been much better for the league's second highest-paid player. Since the Falcons lost to Philadelphia in the NFC Championship Game at the end of the 2004 season, they've failed to make the playoffs. Last season, the team lost seven of its last nine games to finish 7-9. Henry Schafer, executive vice president of Marketing Evaluations, which computes "Q" scores to gauge the appeal of sports and celebrity personalities, said the number of sports fans who have only a "fair" or "poor" opinion of Vick increased 30 percent between 2006 and 2007. And those numbers were tabulated before word of Vick's association with Bad Newz Kennels ever surfaced. "The momentum was headed the wrong way even before this," Schafer said. "But when you factor in the role dogs play as family members in this country … it's going to have an overwhelmingly negative effect on his standing. And there's not much he can do about it." The last high-profile American athlete to go through the public ringer like this was Lakers guard
Kobe Bryant
, who faced accusations of sexual assault from a Colorado woman in 2003. The criminal case against Bryant was dropped after the accuser decided not to testify, and the civil case was later settled out of court for an undisclosed amount. But in the aftermath, Bryant lost national endorsement contracts with McDonald's and Nutella.

In a perverse sort of way, we're almost more outraged as a society by dogfighting than we are sexual assault. We somehow question the details of what went on in a sexual assault case, while there is very little of that going on here. It's more difficult to defend this sort of charge.
Fred Schreyer, former director of marketing for Nike
Four years later, Bryant has yet to return to his one-time perch atop the sports marketing world, although his image has improved dramatically since 2003. Vick's situation, sports business experts universally seem to believe, is more precarious than Bryant's ever was. Part of the reason for that are the multiple public relations hits Vick had already weathered before the indictment came down, and part of it is because of people's sensitivities when it comes to allegations regarding the inappropriate treatment of animals. "In a perverse sort of way, we're almost more outraged as a society by dogfighting than we are sexual assault," said Fred Schreyer, who served as Nike's director of marketing from 1987 through 1992 and helped negotiate
LeBron James
' $90 million deal with the company. "We somehow question the details of what went on in a sexual assault case, while there is very little of that going on here. It's more difficult to defend this sort of charge. And in that way, it could be much more damaging." Schreyer and several others agree that the first step Vick should take is to address the charges publicly -- and sooner rather than later. In July 2003, Bryant did just that, holding his wife's hand throughout a Staples Center news conference. "I'm innocent, you know," Bryant said at the time. "I didn't force her to do anything against her will. I'm furious at myself, disgusted for making the mistake of adultery. And I love my wife with all my heart." That news conference came just hours after an Eagle County (Colo.) district attorney announced charges of sexual assault. "It has to be authentic," Schreyer said. "Whatever [Vick] does has to be authentic. If this is who he is, then my advice would be to be quiet and live your life out of the public eye. But if it isn't, then you need to demonstrate with conviction that you're not going to do this ever again and you're going to right every wrong." The charges could affect the images of the Falcons and the NFL as well. While both organizations released statements Tuesday night, neither seems poised to discipline Vick until the legal process plays out a bit more. Shannon, the assistant director for PETA, said Wednesday that his organization won't hesitate to ask for boycotts of team and league sponsors should the Falcons and the NFL publicly support the quarterback while he faces these charges. Similar pressure was put on the sponsors for the "Imus in the Morning" radio show in March, following host Don Imus' insensitive remarks about the Rutgers women's basketball team. That led several sponsors, including American Express, to pull their financial backing of the show, a move that helped lead to Imus' dismissal. A similar corporate boycott would have less of an impact in the NFL, sports business experts say, because the league's financial structure is built more on revenue from TV contracts than corporate sponsorships. "Those who surround Michael Vick are the ones who are going to have to do damage control as well," said Paul Swangard, the managing director for the University of Oregon's Warsaw Sports Marketing Center. "You always want that bank account full of goodwill, and this is something that is going to charge a lot of fees on all those deposits. "But will people be walking away from deals with the league? Probably not," Swangard said. "We often joke that this is a Teflon-shielded league, and I continue to subscribe to that."
Wayne Drehs is a senior writer for ESPN.com. He can be reached at wayne.drehs@espn3.com.
Senior writer for ESPN.com
Written for ESPN.com since 2000
Three-time Sports Emmy Award winner
SPONSORED HEADLINES
MORE NFL HEADLINES
MOST SENT STORIES ON ESPN.COM
VICK SENTENCED TO 23 MONTHS

Michael Vick was sentenced to 23 months in federal prison and three years' probation for his role in a dogfighting conspiracy. The suspended Falcons quarterback is looking at a scheduled release of July 2009. Story
Update
•
GM: Falcons will attempt to trade Vick
•
Lawyer: Vick might move to halfway house
•
Former Vick estate fails to sell again
•
Vick house fails to sell at auction
•
Vick files for bankruptcy protection
•
Prosecutor: Vick's Virginia trial can wait
•
Vick ordered to repay Canadian bank $2.4 million
•
Judge denies NFL motion to reverse Vick ruling
•
Report: Vick not playing organized football in jail
•
Report: Vick passes time with prison-yard football
•
Vick's state dogfighting trial to begin June 27
•
Munson: Vick yet to enter drug treatment
The sentence
•
Vick sent to Kansas to serve rest of sentence
•
Vick asked judge for leniency before sentencing
•
Vick sentenced to 23 months
|
Document (pdf)
•
Poll: What do you think?
|
What they're saying
•
Clayton: Sentence puts career in jeopardy
•
Munson: Tough sentence by displeased judge
•
Teammates show support at Falcons game
•
Can Vick return to playing in NFL?
•
Pasquarelli: No longer top of mind in Atlanta
•
Last Vick co-defendant sentenced
•
Podcasts

:
Cossack

|
Schlereth

|
Munson/Naqi

|
Pasquarelli

•
Chat wrap: David Cornwell
Post Plea
•
NFL wants court to reverse Vick bonus ruling
•
Victory for Vick: QB can keep $20 million bonus
•
Fifth defendant in Vick case receives probation
•
Vick's house for sale for $1.1M
•
Some Falcons to visit Vick in prison
•
PETA unveils new e-card
•
Former Virginia estate fails to sell at auction
•
Out of Falcons' sight, almost out of mind
•
Judge's casework offers look at possible sentence
•
Remaining dogs placed with rescue groups
•
Source: Feds may push judge to up sentence
•
NFLPA argues Vick should not lose roster bonus
•
Vick co-defendants get 18, 21 months in prison
•
Vick agrees to put up almost $1M for dogs' care
•
Vick given April trial date on state charges
•
Vick surrenders to begin serving sentence early
•
Home at center of Vick dogfighting scandal sold
•
Vick fires one of his lawyers in dogfighting case
•
Man who sold Vick pit bull pleads guilty
•
Man connected to Vick dogfight ring pleads guilty
•
Third bank sues Vick, claims he defaulted on loan
•
Arbiter: Falcons have right to reclaim bonuses
•
PETA: Vick had class on animal cruelty
•
Evaluations show 48 of Vick's dogs placeable
•
Vick tests positive for marijuana
•
Vick supporters turn out for town meeting
•
Vick's apology notes fetch $10.2K at auction
Vick's Plea/NFL Suspension
•
Vick pleads guilty to federal dogfighting charge
•
The plea
(PDF) |
Statement of facts
(PDF)
• Vick's statement:
Watch it

|
Read it
•
Roger Cossack explains plea deal
•
Poll: Vick should be banned
•
Va. Tech, Beamer continue to support Vick
•
Vick supporters drown out protesters
•
NFL suspends Vick indefinitely
|
Goodell
(PDF)
•
Chris Mortensen on Vick's suspension
•
Vick files plea agreement admitting to dogfighting
Indictment
•
Marbury's about-face: Vick 'is 100 percent wrong'
•
National NAACP: Vick 'not a victim'
|
Audio

•
Atlanta NAACP: Vick should be allowed to return
•
Falcons come to terms with 'ex-teammate'
•
Vick timeline
|
What they're saying
•
Helyar: Even Atlanta turns against Vick
•
Goodell: Vick not overshadowing season
•
Vick co-defendant pleads guilty to charges
• Tony Taylor:
Summary of Facts
|
Plea agreement
•
Hometown residents stand by Vick
•
Falcons had planned to suspend Vick
•
Commish tells Vick to avoid camp
•
Vick indicted
|
The indictment (pdf)
|
Civil arrest warrant (pdf)
Town Hall meeting
•
Town Hall chat wrap: Chadiha
Previous columns/analysis
•
Munson: Q&A on Vick reporting to prison early
•
Munson: Looking at Judge Hudson
•
Vick's high school learning lessons
•
Bryant: Confounded by race issue
•
Munson: Q&A about local indictment
•
Munson: Next focus for Vick is length of sentence
•
Schlabach: Vick an afterthought on VT campus
•
Chadiha: Vick not running from truth
•
Hill: Coverage means bigger issues ignored
•
Wojciechowski: Pay attention to the fallen star
•
Bryant: Vick's plea deal comes with baggage
•
Bryant: In failing Vick, NFLPA fails itself
•
Munson: Vick plea means surrender
•
Forde: Vick's epic fall
•
Pasquarelli: Major blow for Falcons
•
Chadiha: Lots of lessons to be learned
•
Wojciechowski: Punishment with teeth
•
Easterbrook: Little sympathy?
•
Clayton: Vick's NFL future might be bleak
•
E-Ticket: A history of mistrust
•
Chadiha: Vick's bad choices
Nike Boys' Home Game Jersey Philadelphia Eagles Michael Vick #7 Shop »