Protesters begin anti-Vick demonstrations at Falcons camp
Updated:
July 23, 2007, 10:27 PM ET
Associated Press
FLOWERY BRANCH, Ga. -- Animal-rights advocates and their dogs gathered Monday outside Atlanta Falcons headquarters, calling for the suspension of Michael Vick following his indictment on dogfighting charges.
About four dozen people took part in the protest organized by People for the Ethical Treatment of Animals. They held signs reading "Kick Vick," "Tackle Cruelty" and "Sack Vick!"
NFL commissioner Roger Goodell on Monday night ordered Vick to stay away from the Falcons' training camp until the league reviews the dogfighting charges against him.
"Just because he's famous, he shouldn't get off the hook," said Emory Lewman, 12, of Sandy Springs, who came with three of her friends. "What he did was terrible."
Among the grisly findings in the federal indictment handed down last week in Richmond: Losing dogs either died in the pit or were electrocuted, drowned, hanged or shot.
"He has made a bad name for himself and he's hurting the team," said Fran Takacs of Norcross. "I used to be an NFL fan, now I'm not."
The protesters plan to demonstrate for a few hours each day until training camp begins Thursday.
"The Falcons can get rid of us right away if they suspend Michael Vick. And we hope they choose to do that," said Dan Shannon, assistant director of campaigns for PETA.
The organization mustered about 50 people for a protest Friday in New York at NFL headquarters and its campaign to urge the NFL to suspend Vick is the centerpiece of PETA's Web site.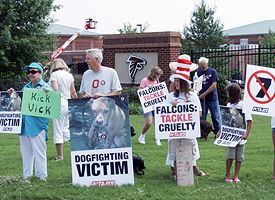 AP Photo/Gene BlytheThe demonstration against Michael Vick at Falcons camp began in earnest Monday for picketers. The team opens training camp Thursday, the day Vick is to be arraigned.
PETA issued a statement saying the federal indictment "details a well-planned, professional-level underground dogfighting enterprise responsible for the suffering and painful death of innumerable animals in several states.
"Although the exact level of Vick's involvement remains to be seen, the facts are in: Vick is co-owner of a pit bull breeding ring, animals fought and died on his property, and dead animals were unearthed there -- this information alone is more than enough for the NFL to suspend Vick," said the statement issued by PETA vice president Bruce Friedrich.
The NFL said Vick would continue to be paid. PETA took issue with that policy.
"Vick should not be paid to sit at home and work on his defense," the organization said.
Falcons spokesman Reggie Roberts said the team will have no comment about the protests.
Vick is scheduled to be arraigned Thursday. The NFL has said it would monitor legal developments in the case in which Vick and three associates face multiple charges outlined in an 18-page indictment.
The four are accused of competitive dogfighting, procuring and training pit bulls for fighting, and conducting the enterprise across state lines.
The operation was named "Bad Newz Kennels," according to the indictment, and the dogs were housed, trained and fought at a property owned by Vick in Surry County, Va.
Conviction carries up to six years in prison, fines of $350,000 and restitution.

Copyright 2007 by The Associated Press
SPONSORED HEADLINES
MORE NFL HEADLINES
MOST SENT STORIES ON ESPN.COM
VICK SENTENCED TO 23 MONTHS

Michael Vick was sentenced to 23 months in federal prison and three years' probation for his role in a dogfighting conspiracy. The suspended Falcons quarterback is looking at a scheduled release of July 2009. Story
Update
•
GM: Falcons will attempt to trade Vick
•
Lawyer: Vick might move to halfway house
•
Former Vick estate fails to sell again
•
Vick house fails to sell at auction
•
Vick files for bankruptcy protection
•
Prosecutor: Vick's Virginia trial can wait
•
Vick ordered to repay Canadian bank $2.4 million
•
Judge denies NFL motion to reverse Vick ruling
•
Report: Vick not playing organized football in jail
•
Report: Vick passes time with prison-yard football
•
Vick's state dogfighting trial to begin June 27
•
Munson: Vick yet to enter drug treatment
The sentence
•
Vick sent to Kansas to serve rest of sentence
•
Vick asked judge for leniency before sentencing
•
Vick sentenced to 23 months
|
Document (pdf)
•
Poll: What do you think?
|
What they're saying
•
Clayton: Sentence puts career in jeopardy
•
Munson: Tough sentence by displeased judge
•
Teammates show support at Falcons game
•
Can Vick return to playing in NFL?
•
Pasquarelli: No longer top of mind in Atlanta
•
Last Vick co-defendant sentenced
•
Podcasts

:
Cossack

|
Schlereth

|
Munson/Naqi

|
Pasquarelli

•
Chat wrap: David Cornwell
Post Plea
•
NFL wants court to reverse Vick bonus ruling
•
Victory for Vick: QB can keep $20 million bonus
•
Fifth defendant in Vick case receives probation
•
Vick's house for sale for $1.1M
•
Some Falcons to visit Vick in prison
•
PETA unveils new e-card
•
Former Virginia estate fails to sell at auction
•
Out of Falcons' sight, almost out of mind
•
Judge's casework offers look at possible sentence
•
Remaining dogs placed with rescue groups
•
Source: Feds may push judge to up sentence
•
NFLPA argues Vick should not lose roster bonus
•
Vick co-defendants get 18, 21 months in prison
•
Vick agrees to put up almost $1M for dogs' care
•
Vick given April trial date on state charges
•
Vick surrenders to begin serving sentence early
•
Home at center of Vick dogfighting scandal sold
•
Vick fires one of his lawyers in dogfighting case
•
Man who sold Vick pit bull pleads guilty
•
Man connected to Vick dogfight ring pleads guilty
•
Third bank sues Vick, claims he defaulted on loan
•
Arbiter: Falcons have right to reclaim bonuses
•
PETA: Vick had class on animal cruelty
•
Evaluations show 48 of Vick's dogs placeable
•
Vick tests positive for marijuana
•
Vick supporters turn out for town meeting
•
Vick's apology notes fetch $10.2K at auction
Vick's Plea/NFL Suspension
•
Vick pleads guilty to federal dogfighting charge
•
The plea
(PDF) |
Statement of facts
(PDF)
• Vick's statement:
Watch it

|
Read it
•
Roger Cossack explains plea deal
•
Poll: Vick should be banned
•
Va. Tech, Beamer continue to support Vick
•
Vick supporters drown out protesters
•
NFL suspends Vick indefinitely
|
Goodell
(PDF)
•
Chris Mortensen on Vick's suspension
•
Vick files plea agreement admitting to dogfighting
Indictment
•
Marbury's about-face: Vick 'is 100 percent wrong'
•
National NAACP: Vick 'not a victim'
|
Audio

•
Atlanta NAACP: Vick should be allowed to return
•
Falcons come to terms with 'ex-teammate'
•
Vick timeline
|
What they're saying
•
Helyar: Even Atlanta turns against Vick
•
Goodell: Vick not overshadowing season
•
Vick co-defendant pleads guilty to charges
• Tony Taylor:
Summary of Facts
|
Plea agreement
•
Hometown residents stand by Vick
•
Falcons had planned to suspend Vick
•
Commish tells Vick to avoid camp
•
Vick indicted
|
The indictment (pdf)
|
Civil arrest warrant (pdf)
Town Hall meeting
•
Town Hall chat wrap: Chadiha
Previous columns/analysis
•
Munson: Q&A on Vick reporting to prison early
•
Munson: Looking at Judge Hudson
•
Vick's high school learning lessons
•
Bryant: Confounded by race issue
•
Munson: Q&A about local indictment
•
Munson: Next focus for Vick is length of sentence
•
Schlabach: Vick an afterthought on VT campus
•
Chadiha: Vick not running from truth
•
Hill: Coverage means bigger issues ignored
•
Wojciechowski: Pay attention to the fallen star
•
Bryant: Vick's plea deal comes with baggage
•
Bryant: In failing Vick, NFLPA fails itself
•
Munson: Vick plea means surrender
•
Forde: Vick's epic fall
•
Pasquarelli: Major blow for Falcons
•
Chadiha: Lots of lessons to be learned
•
Wojciechowski: Punishment with teeth
•
Easterbrook: Little sympathy?
•
Clayton: Vick's NFL future might be bleak
•
E-Ticket: A history of mistrust
•
Chadiha: Vick's bad choices
Nike Boys' Home Game Jersey Philadelphia Eagles Michael Vick #7 Shop »