Goodell: Vick-related news not obscuring coming season
Updated:
August 16, 2007, 8:38 PM ET
Associated Press
ALLEN PARK, Mich. -- Roger Goodell wants to talk football. Michael Vick keeps getting in the way.
The NFL commissioner, making a tour of training camps, raved about Detroit Lions coach Rod Marinelli and his players after visiting them Thursday. He spoke to them mostly about their responsibilities as players.
As soon as Goodell started taking questions during a news conference, however, he was asked about Vick. And the questions kept coming.
There has been an unrelenting drumbeat of news concerning Vick, who is charged with running a dogfighting ring on his Virginia property. Goodell insists this is not eclipsing enthusiasm about the game itself.
"I don't think it's overshadowing the season," he said. "I think our fans are excited about football, but I understand the interest in the story."
Vick is facing increased pressure to strike a deal with prosecutors in his federal dogfighting conspiracy case. He conferred with his lawyers for hours Wednesday.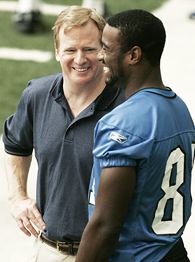 AP Photo/Paul SancyaNot every minute of Roger Goodell's time is taken by the Michael Vick case. The commish chats with Detroit's Calvin Johnson, the No. 2 pick in the draft, at practice Thursday.
"We're going to do what we always said we were going to do, which is rely on the facts," Goodell said. "If there is some type of a plea agreement, then we will obviously take the time to understand what that plea is and we'll see how it fits into our personal conduct [policy]."
Goodell barred Vick from taking part in training camp while the league investigates. The commissioner said the league is monitoring talks between Vick's lawyers and prosecutors. He wants the legal process to run its course before he rules on Vick's future in the league.
Under NFL policy, a player can be banned for life for illegal gambling or associating with gamblers, and Vick might face that penalty.
"[The gambling] is certainly an issue," Goodell said after meeting with the Cleveland Browns at their year-round training facility. "Law enforcement may be concerned about certain things about this. We may be concerned about other aspects of this. That's why we want to evaluate what the government has. We don't know all of the facts on that. Michael's team may not know all the facts at this point in time."
The quarterback was linked to betting by a statement signed by former co-defendant Tony Taylor, who pleaded guilty and agreed to cooperate with the government, and the July 17 indictment.
Two other co-defendants -- Purnell Peace and Quanis Phillips -- are to enter plea agreements Friday. Prosecutors have said they will seek a superseding indictment later this month that could mean additional charges against Vick.
Vick has pleaded not guilty to conspiracy to travel in interstate commerce in aid of unlawful activities and conspiring to sponsor a dog in an animal fighting venture. If convicted, he faces up to five years in prison and a fine of up to $250,000.
According to the statement signed by Taylor as part of his plea agreement, Vick financed virtually all of the "Bad Newz Kennels" dogfighting enterprise on Vick's property.
A search of his property in April turned up dozens of pit bulls, some of them injured, as well as equipment commonly used in dogfighting. The indictment said dogs that lost fights or fared poorly in test fights were sometimes executed by hanging, electrocution or other brutal means.
The grisly details have fueled public protests against Vick and have cost him some lucrative endorsement deals.
Vick's charges have also hurt the NFL's image in an offseason also marked by suspensions of Adam "Pacman" Jones, Tank Johnson and Chris Henry for off-field conduct. Goodell contends just four players out of about 2,000 in the league are generating most of the scrutiny.
"I've said to Pacman and any player, 'You have to earn your way back into the National Football League and you have to do it through your conduct,"' Goodell said. "It's not about what you tell the commissioner, or what you tell anyone. It's your conduct and your activities. I was disappointed with some of the activities that Pacman got involved this spring, after we had met and had a lot of discussions.
"Michael knows exactly how I feel."
Goodell's visit was well received by the Browns. Several of the players asked questions following the commissioner's 15-minute talk that touched upon subjects ranging from concussions to conduct.
"It was a treat. It broke camp up for 15 or 20 minutes," wide receiver Joe Jurevicius said. "Obviously, he's a man with a lot of power and he'll be the face of the NFL for a while. He's going to do a lot of great things and he came to say that he's not doing this to hurt anybody. He's doing this to help us."
During the Browns' two-hour practice during a humid afternoon, Goodell and former Cleveland quarterback Bernie Kosar mingled with fans, who had their own questions and comments.
Goodell has sensed nothing but positive feedback and support during his tour of the camps.
"I'm proud of our players. I'm proud of what they do in the communities and on the field," he said. "I think more has to be discussed on that. We have always talked about the game -- having the focus stay on football. We're here now and it's football time."

Copyright 2007 by The Associated Press
SPONSORED HEADLINES
MORE NFL HEADLINES
MOST SENT STORIES ON ESPN.COM
VICK SENTENCED TO 23 MONTHS

Michael Vick was sentenced to 23 months in federal prison and three years' probation for his role in a dogfighting conspiracy. The suspended Falcons quarterback is looking at a scheduled release of July 2009. Story
Update
•
GM: Falcons will attempt to trade Vick
•
Lawyer: Vick might move to halfway house
•
Former Vick estate fails to sell again
•
Vick house fails to sell at auction
•
Vick files for bankruptcy protection
•
Prosecutor: Vick's Virginia trial can wait
•
Vick ordered to repay Canadian bank $2.4 million
•
Judge denies NFL motion to reverse Vick ruling
•
Report: Vick not playing organized football in jail
•
Report: Vick passes time with prison-yard football
•
Vick's state dogfighting trial to begin June 27
•
Munson: Vick yet to enter drug treatment
The sentence
•
Vick sent to Kansas to serve rest of sentence
•
Vick asked judge for leniency before sentencing
•
Vick sentenced to 23 months
|
Document (pdf)
•
Poll: What do you think?
|
What they're saying
•
Clayton: Sentence puts career in jeopardy
•
Munson: Tough sentence by displeased judge
•
Teammates show support at Falcons game
•
Can Vick return to playing in NFL?
•
Pasquarelli: No longer top of mind in Atlanta
•
Last Vick co-defendant sentenced
•
Podcasts

:
Cossack

|
Schlereth

|
Munson/Naqi

|
Pasquarelli

•
Chat wrap: David Cornwell
Post Plea
•
NFL wants court to reverse Vick bonus ruling
•
Victory for Vick: QB can keep $20 million bonus
•
Fifth defendant in Vick case receives probation
•
Vick's house for sale for $1.1M
•
Some Falcons to visit Vick in prison
•
PETA unveils new e-card
•
Former Virginia estate fails to sell at auction
•
Out of Falcons' sight, almost out of mind
•
Judge's casework offers look at possible sentence
•
Remaining dogs placed with rescue groups
•
Source: Feds may push judge to up sentence
•
NFLPA argues Vick should not lose roster bonus
•
Vick co-defendants get 18, 21 months in prison
•
Vick agrees to put up almost $1M for dogs' care
•
Vick given April trial date on state charges
•
Vick surrenders to begin serving sentence early
•
Home at center of Vick dogfighting scandal sold
•
Vick fires one of his lawyers in dogfighting case
•
Man who sold Vick pit bull pleads guilty
•
Man connected to Vick dogfight ring pleads guilty
•
Third bank sues Vick, claims he defaulted on loan
•
Arbiter: Falcons have right to reclaim bonuses
•
PETA: Vick had class on animal cruelty
•
Evaluations show 48 of Vick's dogs placeable
•
Vick tests positive for marijuana
•
Vick supporters turn out for town meeting
•
Vick's apology notes fetch $10.2K at auction
Vick's Plea/NFL Suspension
•
Vick pleads guilty to federal dogfighting charge
•
The plea
(PDF) |
Statement of facts
(PDF)
• Vick's statement:
Watch it

|
Read it
•
Roger Cossack explains plea deal
•
Poll: Vick should be banned
•
Va. Tech, Beamer continue to support Vick
•
Vick supporters drown out protesters
•
NFL suspends Vick indefinitely
|
Goodell
(PDF)
•
Chris Mortensen on Vick's suspension
•
Vick files plea agreement admitting to dogfighting
Indictment
•
Marbury's about-face: Vick 'is 100 percent wrong'
•
National NAACP: Vick 'not a victim'
|
Audio

•
Atlanta NAACP: Vick should be allowed to return
•
Falcons come to terms with 'ex-teammate'
•
Vick timeline
|
What they're saying
•
Helyar: Even Atlanta turns against Vick
•
Goodell: Vick not overshadowing season
•
Vick co-defendant pleads guilty to charges
• Tony Taylor:
Summary of Facts
|
Plea agreement
•
Hometown residents stand by Vick
•
Falcons had planned to suspend Vick
•
Commish tells Vick to avoid camp
•
Vick indicted
|
The indictment (pdf)
|
Civil arrest warrant (pdf)
Town Hall meeting
•
Town Hall chat wrap: Chadiha
Previous columns/analysis
•
Munson: Q&A on Vick reporting to prison early
•
Munson: Looking at Judge Hudson
•
Vick's high school learning lessons
•
Bryant: Confounded by race issue
•
Munson: Q&A about local indictment
•
Munson: Next focus for Vick is length of sentence
•
Schlabach: Vick an afterthought on VT campus
•
Chadiha: Vick not running from truth
•
Hill: Coverage means bigger issues ignored
•
Wojciechowski: Pay attention to the fallen star
•
Bryant: Vick's plea deal comes with baggage
•
Bryant: In failing Vick, NFLPA fails itself
•
Munson: Vick plea means surrender
•
Forde: Vick's epic fall
•
Pasquarelli: Major blow for Falcons
•
Chadiha: Lots of lessons to be learned
•
Wojciechowski: Punishment with teeth
•
Easterbrook: Little sympathy?
•
Clayton: Vick's NFL future might be bleak
•
E-Ticket: A history of mistrust
•
Chadiha: Vick's bad choices