Commentary
Vick supporters loud and clear outside courthouse
RICHMOND, Va. -- "You should pray," a woman in a Michael Vick T-shirt told Brigitte Picard.
Picard was holding up a sign that said, "YOUR GOOD NAME … DOGKILLER." She'd gotten up early, driven four hours, just to let her two dogs know that "Mommy is here for them." She was in the middle of a sentence as hallelujahs and Bible music flowed about a block down.
She was outnumbered.
On a bizarre day that was a cross between sporting event and religious revival, Michael Vick did what was expected -- he pleaded guilty Monday to a federal dogfighting conspiracy charge. What wasn't expected, at least in the animal-rights circles, was that Vick's supporters would at least temporarily drown out four months of outrage.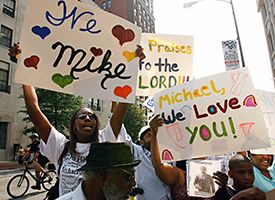 Win McNamee/Getty ImagesSupporters for Michael Vick chant outside federal court Monday in Richmond, Va.
As his gray Range Rover rolled up Main Street at 10:19 a.m., Vick was greeted with cheers and women jumping up and down and signs that said, "Ookie! We love you!" After he walked up a ramp through the double doors that led to the courthouse, his supporters sang, "We Shall Overcome," and chanted, "We love Mike."
It was almost like a football game. Two sides lined up on opposite ends of a stretch of yellow barricades across the street from the courthouse. On 10th Street stood the animal-rights people. Near 11th were the Vick supporters. And Vick's group was considerably more vocal.
About 200 of them boarded a bus early Monday morning in Newport News, Va., which is Vick's hometown. Two of them were pastors from churches they say Vick attends. Domeka Kelley, the pastor of Psalms Ministry, says Vick donated $317,000 to build a new church. Kelley says Vick did it before the dogfighting charges.
"The Michael Vick we know is not the Michael Vick the media has portrayed," Kelley said. "He's a man who loves God.
"This has hurt him beyond measure."
The atmosphere was much different than the last time Vick was in court in July. Thousands lined up along Main Street to wildly boo and protest Vick. But at one point Monday morning, the people working the event -- the media and the police on horses, motorcycles and bikes -- outnumbered the public. About 600 showed up by late morning.
Twenty-five TV trucks were lined up on the road in the back of the courthouse just before midnight Sunday. Under a full moon, the only sounds were the hum of the engines and the chatter of a few night owls preparing Monday's shows.
A police officer working the scene said that the animal-rights activists were probably resting up for the morning. But some of them never came.
There was the scruffy-faced guy who started barking when a young man held up a pro-Vick sign that said, "Don't listen to them haters." There were the legions of PETA folks who gripped their posters of a mangled dog, and the man with the Chihuahua and a T-shirt that said, "My dog hates Michael Vick."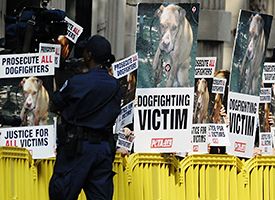 Jonathan Ernst/Getty ImagAnimal-rights activists protest before Vick's arrival for his court appearance Monday.
PETA spokesman Dan Shannon said some of the silence was by choice. He asked his people to be quiet Monday out of respect for the court setting. Some listened; some didn't.
"I think the outrage is there," Shannon said. "You look at any of the Web sites and some of the calls on the sports radio shows … People are just as outraged now as they have been. It's just taken a different form."
For the animal supporters, Monday took on an anticlimactic form. It had been a week since the announcement that Vick would plead guilty. The fighting, at least in this case, was basically over.
But it might have just started for Vick, the Falcons' suspended quarterback.
Vick appeared to acknowledge his supporters when he walked out of the courthouse, flanked by his attorneys, dressed in a dark blue suit and crisp white shirt. He glanced across the street and appeared to nod slightly.
The crowd followed him down to 12th Street, where Vick gave a statement to the media at the Omni Hotel. Police officers told both sides they couldn't go into the conference room, which was stuffed with reporters.
Vick entered a side door and stepped up to the microphones shortly after 11:30 a.m. He had a small slip of paper tucked away in his hand and took a deep breath before he spoke.
He said he acted immaturely. He said he took full responsibility for his actions and had found Jesus.
"I will redeem myself," Vick said. "I have to."
He walked to the door near the corner, where his lawyers in dark suits were listening. He hugged a person who appeared to be part of his legal team.
Then the gray Range Rover was gone, while his fans still stood outside the hotel waiting, near the PETA people and the businessmen and the gawkers. On Monday, they all stood on different sides.
Elizabeth Merrill is a senior writer for ESPN.com. She can be reached at merrill2323@hotmail.com.
Senior writer for ESPN.com
Formerly at "The Kansas City Star" and "The Omaha World-Herald"
SPONSORED HEADLINES
MORE NFL HEADLINES
MOST SENT STORIES ON ESPN.COM
VICK SENTENCED TO 23 MONTHS

Michael Vick was sentenced to 23 months in federal prison and three years' probation for his role in a dogfighting conspiracy. The suspended Falcons quarterback is looking at a scheduled release of July 2009. Story
Update
•
GM: Falcons will attempt to trade Vick
•
Lawyer: Vick might move to halfway house
•
Former Vick estate fails to sell again
•
Vick house fails to sell at auction
•
Vick files for bankruptcy protection
•
Prosecutor: Vick's Virginia trial can wait
•
Vick ordered to repay Canadian bank $2.4 million
•
Judge denies NFL motion to reverse Vick ruling
•
Report: Vick not playing organized football in jail
•
Report: Vick passes time with prison-yard football
•
Vick's state dogfighting trial to begin June 27
•
Munson: Vick yet to enter drug treatment
The sentence
•
Vick sent to Kansas to serve rest of sentence
•
Vick asked judge for leniency before sentencing
•
Vick sentenced to 23 months
|
Document (pdf)
•
Poll: What do you think?
|
What they're saying
•
Clayton: Sentence puts career in jeopardy
•
Munson: Tough sentence by displeased judge
•
Teammates show support at Falcons game
•
Can Vick return to playing in NFL?
•
Pasquarelli: No longer top of mind in Atlanta
•
Last Vick co-defendant sentenced
•
Podcasts

:
Cossack

|
Schlereth

|
Munson/Naqi

|
Pasquarelli

•
Chat wrap: David Cornwell
Post Plea
•
NFL wants court to reverse Vick bonus ruling
•
Victory for Vick: QB can keep $20 million bonus
•
Fifth defendant in Vick case receives probation
•
Vick's house for sale for $1.1M
•
Some Falcons to visit Vick in prison
•
PETA unveils new e-card
•
Former Virginia estate fails to sell at auction
•
Out of Falcons' sight, almost out of mind
•
Judge's casework offers look at possible sentence
•
Remaining dogs placed with rescue groups
•
Source: Feds may push judge to up sentence
•
NFLPA argues Vick should not lose roster bonus
•
Vick co-defendants get 18, 21 months in prison
•
Vick agrees to put up almost $1M for dogs' care
•
Vick given April trial date on state charges
•
Vick surrenders to begin serving sentence early
•
Home at center of Vick dogfighting scandal sold
•
Vick fires one of his lawyers in dogfighting case
•
Man who sold Vick pit bull pleads guilty
•
Man connected to Vick dogfight ring pleads guilty
•
Third bank sues Vick, claims he defaulted on loan
•
Arbiter: Falcons have right to reclaim bonuses
•
PETA: Vick had class on animal cruelty
•
Evaluations show 48 of Vick's dogs placeable
•
Vick tests positive for marijuana
•
Vick supporters turn out for town meeting
•
Vick's apology notes fetch $10.2K at auction
Vick's Plea/NFL Suspension
•
Vick pleads guilty to federal dogfighting charge
•
The plea
(PDF) |
Statement of facts
(PDF)
• Vick's statement:
Watch it

|
Read it
•
Roger Cossack explains plea deal
•
Poll: Vick should be banned
•
Va. Tech, Beamer continue to support Vick
•
Vick supporters drown out protesters
•
NFL suspends Vick indefinitely
|
Goodell
(PDF)
•
Chris Mortensen on Vick's suspension
•
Vick files plea agreement admitting to dogfighting
Indictment
•
Marbury's about-face: Vick 'is 100 percent wrong'
•
National NAACP: Vick 'not a victim'
|
Audio

•
Atlanta NAACP: Vick should be allowed to return
•
Falcons come to terms with 'ex-teammate'
•
Vick timeline
|
What they're saying
•
Helyar: Even Atlanta turns against Vick
•
Goodell: Vick not overshadowing season
•
Vick co-defendant pleads guilty to charges
• Tony Taylor:
Summary of Facts
|
Plea agreement
•
Hometown residents stand by Vick
•
Falcons had planned to suspend Vick
•
Commish tells Vick to avoid camp
•
Vick indicted
|
The indictment (pdf)
|
Civil arrest warrant (pdf)
Town Hall meeting
•
Town Hall chat wrap: Chadiha
Previous columns/analysis
•
Munson: Q&A on Vick reporting to prison early
•
Munson: Looking at Judge Hudson
•
Vick's high school learning lessons
•
Bryant: Confounded by race issue
•
Munson: Q&A about local indictment
•
Munson: Next focus for Vick is length of sentence
•
Schlabach: Vick an afterthought on VT campus
•
Chadiha: Vick not running from truth
•
Hill: Coverage means bigger issues ignored
•
Wojciechowski: Pay attention to the fallen star
•
Bryant: Vick's plea deal comes with baggage
•
Bryant: In failing Vick, NFLPA fails itself
•
Munson: Vick plea means surrender
•
Forde: Vick's epic fall
•
Pasquarelli: Major blow for Falcons
•
Chadiha: Lots of lessons to be learned
•
Wojciechowski: Punishment with teeth
•
Easterbrook: Little sympathy?
•
Clayton: Vick's NFL future might be bleak
•
E-Ticket: A history of mistrust
•
Chadiha: Vick's bad choices