Surgeon: Everett has life-threatening spinal-cord injury
Updated:
September 11, 2007, 1:39 PM ET
Associated Press
ORCHARD PARK, N.Y. -- Kevin Everett sustained a "catastrophic" and life-threatening spinal-cord injury while trying to make a tackle during the Buffalo Bills' season opener and is unlikely to walk again, the surgeon who operated on him said Monday.
"A best-case scenario is full recovery, but not likely," orthopedic surgeon Andrew Cappuccino said. "I believe there will be some permanent neurologic deficit."
Everett was hurt Sunday after he ducked his head while tackling the Denver Broncos' Domenik Hixon during the second-half kickoff. Everett dropped face-first to the ground after his helmet hit Hixon high on the left shoulder and side of the helmet.
Cappuccino noted the 25-year-old reserve tight end did have touch sensation throughout his body and also showed signs of movement. But he cautioned that Everett's injury was life-threatening because he was still susceptible to blood clots, infection and breathing failure.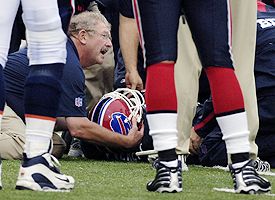 AP Photo/Don HeupelA trainer attends to Kevin Everett after he showed no signs of consciousness following a helmet-to-helmet hit on Denver's Domenik Hixon at the start of the second half.
Everett is in the intensive care unit of Buffalo's Millard Fillmore Gates Hospital, where he is under sedation and breathing through a respirator as doctors wait for the swelling to lessen. Cappuccino said it will take up to three days to determine the severity of the injury and the recovery process.
Cappuccino repaired a break between the third and fourth vertebrae and also alleviated the pressure on the spinal cord. In reconstructing his spine, doctors made a bone graft and inserted a plate, held in by four screws, and also inserted two small rods, held in place by another four screws.
Doctors, however, weren't able to repair all the damage.
Bills punter Brian Moorman immediately feared the worst when Everett showed no signs of movement as he was placed on a backboard and, with his head and body immobilized, carefully loaded into an ambulance.
"It brought tears to my eyes," Moorman said after practice. He said the sight of Everett's motionless body brought back memories of Mike Utley, the former Detroit Lions guard, who was paralyzed below the chest after injuring his neck in a collision during a 1991 game.
Physics of big hits

Buffalo Bills reserve tight end Kevin Everett likely experienced about two-thirds of a ton of compressive force on his spine in a hit Sunday that left him with a serious spinal injury, according to a professor who has studied the physics of football.

Dr. Timothy Gay, professor of physics at the University of Nebraska-Lincoln, said kickoffs produce more violent collisions than almost any other play in football because players have more of a chance to get up to full speed.

Gay, who was not at the game but saw video slow-motion replays, said it appears Everett's head was down when he made the tackle. That means the force of the collision was applied to his spine.

"That's why you don't go flying at a guy without your head up," said Gay, who played football at Caltech."The problem is ultimately it's a dangerous sport. You have 250-pound guys running 10 feet per second into each other. You're putting yourself in a dangerous position."

There were physics and physiology at play in Everett's case, said Gay, author of "Football Physics: The Science of the Game." The physics at play mostly involved Newton's 2nd Law of Motion: F = ma (force equals mass times acceleration). When a player undergoes extreme deceleration -- as Everett did when he hit Denver's Domenik Hixon during the second-half opening kickoff -- there will be a big force required to cause that deceleration. If Everett's head was up so his neck was not compressed, then the same force would not have done the same physiological damage.

Gay said, in his opinion, more protective head restraints or different equipment likely wouldn't have made a difference in Everett's case because the issue was the angle of his head at the moment of impact.
-- Jena Janovy, ESPN.com
Utley, Moorman recalled, at least was able to give what's become a famous "thumbs up" sign as he was taken off the field. Everett didn't.
"That's what I was waiting for, and that's what everybody else was waiting for," Moorman said. "And to have to walk back to the sideline and not see that made for a tough time."
Utley, who lives in Washington state, was saddened to see replays of Everett's collision.
"I'm sorry this young man got hurt," Utley told The AP. "It wasn't a cheap shot. It was a great form tackle and that's it."
Cappuccino said Everett was alert and aware of the extent of his injuries.
"I told Kevin that the chances for a full neurologic recovery were bleak, dismal," said Cappuccino, who works for the Bills as a consultant, specializing in spinal surgery. "I was honest with him, and he told me, 'Do everything you can to help me.' "
Cappuccino received permission to operate from Everett's mother, Patricia Dugas, who spoke by phone from her home in Houston. She and other family members arrived in Buffalo on Monday. Everett was born in Port Arthur, Texas, and played high school football there.
Buffalo's 2005 third-round draft pick out of Miami, Everett missed his rookie season because of a knee injury. He spent most of last year playing special teams. He was hoping to make an impact as a receiver.
The Bills now attempt to refocus while preparing to play at Pittsburgh on Sunday.
"It's difficult because you know the situation," said running back Anthony Thomas, one of Everett's best friends on the team. "We have to move on. But he'll always be in our thoughts and in our prayers."
Quarterback J.P. Losman said it was difficult to concentrate during practice.
"It seems like every couple of seconds that go by it's always popping into your head," Losman said. "Going through a walk-through, we're looking for him, wanting to hear his voice."
Coach Dick Jauron said NFL commissioner Roger Goodell called him Sunday evening, offering the league's support.
"We honor ourselves by our work, and we honor Kevin by moving forward and working while never forgetting Kevin and never getting him out of our thoughts and prayers," Jauron said. "We're going to wait and see what the outcome is here and we're really hoping and praying for the best."
Everett, who was on placed injured reserve Monday, was not the only injury sustained by the Bills.
Cornerback Jason Webster (broken forearm) and free safety Ko Simpson (broken ankle) had surgery, and Jauron said both could miss the rest of the season. Also, linebacker Coy Wire has a sprained knee and is out indefinitely.

Copyright 2007 by The Associated Press
SPONSORED HEADLINES
MORE NFL HEADLINES
MOST SENT STORIES ON ESPN.COM
EDITORS' PICKS
Can the Lions win in Green Bay? Here are all our Week 17 picks.
NFL Nation »

J.J. Watt isn't just a trendy MVP pick. There's a smart argument to be made for why he deserves the award.
Sando

The NFL's punchline division crowns a champ Sunday. Will Carolina or Atlanta have the last laugh?
Preview: CAR-ATL »