Sources: Patriots give Belichick long-term extension
Updated:
September 17, 2007, 1:59 PM ET
By
Michael Smith
| ESPN.com
The legitimacy of the New England Patriots' accomplishments under Bill Belichick might be in question these days, but the coach's future in New England should not be.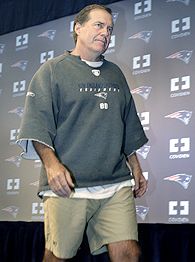 AP Photo/Michael DwyerBill Belichick will be the Patriots' head coach for the foreseeable future after agreeing to a long-term extension.
Belichick and Patriots ownership recently agreed to a long-term contract extension. The pact will keep Belichick on New England's sideline through at least the 2013 season, according to league sources and sources close to the coach. The deal was agreed to before the recent "spying" scandal in which the Patriots were punished by the NFL.
It's unclear how many years Belichick had remaining on his previous deal, as he and ownership like to keep details of the coach's contract private.
Patriots owner Bob Kraft declined comment in an NBC television interview at halftime of New England's game against San Diego.
There were reports in the offseason that Belichick's deal was up after this season and others that it expired after next season, prompting speculation that the Patriots unusually aggressive approach to the early stages of free agency and the draft weekend trade that netted controversial receiver Randy Moss were signs that Belichick was gearing up for one more run at a title before leaving.
Critics of commissioner Roger Goodell's decision to take a draft choice(s) and fine the Patriots $750,000 ($500,000 to be paid by Belichick) rather than suspend Belichick for illegally videotaping opponents' defensive signals say the penalties hurt the franchise long-term more than they do the Patriots' head coach. But barring a change of heart on either side, Belichick will be with the franchise long term.
Financial terms of the extension were unavailable. But consider: Ravens coach Brian Billick signed an extension this year reportedly valued at $28.5 million over five years; the extension Bears coach Lovie Smith received reportedly pays him just south of $23.5 million over five seasons; the Falcons are paying rookie coach Bobby Petrino $24 million over five years; Denver's Mike Shanahan reportedly received a raise above his $5 million salary as part of a three-year extension he agreed to in the offseason; and Mike Holmgren's two-year extension with Seattle signed in May 2006 reportedly is worth between $15.5 million and $17 million.
So, while Belichick's salary for 2007 had been reported to be in the $4.2 million range, it certainly is conceivable that he could have commanded anywhere between $6 million and $8 million annually with the extension.
The Patriots' last public statement regarding Belichick's status came in July 2003, with Belichick entering the second-to-last season of his original Patriots contract, when the team announced he had been extended through 2006. In January 2006 there were reports that he had been extended again, though it was unclear for how long.
In July, Belichick told New England-area reporters, "I don't talk about contracts, but I would say I like working here, I like the organization -- ownership, coaches, scouts, players, and the guys I work with. I appreciate the opportunity to work here and it's a good situation. I don't see that changing anytime soon."
In 12 seasons as a head coach with the Browns and Patriots, Belichick owns a regular-season mark of 111-81. Only Hall of Famers Tom Landry (20), Don Shula (19), Joe Gibbs (17), and Chuck Noll (16) have more playoff victories than Belichick's 13, all but one of which has come at the helm of the Patriots. The Patriots have won five AFC East titles over the past six seasons along with three Super Bowl championships.
Michael Smith covers the NFL for ESPN. Information from The Associated Press was used in this report.
NFL Senior Writer
Michael Smith joined ESPN in July 2004 as a National Football League senior writer for ESPN.com, covering league news and major events such as the NFL Draft, NFL Playoffs and the Super Bowl, and continues to write breaking news stories. He is also a correspondent for E:60, ESPN's first multi-themed prime-time newsmagazine program, which debuted October 2007.
SPY GAMES
Former Patriots employee Matt Walsh met with NFL commissioner Roger Goodell and Sen. Arlen Specter to discuss Patriots' illegal videotaping.
Story
More News
•
Belichick says he made 'mistake'
•
Herald reporter: Sources never saw tape
•
Walsh admits he knew it was wrong
•
Senator wants inquiry
|
Read it (pdf)
•
Fish: Would Congress investigate Pats?
•
Boston Herald apologizes for false report
•
Clayton: Five things we learned from Spygate
•
Walsh sends eight tapes to NFL
•
Fish: Pats stole offensive signs
|
Timeline
•
Clayton: Spygate will expire quietly
•
Former Pats employee sends tapes to league
•
Fish: NFL faces serious questions
•
Goodell to punish Pats, depending on evidence
•
Walsh, NFL to finally talk
|
Agreement
•
Goodell growing impatient with Walsh stalemate
•
Kraft, Belichick apologize to owners
•
Walsh still working on deal for testimony
•
Rams player, fans withdraw lawsuit
•
Spygate revelations might not be imminent
•
NFL, Walsh close to deal to turn over tapes
•
Report: Specter calls on Goodell to release letters
•
Report: Goodell proposes crackdown on cheating
•
Specter says Pats 'stonewalling' Spygate probe
•
Committee lauds Goodell's handling of Spygate
•
Goodell hoping deal to talk to Walsh close to done
•
Report: Belichick denies Pats taped Rams' drills
•
Walsh's attorney: NFL indemnity offer falls short
•
Specter prepared to extend Spygate investigation
•
Goodell has no regrets about destroying tapes
•
Source: Specter wants NFL indemnity for witness
•
Goodell, Specter to discuss Spygate Wednesday
Commentary
•
Mortensen: What were Rams thinking?
•
Yasinskas: Spygate stench won't go away
•
Paolantonio: Goodell's Spygate responsibility
•
Clayton: Spygate closing with a whimper
At The Pro Bowl
News
•
Ex-Pats video assistant mum on Spygate probe
At The Super Bowl
News
•
Goodell willing to give Pats' Walsh indemnification
•
Goodell, Specter won't meet until after Pro Bowl
•
Vermeil doubts spying made difference for Pats
•&nbsp
Goodell to meet with Sen. Specter about Spygate
•&nbsp
Report: N.E. taped Rams before XXXVI
•
Fish: Ex-Ram Warner suspicious of Pats
•
Specter to Goodell: Let's talk
•
Fish: Possible 'Spygate' witness surfaces
Commentary
•
Once burned, Goodell turns fireman
•
Munson: Congressional interest is serious business
•
Pasquarelli: Specter should stick with politics
•
Clayton: Spy saga won't distract Patriots
•
Hashmarks at Goodell's news conference
Letters
•&nbsp
Specter to Goodell (.pdf)
•&nbsp
Goodell to Specter (.pdf)
From September
News
•
NFL has all materials from Pats in spying scandal
•
NFL reviews how tape leaked to Fox
•
Belichick to turn over materials in spying probe
•
Pats owner perturbed by Belichick's spy games
•
Goodell orders Pats to turn over all video
•
Sources: Patriots give Belichick extension
•
Wilson spies inconsistencies in Belichick case
•
NFL fines Belichick $500K, Pats $250K for spying
•
Bill Belichick's apology to Patriots community
•
Clayton Q&A: Patriots can survive this penalty
•
Two days later, Belichick still won't comment
•
Some Eagles question Pats' tactics in Super Bowl
•
Belichick issues apology amid accusations
•
Sources: Goodell determines Patriots broke rules
Commentary
•
Clayton: NFL penalty for Belichick, Pats too light
•
Mosley: Pats lose first-rounder? Roger that
•
Scouts Inc.: What the Pats will miss in '08 draft
•
Chadiha: Legal spying widespread in NFL
•
Sando: What's legal, what's not in spy game
•
What they're saying: Players, coaches, pundits
•
Luksa: Spy stories once had comedic value
•
Bryant: Belichick deserves two-week banishment
•
Clayton: Goodell to treat breech seriously
•
Simmons: The camera doesn't lie
•
Simmons: Cheating not necessary to win opener
Video

•
What should happen to the Pats?
•
Belichick deflects videotape-related questions
•
Former Patriot thinks team should be punished
•
Reactions from around the league
Audio

•
Mike Vrabel, Pats linebacker: Don't criticize the players

•
Chris Mortensen: Situation might motivate the Patriots

•
Keyshawn: It was 'scouting,' not cheating

•
Salisbury: Story blown out of proportion

SportsNation
•
Vote: Was New England's punishment fair?
•
Mixed reader results on NFL spying


MOST SENT STORIES ON ESPN.COM