Suffering from a knee-jerk reaction? Let our experts help
Whether you think the Pats will go 16-0 or the Giants and Jets will go a combined 0-32, it's the season for knee-jerk reactions. We're here to help.
Originally Published:
September 19, 2007
ESPN.com
Your favorite team is 2-0, so naturally you're making Super Bowl travel plans. Or your team is 0-2 and you've already inquired about getting a refund for NFL Sunday Ticket. That's what fans do -- they perform the knee-jerk dance.
But we're here to give those overreactions some proper perspective. Whether it's dousing your overzealous enthusiasm or talking you off the ledge, ESPN.com NFL writers Jeffri Chadiha, John Clayton, Len Pasquarelli and Mike Sando have the answers to six big NFL knee-jerk reactions after the first two weeks of the season.
1. Sorry, '72 Dolphins: Patriots to go undefeated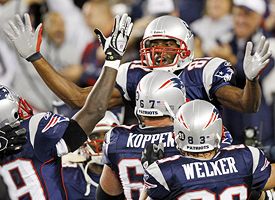 Greg M. Cooper/US Presswire
I gotta say, the gang in Miami might have to keep the champagne corked deep into the season. This is an incredibly talented Patriots team. And now, unwittingly, with the whole video spying controversy, the league has provided New England with a rallying point it didn't really need. There are some tough games on the schedule, but having already dispatched two 2006 playoff teams by an average margin of 24 points, it's hard to pinpoint any matchup in which you could predict someone will bump off the Pats. But there will be a pothole somewhere along the way. And then Don Shula can get off his diet for one day and have a belt of bubbly to celebrate.
-- Len Pasquarelli
Slow down. Take a deep breath. And please remember that the 2002 Patriots were lighting up teams with their dazzling offense in the first two weeks of the season that followed their first Super Bowl victory (they outscored their opponents 74-21 in those two games). That squad, if you recall, wound up watching the playoffs at home. That clearly won't be the fate of this bunch, but the Pats aren't going to score 38 points every game this season. Sooner or later, defenses adjust. It happens to everybody and it will happen to New England.
-- Jeffri Chadiha
2. The Saints are back to being the 'Aints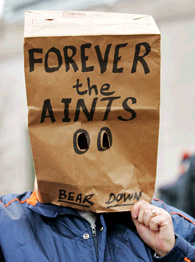 Al Bello/Getty Images
Please. The Saints may be 0-2, but this is the NFC, so it's not as if anyone is going to run away with things. Look around the NFC South and you see nothing but mediocrity, so the Saints have plenty of time to bounce back. Sean Payton has to be concerned about the big plays allowed by the cornerbacks and how production has slipped at wide receiver.
Devery Henderson
isn't much of a threat on the other side of the field from
Marques Colston
, and the Saints are paying the price. Plus, the Saints are filling the defensive tackle position with street free agents, and that could get scary as the season goes on. That said, name me another team in the division any better. The Panthers were blown away at home by Houston last week, and the Bucs will struggle on the road. The Aint is a reflection of the division, not New Orleans.
-- John Clayton
The Saints are struggling to find an identity on offense. We've known all along their defense would have some issues. The Saints won in the playoffs because they leaned hard on Deuce McAllister and the ground game. McAllister had 21 carries for 143 yards against the Eagles in the divisional round. Reggie Bush carried a dozen times for 52 yards in that game. Now? Bush has more carries than McAllister through two games this season. The Saints won't duplicate their magical 2006 run, but they should be much better offensively once they get McAllister going. -- Mike Sando
3. Steelers vs. Cowboys for a fourth time in the Super Bowl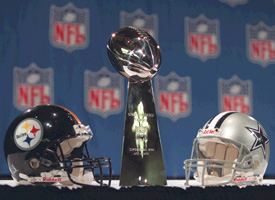 Rick Stewart/Getty Images
The only people who would view this as a possibility live in either Texas or Pennsylvania. There's no way the Cowboys reach the Super Bowl with all the holes in their defense. As for the Steelers, they have to deal with a couple of hurdles in the AFC known as New England and Indianapolis. So please stop dreaming of Super Bowl repeats. Though the Cowboys and Steelers are improved, they aren't close to being the cream of their respective conferences.
-- Jeffri Chadiha
As much as I'd love to see my beloved hometown Steelers break the Cowboys' hearts for a third time in a Super Bowl, it won't happen. Not because the Steelers wouldn't beat Dallas in a fourth title game matchup, but because such a pairing won't take place. The AFC simply has too many power teams right now to consider Pittsburgh a favorite. It would take the kind of run the Steelers had in 2005, although such a hot streak would be even more difficult this time around. As for the Cowboys, well, they look really good through two games, and the road to the NFC title isn't nearly as difficult. It's possible they'll make it to Phoenix -- where they'd lose to whatever team represents the AFC in Super Bowl XLII. -- Len Pasquarelli
4. Damn straight, the Pack is back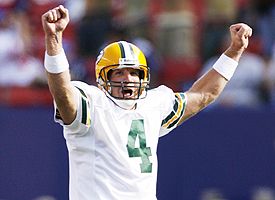 Rich Kane/US Presswire
Even
Brett Favre
admits he has no clue whether the Packers are for real. The team has won six in a row dating to last season, but Favre was quick to say the Packers don't feel like a team on a six-game win streak. That's what he should say because the Packers are young in key areas and can't afford to think they've arrived. The Packers appear strong enough on defense to stay in games. They are also in the right conference. It's not too early to consider Green Bay a potential playoff team in the NFC, but the Pack is not all the way back. Not yet.
-- Mike Sando
Settle down, Green Bay fans. The Packers aren't back -- and in many ways, they're the same as they were in 2006, at best an 8-8 team that could get to nine wins. To say they are back would be to say that this team has 10-11 win expectations. They are limited on offense because of the running game. Brandon Jackson can't do much after about 15 carries, and he could be replaced as a starter in the next few weeks. Brett Favre has a 13-year generation gap with seven offensive starters, and he's forced to throw more checkdowns and cautious passes. His 6.1 yards per attempt is the lowest in 16 years in Green Bay. The defense is good but not great. The good news is that the Packers should be in most games because of the defense, but without that running game, they will struggle holding second-half leads against good teams. -- John Clayton
5. Bad Apple: Jets, Giants to go winless in 2007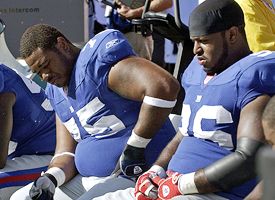 AP Photo/Bill Kostroun
Here's what you have to know about going winless in the NFL: It's probably more difficult than winning every game. The Jets still play in the AFC East and the last time I checked, Buffalo and Miami hadn't won any games, either. The Giants are a different story. Their defense is lousy but they'll improve once
Michael Strahan
works himself into good enough shape to help their feeble pass rush. The bottom line is that neither team will enjoy the rest of the season. But they also won't be this miserable for 15 more weeks.
-- Jeffri Chadiha
No team has ever gone 0-16 in a season, so it's hard to fathom a city going 0-32, even as poorly as the Jets and Giants are playing (especially on defense) right now. New York, New York, with teams so bad they made every fan sad? Well, that could happen. But a couple of goose eggs? Nope. It's just about as difficult to lose every game in the NFL as it is to win 'em all. Now that the Jets can get back to football, and quit worrying about someone deciphering the signs from their defensive staff, they'll grab a win this week against the Dolphins. Can't say the same for the Giants, though, who could go into October without a victory.
-- Len Pasquarelli
6. Bank on it: Texans will make the playoffs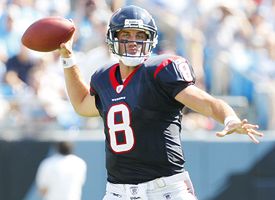 Bob Donnan/US Presswire
The Texans are a year away from being a playoff team, but they
are
going in the right direction. The reason I say they're a year away is because they have holes in the secondary and their defensive line is still coming together. The other reason they aren't a lock to make the playoffs this season is because the Colts and Titans are better at the moment. Still, coach Gary Kubiak and general manager Rick Smith have turned this franchise around by finding a quarterback (
Matt Schaub
) who doesn't get sacked and getting
Ahman Green
to spark the running game. They still need to draft a wide receiver in the first round of next year's draft and get one or two more offensive linemen to put them over the top. But they are progressing.
-- John Clayton
The Texans will make the playoffs, but probably not this season. The AFC is too tough. New England, Indianapolis, San Diego and Baltimore are proven playoff-caliber teams. Pittsburgh appears ready to rejoin that group after a down season. Tennessee could be a threat. The good thing for the Texans is that the pressure is off for a while. Matt Schaub has delivered on early expectations. While we're not yet hearing how the Texans were wise in selecting Mario Williams over Reggie Bush, the big defensive end is making plays. Schaub and Williams were question marks heading into the season. If those two keep playing well, the Texans could reach .500 for the first time. -- Mike Sando
SPONSORED HEADLINES
MORE NFL HEADLINES
MOST SENT STORIES ON ESPN.COM
NFL OVERREACTION NATION

We've seen two weeks of football, and for most NFL fans, that's more than enough to either jump on the bandwagon ... or jump ship.
Overview
•
Jackson: Welcome to Overreaction Nation
•
ESPN experts: Should you be overreacting?
•
Vote: What do we know after two weeks?
In Chicago ...
•
Wojciechowski: Even a win is too much to Bear
In New York ...
•
Darcy: Apple of their eye is the backup QB
In Dallas ...
•
Pearlman: Cowboys fans letting it all hang out
In Cleveland ...
•
Gallo: Net gain or loss for roller-coaster Browns?
In San Diego ...
•
Buckheit: Pats pull the plug on Bolts fans
In Los Angeles ...
•
Neel: Who says no one in L.A. loves the NFL?