Favre surpasses Marino with 421st career TD
Updated:
September 30, 2007, 11:11 PM ET
Associated Press
MINNEAPOLIS -- Brett Favre is No. 1 -- with a bullet.
Favre broke Dan Marino's record for career touchdown passes Sunday, zipping No. 421 to Greg Jennings in the first quarter of Green Bay's 23-16 victory over the Minnesota Vikings.
He hit Jennings on a 16-yard slant for the score with 4:56 left in the quarter, and like most of his touchdown throws through his brilliant 17-year career, this one had plenty of steam on it.
Ever the jubilant celebrator, Favre sprinted to the end zone and hoisted Jennings on his left shoulder. He joined in hugs with his teammates on the sideline, as thousands of Packers faithful who made the trip from Wisconsin cheered loudly.
Passing into history

Brett Favre threw career touchdown pass No. 421 in the first quarter against the Vikings to pass Dan Marino on the all-time list. The Packers legend is close to the career marks in a few other areas. (Stats through Week 4)

Career Records
Favre
Holder
Wins as starter
151
Favre
Passing yards
58,705
Dan Marino, 61,361
Interceptions
275
George Blanda, 277
TD passes
422
Favre*
Pass attempts
8,394
Favre**
*Marino previously held (420); **Marino previously held (8,358)
Even those dressed in purple stood and applauded when the announcement was made, and a taped message from Marino was played to congratulate Favre, who threw for another TD in the fourth quarter. He finished 32-of-45 for 344 yards, the 50th time he's topped 300 yards in his career.
"I loved holding the touchdown record for the past 13 years," Marino said. "But if someone was going to break it, I'm glad it was someone like you, who has always competed at the highest level and always played to win."
It's the latest, and possibly the most hallowed record claimed by the league's last true gunslinger. Two weeks ago, Favre broke John Elway's mark for career victories by a quarterback when he led the Packers to a 35-13 win over the New York Giants.
The soon-to-be 38-year-old also holds the marks for career completions and consecutive starts by a quarterback, which hit 241 Sunday, moving him past former Vikings center Mick Tingelhoff into second place on the list for all players.
Former Vikings defensive end Jim Marshall holds the all-time mark with 270 consecutive starts.
Late in the second quarter, Favre broke another Marino record when he threw the 8,359th pass of his career, and is also within shouting distance of Marino's record for yards passing.
Favre tied Marino's record with three touchdown passes in the Packers' 31-24 victory over San Diego last week, including the record-tying 57-yard completion to Jennings that gave the Packers the lead late in the game.
Marino held the record since 1995, but Favre's reign could be considerably shorter. Old No. 4 has acknowledged that most, if not all, of the records he sets in his career will be challenged very shortly by the Colts' Peyton Manning.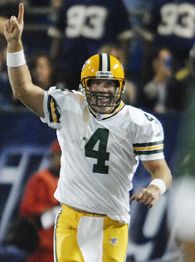 AP Photo/Tom OlmscheidBrett Favre is now No. 1. The future Hall of Famer's first touchdown pass in Sunday's win against the Minnesota Vikings made him the NFL's all-time leader in career TDs.
But perhaps even more impressive than the numbers Favre has put up is the manner in which he has done it.
Favre entered the league in a different era, when guys like Marino, Jim Kelly, Warren Moon and Steve Young played the game with an aggressiveness and a swagger that is uncommon among today's quarterbacks.
While offenses have moved away from that mentality more toward "game managers," the league's biggest gambler hasn't let go of his high-risk, high-reward style. That mentality has thrilled fans in Green Bay ever since he first stepped onto the Lambeau Field turf in 1992, but it has also earned him his fair share of criticism over the years.
He has been accused of being careless with the football at times, but Favre will be the last one to apologize for entering the game two interceptions shy of tying George Blanda's career record.
Favre was pressured on his first pass attempt Sunday, and he blindly winged a pass far down field for Jennings that was intercepted by Darren Sharper. But Favre was bailed out by an illegal contact call on Vikings cornerback Antoine Winfield, and the Packers punted four plays later.
After Jeff Dugan fumbled to give the Packers the ball in Minnesota territory, Favre hit Donald Lee on a nice touch pass for 27 yards. Two plays later -- history.
This season, coach Mike McCarthy has reined in Favre a little bit, and it has worked brilliantly so far for the Packers, who started the season 4-0 for the first time since 1998.
And while there is no single record for quarterbacks that carries the significance of Barry Bonds passing Hank Aaron's career home run record, McCarthy said Marino's touchdown mark probably comes closest.
But Favre said he didn't think the touchdown record was getting anywhere near the hype that Bonds' pursuit of Aaron received over the summer. He laughed off any further comparison to Bonds, smiling as he jokingly flexed his forearms to prove he doesn't quite measure up.

Copyright 2007 by The Associated Press
FAVRE OWNS TD MARK

Brett Favre broke Dan Marino's record for career touchdown passes Sunday, zipping No. 421 to Greg Jennings in the first quarter of Green Bay's 23-16 victory over the Minnesota Vikings.
Commentary
•
Pasquarelli: Favre audibles to record-setting day
•
Pasquarelli: Ode to a couple of NFL gunslingers
•
Horton: Favre vs. Marino -- tale of the tape

•
Experts: Ranking Favre among all-time greats
•
In their own words: What makes Favre unique
•
Chadiha: It's still about winning for old man Favre
News
•
Favre overtakes Marino as Packers beat Vikes
ZOOM Galleries
•
Favre's top touchdown targets
•
Top 10 career TD passers
•
Favre: A career retrospective
Video
•
Favre passes Marino
•
WR Driver ready to be part of history
•
Favre ties TD record as Packers upset Chargers
•
Packers show faith in Favre
Audio
•
Jeremy Green discusses the ageless Favre
•
Ditka: Best in Green Bay - Favre or Starr?

•
Mike & Mike: Comparing Favre to Marino

•
Jaworski: Favre's No. 7 on my all-time list

SportsNation
•
Vote: Where would you rank Favre among the all-time great QBs?
Community
•
Fans share their favorite Favre stories
•
Reaction to Favre's return this season
•
Packers message board

MOST SENT STORIES ON ESPN.COM